Maine | Locum Tenens Travel Lifestyle
When you work with Barton Associates as a locum tenens healthcare professional, you have the opportunity to go anywhere in the country. Maine is just one of fifty states you could live and work in as a locum tenens travel healthcare professional. With so many locum tenens travel options available it can be hard to decide where to go first.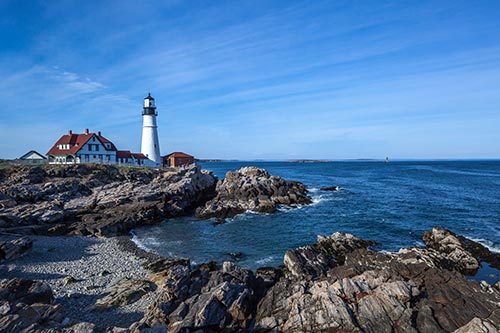 Ready to Staff or Work as a Locum Tenens Provider?
Contact Barton Associates Today
What You Need to Know About Maine as a Locum Tenens Healthcare Professional
Barton Associates locum tenens recruiters and staffing specialists are here to help you learn about the locum tenens travel lifestyle in Maine.
We've compiled information from TripAdvisor, state government pages, and personal recommendations from our staff to help you make the right choice and have the best experience.
Locum Tenens Jobs in Maine
REVIEW OUR JOB LISTINGS
MAINE BY THE NUMBERS
There's a reason why the state of Maine is nicknamed "Vacationland." Maine has 3,487 miles of coastline- more than the state of California! In the summer months, the average temperature comes out to just 70 degrees Fahrenheit, making for a cool and comfortable season. Ready to explore the great state yourself? Here are some facts and suggestions to get you started:
6,000 lakes and ponds

24 wineries

67 lighthouses

3,166 islands

542,629 acres of parks

40 million pounds of lobster… per year!
Become One With Nature in Maine
ACADIA NATIONAL PARK
Since its opening in 1916, Acadia has become one of the most popular national parks in the country. Over 2 million people visit each year to experience the woodlands, beaches, and mountains. This park has something for everyone, but if you don't know where to start, we suggest a drive up Cadillac Mountain and a swim at Sand Beach.
WILDLIFE WATCHING
With it's massive Atlantic coastline, it's no surprise that Maine is a popular spot for whale watches! And seal watches. And puffin watches. And moose. Take your pick of animals, really- there's probably a tour available. Whether you join a boat or bus tour, wildlife excursions are a great way to see the creatures that call Maine home.
COASTAL MAINE BOTANICAL GARDENS
In Maine, the wilderness is your playground- but maybe you're looking for something more tame. In that case, the botanical gardens might be more your speed. Wander 300 acres of green space, including gardens dedicated to mediation, the five senses, and edible plants. And don't forget the butterfly house!
Sample Maine Cuisine
JORDAN POND HOUSE
This scenic restaurant has been a Maine favorite since 1893. Located within Acadia National Park, guests lunch and lounge on an expansive green lawn. They're known for their famously fluffy popovers, so make a reservation for tea time to enjoy the sunshine and scenery.
BREWERIES
If you like craft beer, Portland is the place to be. But if you REALLY like craft beer, head west of I-95. Industrial Way in Riverton is heaven for beer lovers, with half a dozen breweries all within steps of each other. The most notable of the bunch are arguably Allagash, Austin Street Brewery, and Foundation Brewing Company. Try a tasting or a tour and see why Maine is one of America's favorite places to get a cold one.
YOUNG'S LOBSTER POUND
We can't talk about Maine without bringing up lobster! Stand anywhere in the state and throw a rock, and you'll probably hit a restaurant serving this iconic crustacean. If you want the best of the best, we recommend trying Young's Lobster Pound in Belfast. This classic New England seafood shack consistently gets rave reviews for every item on their menu, especially the lobster.
Can't Get It Anywhere Else But Maine
WALK (AND DRINK) THE WIGGLY BRIDGE
It may sound scary, but it's actually rather adorable. The World's Tiniest Suspension Bridge, nicknamed the Wiggly Bridge, is located just off of state route 103 in York. Take a quick jaunt across, and while you're in the area, you may as well stop by the Wiggly Bridge Distillery Barn. Tastings and tours are available Monday through Friday.
EAT AT THE LOST KITCHEN
To eat at The Lost Kitchen, you'll have to find it first (and get a reservation). What started in 2010 as an apartment supper club is now a critically acclaimed 40-seat restaurant. If you can secure a seat, the backroad journey to find it is worth it.
STAND AT THE EDGE OF THE COUNTRY
West Quoddy Head is the easternmost point of the contiguous United States. Or see the first sunrise in the United States from the top of Mount Cadillac. Or do both!
What Else Can I See in Maine?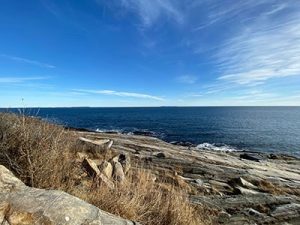 Maine is a great place to be because it provides easy access to the rest of New England. With New Hampshire to the west and Massachusetts to the south, great locations are just a drive away. For city life, try Boston or Montreal. If you're seeking smaller towns, our staff recommend North Conway, New Hampshire and Burlington, Vermont.
There's even more to see and do in Maine, but we couldn't possibly include it all. If you're ready to see it for yourself, check out our locum tenens jobs in Maine!
Visit our current job opportunities page, give us a call, or fill out our application form and a recruiter will contact you by phone.
Remember to sign up for SMS texts to be alerted when new roles are posted.
Looking for more information about becoming a locum tenens provider? Check out the Barton Blog to learn everything there is to know about the locum tenens life or visit our locum tenens FAQs page.