Massachusetts | Locum Tenens Travel Lifestyle
As a locum tenens provider, you have the opportunity to work where you want! Barton Associates offers jobs all across the United States so you can check off your travel bucket list. If Massachusetts is next, you're in luck. Barton's headquarters are located in Peabody, Massachusetts, which means we're basically experts on all things Mass. We've compiled information from TripAdvisor, state government pages, and personal recommendations from our staff to give you the best experience during your stay.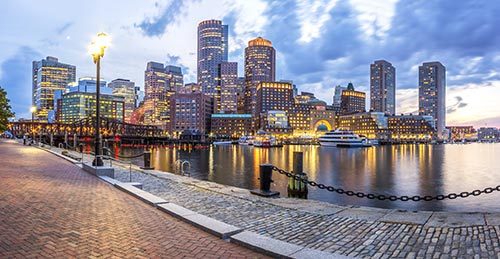 Ready to Hire or Work as a Locum Tenens?
Contact Barton Associates Today
What You Need to Know About Massachusetts as a Locum Tenens Healthcare Professional
As the homeland of Native Algonquin tribes, the landing site of the infamous Mayflower, and one of the original 13 colonies, Massachusetts is overflowing with history. But whether you're a first time visitor or a lifelong resident, the Bay State always has something new (usually a Dunkin'- they sprout up like dandelions here). Read on to learn more about what this state has to offer- and we promise, the driving isn't really that bad.
Locum Tenens Jobs in Massachusetts
REVIEW OUR JOB LISTINGS
WHAT YOU NEED TO KNOW ABOUT VISITING MASSACHUSETTS AS A LOCUM TENENS PHYSICIAN, NURSE PRACTITIONER, PHYSICIAN ASSISTANT, CRNA, AND DENTIST
Explore Boston
WALK THE FREEDOM TRAIL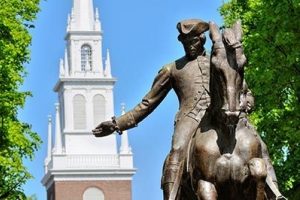 Boston is packed with historic landmarks, and the best way to see them is by hitting the bricks- literally. The Freedom Trail contains 2.5 miles of red bricks that wind throughout the city, linking 16 landmarks critical to the American Revolution. The trail takes you to plenty of places for photos, snacks, and further exploration. Take the afternoon off, bring your walking shoes, and hit the road!
SEE ANY SPORTS GAME
If there's one thing Massachusetts is known for besides our driving, it's our winning teams. Catch a match while you're here and see what all the fuss is about! A visit to Fenway Park doubles as a visit to a historical landmark, so enjoying a hotdog and beer at the game could be considered educational
SWIM BY THE NEW ENGLAND AQUARIUM
Okay, you can't actually "swim by" unless you hop in the harbor, but the New England Aquarium is definitely worth a visit. 20,000 marine animals attract over a million visitors every year with uniquely special exhibits. The standout features are the Giant Ocean Tank, Penguin pool, and Harbor Seal exhibit. Stop by even if you're not an aquarium fan- you can see and interact with the seals up-close from the public walkway, no ticket required.
The Best Besides Boston
CRUISE CAPE COD
The eastern coast of Massachusetts is full of gorgeous beaches, but the ones on the Cape are the most iconic. Visit Mayflower Beach to experience sunset during low tide, or Marconi beach for surfing and seals. Along the entire coast you'll find seafood, ice cream, museums, and maritime monuments. Take your time to relax and enjoy the scenery.
SEE SPOOKY SALEM
Though the infamous trials took place in 1692, Salem still lives up to the name 'Witch City'. October brings literal floods of tourists to celebrate Halloween, but there's plenty to do even in the off-season. Tour the many museums and monuments to learn about this historical city, then take a walk down Essex street. The beautiful pedestrian mall has everything a modern witch could want, and plenty of photogenic spots.
BREATHE EASY IN THE BERKSHIRES
Some people call Massachusettsans "flatlanders"- those people have clearly never been to the Berkshires. Located way out in Western Mass, the Berkshires are a popular vacation destination. Book a room and spend the weekend hiking, boating, and leaf-peeping. When you've seen enough of nature, we recommend getting lunch in downtown Lee at the Starving Artist Cafe and Creperie.
Can't Get It Anywhere Else
PAPER MAKES SURPRISINGLY GOOD INSULATION
This unassuming little shack might not be a pretty picture, but that's alright, because it's made of them. Located in Rockport, the Paper House was built in the 1920s as one bored man's hobby. It still stands today completely intact, from the paper walls to the paper furniture. Yes, everything is really made of paper. Admission is just $2, so don't miss the chance to see this charming oddity.
EAT AT AMERICA'S OLDEST RESTAURANT
Established in 1826, The Union Oyster House boasts an impressive collection of awards and accolades. The menu is full of classic New England pub fare- seafood, soups, and steaks. Wander on down to Union street for your chance to eat in history!
EXPLORE THE LIZZIE BORDEN HOUSE
Named for its infamous occupants, this house in Fall River is where Andrew and Abby Borden were murdered in 1892. The case is still unsolved… but maybe you'll be the one to crack it! Today the house is a bed and breakfast and museum. Tours are offered daily and special events are available, including night tours and ghost hunts.
What Else To Do in Massachusetts?
Once you've gotten comfortable in your new location and feel ready to explore, there's lots of places to go! One of the best things about living in Massachusetts is that most of New England is accessible within an afternoon of driving. Providence, RI and Portland, ME make great day trips. For a taste of island life, try Martha's Vineyard or Nantucket. And if you miss big city living, New York City is just a four hour drive away.
There's even more to see and do in Massachusetts, but we couldn't possibly include it all. If you're ready to see it for yourself, check out our locum tenens jobs in Massachusetts!
Visit our current job opportunities page, give us a call, or fill out our application form and a recruiter will contact you by phone.
Remember to sign up for SMS texts to be alerted when new roles are posted.
Looking for more information about becoming a locum tenens provider? Check out the Barton Blog to learn everything there is to know about the locum tenens life or visit our locum tenens FAQs page.
LOCUM TENENS HEALTHCARE PROFESSIONAL LIVING THE MASSACHUSETTS LIFESTYLE!
Video Reel: Locum Tenens in Massachusetts
Summary
---
See what the Massachusetts Locum Tenens life is like through the eyes of a healthcare provider!