Rhode Island | Locum Tenens Travel Lifestyle
Barton Associates locum tenens recruiters and staffing specialists are here to help you learn about the locum tenens travel lifestyle in Rhode Island. Ready for Rhode Island? …no? Starting a locum tenens assignment in a new location can be both exciting and daunting. Being a locum tenens gives you the opportunity to travel, meet people, and work in different environments. At the same time, living and working in a new location is a major transition. That's where Barton comes in! Our recruiters and staffing specialists are here to help. We've compiled information from TripAdvisor, state government pages, and personal recommendations from our staff to give you the best experience in your new locale.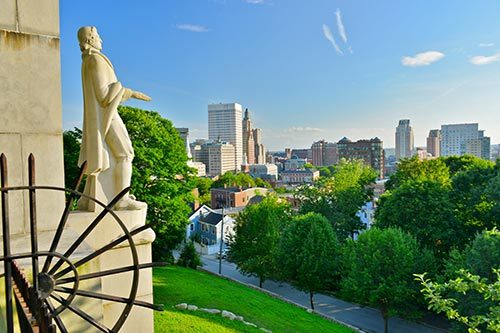 Ready to Hire or Work as a Locum Tenens?
Contact Barton Associates Today
What You Need to Know About Rhode Island as a Locum Tenens Healthcare Professional
Rhode Island is the smallest U.S. state, but that doesn't mean it's short on activities! There's plenty to see and do in this state, and even some mysteries to uncover. The name 'Rhode Island' can be a bit confusing, because the state is definitely not an island (we checked). The origin of 'Rhode Island' has been attributed to several different European explorers from several different centuries, going back as far as 1524. But regardless of how old its name is, Rhode Island has often led the country into the future. The state was the first to prohibit slavery, first to have an armed rebellion against the British crown, first to have a successful mechanized mill in the industrial revolution, and first to establish a state health laboratory. Ready to experience your own Rhode Island firsts? We've got some suggestions on where to start.
Locum Tenens Jobs in Rhode Island
REVIEW OUR JOB LISTINGS

Psychiatrist
Ever wanted to visit Rhode Island? Now you can with this locum tenens opportunity! Our client is looking for a psychiatrist to begin coverage in late January 2024. Hours include 8a – 5p shifts from Mondays – Fridays. The selected locum will be handling rounds, admissions, schizophrenia, bipolarity, dementia, and... View This Job
RHODE ISLAND LIFESTYLE
See The Rhode Island Scenery
TOUR THE BREAKERS
A collection of luxurious mansions were built in Newport in the late 19th century to house families like the Vanderbilts. One of the most impressive is The Breakers, a 70-room summer home designed in the Renaissance Revival style. Today it's a functioning museum with tours year-round. If you often fantasize about living in a mansion for the ultra-rich, or you just enjoy beautiful architecture, it's a great place to visit.
COMB THE BEACHES
Rhode Island's coastline is full of gorgeous beaches. Whether you prefer swimming or sunbathing, there's a perfect beach for you. A favorite is Misquamicut State Beach, with calm waters and a wide variety of entertainment. Events like concerts, shows, and fireworks are held frequently during the summer months.
STROLL THE GARDENS
Located on the coast of Narragansett Bay, Blithewold is another historic summer estate. The property includes a mansion, arboretum, and greenhouse, but the crown jewel is the garden. Tour the 33 acres of flowers, plants, and stone architecture at your own pace. Everything has been preserved with intense dedication to accuracy to give visitors the experience of stepping into history.
Grab A Rhode Island Bite
DRINK UP AT NEWPORT VINEYARDS
Situated on over 100 acres of farmland, the Newport Vineyards are a premiere wine and beer destination. Offering beer flights, wine tastings, and farm to table dining, the Vineyard is the perfect place to sit back and relax. Reserve an evening seat on the patio and watch the sunset across the farm. It's a little taste of Napa hidden in Rhode Island.
DINE AT PASTICHE
This cafe brings some European flair to Providence's Federal Hill neighborhood. Pastiche features an array of indulgent pastries and cakes, as well as handcrafted beverages. Stop in and sit by the fireplace, or take a slice to-go. Pastiche is open all day and late into the night, so you can enjoy this soothing setting anytime.
Can't Get It Anywhere Else But Rhode Island
MEET NIBBLES THE BIG BLUE BUG
Don't miss the chance to meet Rhode Island's most famous resident! Nibbles Woodaway is a giant fiberglass termite located off of Interstate 95 in Providence. He lives on the roof of Big Blue Bug Solutions, a pest control company, and has become the state's unofficial mascot. Nibbles dresses up for different holidays, and has even been featured in movies and television. Make sure to swing by and tell him hello from Barton!
SEE THE ORIGINAL WATERFIRE
Barnaby Evans was definitely thinking outside the box when he put water and fire together, but it's turned into an international hit. Creatively named WaterFire, this art installation graces the rivers of Providence seasonally. In the 25 years since its birth, the event has expanded to include an arts center and non-profit foundation in Providence, as well as installations all over the world. Check the event dates online and make sure to experience it at least once!
What Else Can I See in Rhode Island?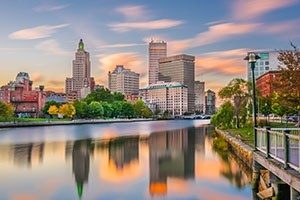 One of the best parts of living in New England is the travel opportunities! Neighboring states and cities are accessible within just a few hours of driving. Boston to the north and Hartford to the west are vibrant city options. If mountain views are more your thing, New Hampshire and Vermont are great locations for hiking, camping, mountain biking, and more. New York City is also just three and a half hours away by car.
There's even more to see and do in Rhode Island, but we couldn't possibly include it all. If you're ready to see it for yourself, check out our locum tenens jobs in Rhode Island!
Visit our current job opportunities page, give us a call, or fill out our application form and a recruiter will contact you by phone.
Remember to sign up for SMS texts to be alerted when new roles are posted.
Looking for more information about becoming a locum tenens provider? Check out the Barton Blog to learn everything there is to know about the locum tenens life or visit our locum tenens FAQs page.