New Mexico | Locum Tenens Travel Lifestyle
As you may have guessed, the state of New Mexico has strong cultural and historical ties to Mexico. The state was established as a province of New Spain in 1598 long before it became an American state. Today, New Mexico has an economy built on oil, mining, agriculture, and cattle. Did you know that? No?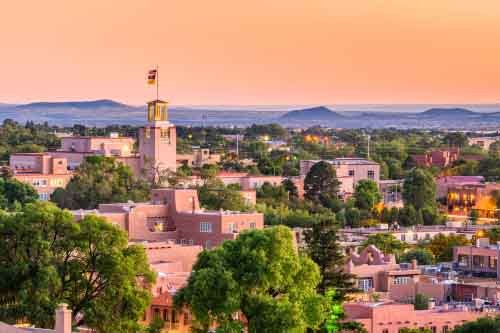 Ready for your next locum tenens assignment?
Contact Barton Associates Today
What You Need to Know About New Mexico as a Locum Tenens Healthcare Professional
That's okay! That's exactly why we've created these travel guides for you to utilize before going on your next locum tenens assignment. We know you won't always know much about the state you are traveling to. To help you make an informed decision, our recruiters and staffing specialists here at Barton have compiled information from TripAdvisor, state government pages, and tourist information sources to give you a glimpse into life in New Mexico.
Locum Tenens Jobs in New Mexico
REVIEW OUR JOB LISTINGS
WHAT YOU NEED TO KNOW ABOUT VISITING NEW MEXICO AS A LOCUM TENENS PHYSICIAN, NURSE PRACTITIONER, PHYSICIAN ASSISTANT, CRNA, AND DENTIST
Following the Mexican-American War in 1848, Mexico ceded the land that would become New Mexico to the United States. The government accepted the land's residents as U.S. citizens with full rights. Decades later, both the Confederate and the Union claimed ownership of the land during the Civil War. More than 8,000 men from New Mexico served the Union Army in the war, eventually securing victory. New Mexico was declared a state by the US Congress in 1912, and in 1924 Native American residents were granted US citizenship. However, they did not gain full rights until after a lengthy court battle decades later. As a state with a rich mix of white settlers, Native Americans, Hispanic Americans, and African Americans, New Mexico has a deep and complex history. This melting pot has created a state full of culture, folklore, and fun. If you're ready to explore New Mexico, read on for our travel suggestions.
What is there to do and see in New Mexico?
Albuquerque International Balloon Fiesta
If you can make it to Albuquerque in October, this event is a must-see. Starting on the first Saturday of October and continuing for nine days, over 500 hot air balloons grace the skies over New Mexico. Spectators and balloon pilots from the world over gather to watch the mass ascension in the morning. During the day, festival events and concerts are held. Don't miss the most insta-worthy week of the year!
International UFO Museum and Research Center
It's Roswell, so you kind of have to, right? This little roadside museum seems kitschy, but reviews are overwhelmingly positive. In addition to the expected dioramas of little grey men there's a wealth of factual displays and information about the possibility of life on other planets. Whether you believe in aliens or not, this is a fun stop to make, and there's other shops and boutiques downtown to add on to your visit.
Museum of International Folk Art
As the name implies, this museum features folk art from all corners of the world. The permanent collection includes miniature buildings, streets, and village scenes from over 100 different countries across the globe. Current featured exhibits showcase wooden handicrafts as well as art from Syria and Peru. This museum has been called a hidden gem, so make sure you stop by!
White Sands National Park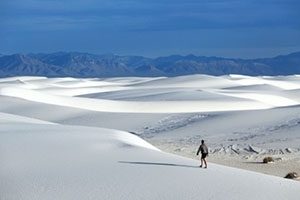 We're willing to bet you've never been to a national park quite like this. In the southern half of the state is White Sands National Park and Monument, an endless waterless sea of sand. Bring sunglasses, because the sand is genuinely whiter than white! If you're up for a little more interaction than just admiring the scenery, you can rent a saucer sled at the visitor's center for around $20 and slide down the dunes. Reviews also recommend splurging on the sled wax to enhance your ride.
Rio Grande Gorge Bridge
North of Taos is this intimidating bridge with fantastic views. The bridge transports drivers and pedestrians across the massive gorge carved by the Rio Grande. This may not be the stop for you if you're afraid of heights, but you can still admire the beauty of the area from the safety of one side. Note that visitors should bring water and sun shade, especially if visiting during the summer months.
What Else Can I See?
If you see all there is to see in New Mexico while you are on assignment with Barton, take an extended day-trip to a nearby state such as Texas, Arizona, Colorado, or Utah. New Mexico is a great location to explore the United States because it borders 5 other states! If you bring your passport along, you can also cross the border into Mexico and make your trip international.
There's so much to do and see in New Mexico that we could not fit it all on one page. But we hope this sparked your interest in living in New Mexico as a locum.
Ready to see what locum tenens job openings are available in New Mexico? Visit our current job opportunities page, give us a call, or fill out our application form and a recruiter will contact you by phone.
Remember to sign up for SMS texts to be alerted when new roles in New Mexico are posted.
Looking for more information about becoming a locum tenens provider? Check out the Barton Blog to learn everything there is to know about the locum tenens life or visit our locum tenens FAQs page.
LIVING THE NEW MEXICO LIFESTYLE!
Video Reel: Adventures in Albuquerque
Summary
---
Get some tips from a travel healthcare professional on how to prepare for a travel assignment in Albuquerque, New Mexico!