Utah | Locum Tenens Travel Lifestyle
With Barton Associates, locum tenens providers can travel to any state in the country! With over 50 options, it can be hard to choose where to take your next assignment. That's where we come in. Our recruiters and staffing specialists are here to help you decide which job and location is best for you. We know you won't always know much about where you travel to, which is why we've made these state-by-state travel guides. We've compiled information from TipAdvisor, state government pages, and tourist information sources to give you a glimpse into life in Utah.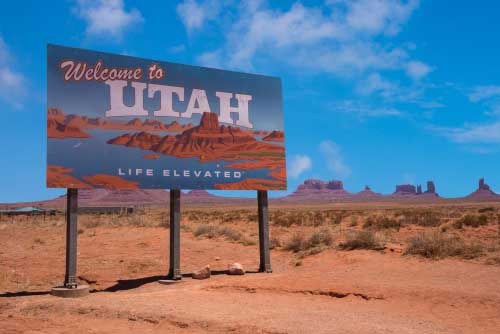 Ready to Hire or Work as a Locum Tenens?
Contact Barton Associates Today
What You Need to Know About Visiting Utah as a Locum Tenens Physician, Nurse Practitioner, Physician Assistant, CRNA, and Dentist
Utah has been inhabited for thousands of years by native groups including the Puebloans, Navajo, and Ute. The first major outside group to travel to Utah and settle in the area were Mormons. Today, just over half of Utah residents identify as Mormon. In fact, Utah is the only state where a majority of the population belong to a single church! Despite having one dominant religion, that state has a very diverse economy. Transportation, education, and technology and research are just some of the sectors that fuel Utah. In addition to religion and economy, Utah is known for beautiful natural areas, including some of the most popular National Parks in the United States. If you're ready to explore the landscape of Utah yourself, read on for our suggestions!
Locum Tenens Jobs in Utah
REVIEW OUR JOB LISTINGS
WHAT YOU NEED TO KNOW ABOUT UTAH AS A LOCUM TENENS HEALTHCARE PROFESSIONAL
What is there to do and see in Utah?
Arches National Park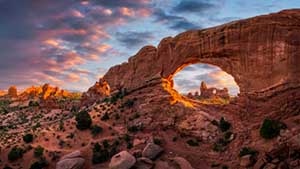 This park has been called a must-do. Whether you drive through the scenery or hike the arches, you'll enjoy the gorgeous landscape of this natural wonder. If you visit in the summer months, plan to hike early or late in the day to avoid extreme temperatures, and bring plenty of water. Shade is rare here, so even if you just plan to picnic, bring the sunscreen!
Monument Valley Navajo Tribal Park
If you're a fan of old western flicks, you'll find this area familiar. Monument Valley was a popular filming location due to its impressive rock formations and wide expanses. If you aren't big on hiking, the 17-mile Valley Drive is a great way to see the beauty from the comfort of your vehicle. The area has been preserved throughout history and looks the same as it did 3,000 years ago.
Best Friends Animal Sanctuary
This is one of the most unique animal sanctuaries in North America. Best Friends Animal Society is focused exclusively on ending the killing of dogs and cats in America's shelters, and runs the nation's largest no-kill sanctuary. Although it may not seem like a typical travel destination, the sanctuary actually offers a wide variety of tours and opportunities to interact with the animals. The sanctuary is a favorite among reviewers, some who drive for hours just to volunteer! Tours and activities fill fast, so book online in advance of your trip.
The Narrows
Those seeking adventure will find it here on Zion National Park's most popular hiking trail. This photogenic spot leads hikers through a shallow river between two cliffs. You'll want to wear shoes you don't mind getting wet- very wet. You can also get a pair of wet boots at Zion Outfitters for about $25. Because the trail is popular- and narrow- it gets busy, so plan your trip accordingly! Leave in the early morning and hit the trail before the crowds.
Red Hills Desert Garden
If the great outdoors of the wild west isn't for you, this location may be more your speed. Not only does this attraction feature a beautifully curated collection of local plants- it's also free! There's small areas with seating and shade available, and much of the garden is paved and handicap accessible. Plaques and boards around the garden describe the plants and scenery. If you're looking for an oasis in the desert, look no further.
Temple Square
Utah is the epicenter of the Mormon religion, and Temple Square in Salt Lake City is the hub. Even if you're not religious, this square is a beautiful and peaceful place to visit. The six-spired temple is the centerpiece, and the surrounding area is filled with statues, fountains, and history. Visitors praise the friendly guides, clean public restrooms, and shops and restaurants downtown.
What Else Can I See?
If you see all there is to see in Utah while you are on assignment with Barton, take an extended day-trip to a nearby state such as Colorado, Arizona, Nevada, or Wyoming. Utah is a great location to explore the United States because it borders 6 other states!
There's so much to do and see in Utah that we could not fit it all on one page. But we hope this sparked your interest in living in Utah as a locum.
Ready to see what locum tenens job openings are available in Utah? Visit our current job opportunities page, give us a call, or fill out our application form and a recruiter will contact you by phone.
Remember to sign up for SMS texts to be alerted when new roles in Utah are posted.
Looking for more information about becoming a locum tenens provider? Check out the Barton Blog to learn everything there is to know about the locum tenens life or visit our locum tenens FAQs page.