Pennsylvania | Locum Tenens Travel Lifestyle
Being a locum tenens provider comes with a lot of benefits- choosing your own schedule, working in different environments, learning new skills- but traveling is one of the best! With every assignment comes a new location and new opportunities. Pennsylvania is just one of 50 places you can go with Barton Associates. If the Keystone state is your next stop, you're in the right place. Our recruiters and specialists at Barton are here to support you before, during, and after your assignment. We've compiled information from TripAdvisor, state government pages, and personal recommendations from our staff to give you the best experience.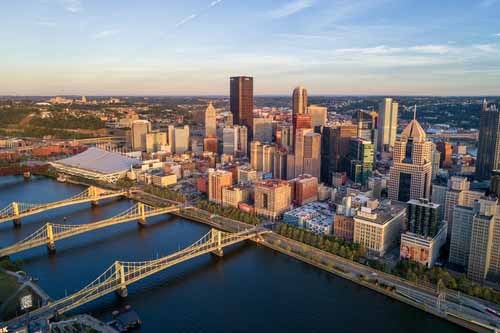 Ready for your next locum tenens assignment?
Contact Barton Associates Today
What You Need to Know About Pennsylvania as a Locum Tenens Healthcare Professional
Pennsylvania got its nickname as the Keystone state for its central location. When the United States were just 13 colonies, Pennsylvania was right in the middle. Philadelphia became the main meeting point for revolutionaries as America declared independence from Britain. The city hosted the First Continental Congress, the signing of the Declaration of Independence and Constitution, and was even temporarily the capital of the United States. Everywhere you go in Pennsylvania, there's history just around the corner. To start your journey off right, here's some of our favorite recommendations.
Locum Tenens Jobs in Pennsylvania
REVIEW OUR JOB LISTINGS
WHAT YOU NEED TO KNOW ABOUT VISITING PENNSYLVANIA AS A LOCUM TENENS PHYSICIAN, NURSE PRACTITIONER, PHYSICIAN ASSISTANT, CRNA, AND DENTIST
Historical Happenings
The Liberty Bell
One of the most famous symbols of the American Revolution is this big bell. Interestingly, the bell actually had little to do with the Revolutionary War. During the 1700s the bell hung in the Pennsylvania state house, now known as Independence Hall, and was simply called the State House bell. The name 'Liberty Bell' was popularized by abolitionists and a folk song in the 1800s. You can learn even more bell facts by visiting it in Philadelphia. Be prepared to go through security and metal detectors!
Gettysburg National Military Park
The Battle of Gettysburg is considered to be the turning point in the Civil War, and now the grounds of the battlefield are a historic site open for tours. The park is expansive- you'll definitely want a car. One of the main attractions is the auto tour, where you can experience the history of the area from the comfort of your vehicle. Stop in the visitor center to purchase the drive-along CD, and check out the exhibits while you're there. This writer has been multiple times and always enjoys it!
Eastern State Penitentiary
Established in 1829, Eastern State Penitentiary was once the most expensive and famous prison in the world. It was one of the first to use a "wagon wheel" style of architecture to keep prisoners isolated from one another. Guards were required to visit and speak with prisoners multiple times per day, and despite the solitude, the prison's infrastructure was considered revolutionary for criminal justice reform at the time. Today the building is a museum and historic site that provides insight into the past, present, and future of incarceration.
Fun and Fancy
The Land of Little Horses
Yes, this is a thing. A wonderful, magical thing. Located in Gettysburg, the Land of Little Horses is a theme park, animal show, and petting zoo all rolled into one. 2021 will be the park's 50th anniversary, and visitors are coming from all over to see the tiny equine. The park is open daily from 10am-5pm and is definitely worth a visit, even for adults. Dozens of little horses and other fuzzy farm friends will follow you around in search of treats, which can be purchased at the gift shop.
Hershey Park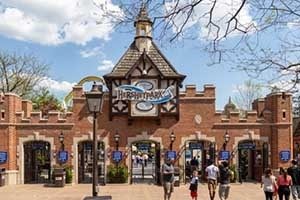 It's the sweetest park in the world! The now famous theme park was initially founded by Milton S. Hershey (the guy on the back of the chocolate bar) as a leisure area for his employees. In 1971 it was redeveloped into a commercial theme park for the Hershey Candy Company. The entire park is themed after Hershey candy, with sweet treats featured on roller coasters and rides. If theme parks aren't your thing, try Hershey's Chocolate World across the street instead. There's a tranquil factory ride and some calmer candy experiences.
Culture and Curios
Phipps Conservatory and Botanical Gardens
If you're looking for a green spot in the middle of Pittsburgh, you've found it. Phipps won a 2020 Travelers' Choice award from TripAdvisor for consistently receiving great reviews that rank the attraction in the top 10% of TripAdvisor properties. Since its opening in 1893 the garden has provided world class experience to visitors. Seriously- this place is gorgeous. Bring your walking shoes so you can fully enjoy the wide variety of attractions and seasonal exhibits.
Philadelphia Museum of Art
It seems like every city has an art museum, but Philadelphia contains some truly rare finds. The collection is lauded as one of the best in the United States, including pieces from Europe, Asia, and the Americas. One of the most well-known pieces is Van Gogh's Sunflowers. Galleries rotate year-round, so there's always something new to see. Young people 18 and under get free admission, so this is a perfect stop if you're traveling with family.
What Else Can I See?
If you've explored every inch of the state, you're in luck- Pennsylvania is located crazy close to the best of the best. Depending on where you are in the state, New York, Baltimore, Washington D.C., Cleveland, and Toronto are just hours away.
There's so much to do and see in Pennsylvania that we could not fit it all on one page. But we hope this sparked your interest in living in Pennsylvania as a locum.
Ready to see what locum tenens job openings are available in Pennsylvania? Visit our current job opportunities page, give us a call, or fill out our application form and a recruiter will contact you by phone.
Remember to sign up for SMS texts to be alerted when new roles in Pennsylvania are posted.
Looking for more information about becoming a locum tenens provider? Check out the Barton Blog to learn everything there is to know about the locum tenens life or visit our locum tenens FAQs page.