Oregon | Locum Tenens Travel Lifestyle
The state of Oregon has over 62 hospitals focused on a wide range of health services. If you've ever wanted to travel to the Pacific Northwest, or thought about living there, locum tenens is the perfect opportunity. As a locum, you have the ability to choose your own schedule and workplace, and Barton is here to help!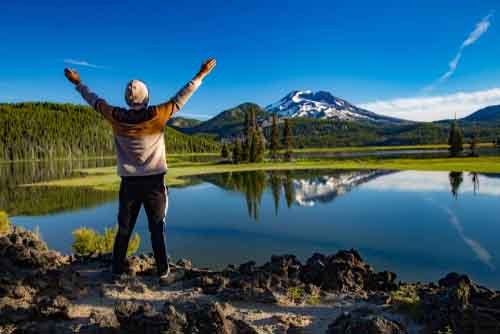 Ready for your next locum tenens assignment?
Contact Barton Associates Today
What You Need to Know About Oregon as a Locum Tenens Healthcare Professional
Our recruiters and staffing specialists will work to support you before, during, and after your assignment. These State-by-State articles are just one of many resources we make for our providers. In this article we've compiled information from TripAdvisor, state government pages, and personal recommendations from our staff to give you the best experience possible.
Locum Tenens Jobs in Oregon
REVIEW OUR JOB LISTINGS
WHAT YOU NEED TO KNOW ABOUT VISITING OREGON AS A LOCUM TENENS PHYSICIAN, NURSE PRACTITIONER, PHYSICIAN ASSISTANT, CRNA, AND DENTIST
Living in the Pacific Northwest comes with a lot of perks! You may need an emergency raincoat when you go out, but you'll always be comfortable in the year-round moderate temperatures. There's a reason why so many settlers took the Oregon trail. Starting in 1842, Americans flocked to the western state for new land, new sights, and new opportunities. Oregon wouldn't be incorporated into the Union until 1859, as the state refused to allow slavery. Southern politicians eventually allowed it to enter the Union as a "free" state, putting Oregon officially on the map. Since it's statehood, Oregon has attracted more and more people looking for a home in the Pacific Northwest. If you're ready to start your journey to Oregon, we have some suggestions for you!
Global Gardens
International Rose Test Garden
Located in Portland, this is the oldest public rose test garden in the United States. As the name implies, the garden boasts over 8,000 roses, many of which are new hybrid varieties. Every rose is marked with their name, date of creation, and a code link for more information. Visitors say the sights and smells can be overwhelming at times- be sure to bring walking shoes and take an allergy pill if you're sensitive to pollen! The roses bloom from April to October with a peak in June, so you have a wide window to stop and smell the roses (literally).
Portland Japanese Garden
If you've ever wanted to go to Japan, we have good news: you can! Or, you can at least sample it. The Portland Japanese Garden is considered the most authentic Japanese garden outside of the country. It's open to visitors in all four seasons so you can experience the beauty and tranquility year-round. There is a moderate admission price, but you'll get to explore the entirety of the garden, recreation house, and see an amazing view of Portland. Be aware that the garden is large and has stairs, so if you have mobility issues this may not be the venue for you.
Lan Su Chinese Garden
If the price or the stairs prevent you from enjoying the Japanese Garden, this is an awesome alternative (or maybe even better!) The Lan Su Garden is a similar recreation garden in Chinatown. The admission is cheaper and there's an entirely flat path around the entire garden, making it wheelchair accessible. The garden features ponds, pathways, and covered pavilions that make even a rainy day enjoyable. Bring your smartphone and enhance your visit with audio tours, scavenger hunts, or the virtual plant guide, all available on the garden's website.
Coastal Critters
Cascades Raptor Center
If you venture out to Eugene, you'll find the Cascades Raptor Center. As the name implies, this nature and wildlife hospital cares for and rehabilitates birds of prey native to the Pacific Northwest. Visitors can see over 30 species, including owls, falcons, hawks, and both bald and golden eagles. Bald eagles are only native to very select regions of the United States, so this is a great chance to see one up close and personal. The center is open Tuesday through Sunday!
Oregon Coast Aquarium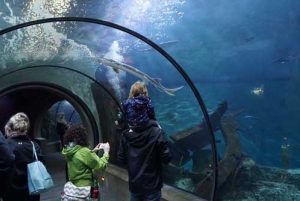 When you explore the Oregon coastline you can't miss the aquarium. This is one of the state's top tourist attractions, and consistently receives rave reviews from guests. A particular favorite area is the Passage of the Deep exhibit, where you can walk through clear underwater tunnels and come face-to-face with fish. Stop in to see sea otters, seals, sea lions, and numerous other species of aquatic wildlife. Over 40,000 students visit each year to enjoy the educational experience the aquarium offers. Adults pay $25 for admission, but you can rest easy knowing the aquarium is a 501(c)3 nonprofit.
Do It Yourself
Lincoln City Glass Center
Located in- you guessed it- Lincoln City, this art studio provides a one-of-a-kind experience. You're free to stop in and simply watch the glass artists, or, you can blow it yourself. That's right, they really let customers handle molten hot glass (albeit in a very safe manner). Reviewers say the staff are friendly, knowledgeable, and take their time with each visitor. Glass blowing sessions take about 25 minutes and appointments are recommended. The finished pieces have to cool overnight, so spend the weekend in Lincoln and pick up your art the next day, or you can pay to have it shipped. Kids are welcome as well!
Seaside Inverted Experience
This attraction may seem a bit weird at first, but guests say the staff make the experience. The Inverted Experience has multiple photo ops with a vintage seaside theme, and oh yeah, everything is on the ceiling. Take a picture with your family, friends, or significant other hanging from a bicycle, or diving into a bucket. For a small fee staff will help you take fun photos to share with your Facebook friends or create a very unique Christmas card. It's a fun and funky roadside attraction you won't want to miss.
What Else Can I Try?
If you're eager for more of what the Pacific Northwest has to offer, you're in luck. With California to the south and Washington to the north, there's endless opportunities for exploration. Travel to Napa Valley, Sacramento, Las Vegas, Seattle, or the multitudes of mountain ranges in between. Whether you like cities or the countryside, there's something for you to see.
Suffice to say, there's so much to do and see in Oregon that we can't fit it all on one page. But we hope this sparked your interest in living in Oregon as a locum!
Ready to see what locum tenens job openings are available in Oregon? Visit our current job opportunities page, give us a call, or fill out our application form and a recruiter will contact you by phone.
Remember to sign up for SMS texts to be alerted when new roles in Oregon are posted.
Looking for more information about becoming a locum tenens provider? Check out the Barton Blog to learn everything there is to know about the locum tenens life or visit our locum tenens FAQs page.