Wyoming | Locum Tenens Travel Lifestyle
Looking to go to the wild west? Look no further! Wyoming is a great place to be a locum. Whether you're a history buff, an outdoor enthusiast, or both, there's something for everyone in the Equality State. Did you know Wyoming was the first state to grant suffrage to women? It's also home to the world's first national park! Will a locum tenens assignment in Wyoming be your first time there, or are you a seasoned Wyomingite? Whichever the case, you'll find something new and exciting to try. Our staffing specialists and recruiters at Barton are here to make sure you have the best experience possible. We've compiled information from TripAdvisor, state government pages, and tourist information sources to give you a glimpse into life in Wyoming.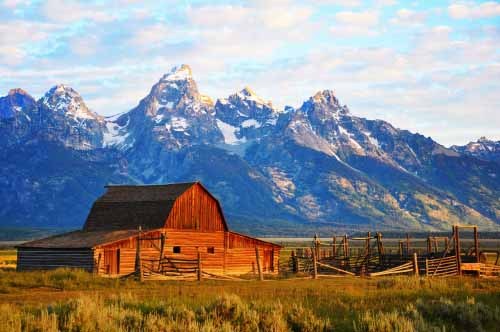 Ready to Hire or Work as a Locum Tenens?
Contact Barton Associates Today
What You Need to Know About Wyoming as a Locum Tenens Healthcare Professional
Wyoming was originally inhabited by many Native American groups, including the Crow, Arapaho, Lakota, and Shoshone. The land was claimed by Spanish explorers, and was later ceded to the United States in 1848. Lewis and Clark, guided by Shoshone native Sacagawea, famously explored and described the region. The initial reports were thought to be fictional. When government-sponsored expeditions of Yellowstone began, the information was proven true, and Yellowstone National Park was established to protect and preserve the area. Because of that forethought, Wyoming remains one of the most naturally beautiful states in the county. If you're ready to explore it yourself, read on.
Locum Tenens Jobs in Wyoming
REVIEW OUR JOB LISTINGS
WHAT YOU NEED TO KNOW ABOUT VISITING WYOMING AS A LOCUM TENENS PHYSICIAN, NURSE PRACTITIONER, PHYSICIAN ASSISTANT, CRNA, AND DENTIST
What is there to do and see in Wyoming?
Yellowstone National Park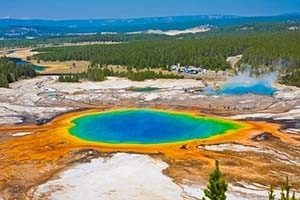 Arguably the most popular attraction in Wyoming, Yellowstone National Park is highly considered to be the most famous National Park in America. You absolutely can't miss it! With so many acres to explore, it can be hard to know where to start. We recommend starting at the classic Old Faithful, the iconic geyser of the park. When you're ready to see some wildlife, reviews recommend visiting Lamar Valley. This scenic drive offers the best views of wildlife from the safety and comfort of your car!
Chief Joseph Scenic Highway
This drive has been called a must-do, and it's a perfect way to see Wyoming- with the perk of getting to sit down. The road is part of the Nez Perce Historic Trail and offers multiple stops in between panoramic canyon views. Dip your feet in Dead Indian Creek and try to spot a herd of antelope! The drive is also a great opportunity to learn more about Chief Joseph and the history of the Nez Perce.
Town Square
If you're looking to stop for lunch, do it in Jackson Hole. The Jackson Town Square is a beautiful place to rest and relax during your trip. The most notable feature are the iconic elk antler arches that line the square. Hundreds of antlers shed by elk in a nearby wildlife refuge have been collected and transformed into modern art. It's a great place for a picture, and the shops and restaurants are highly recommended.
Buffalo Bill Center of The West
This museum is a four-time winner of TripAdvisor's Certificate of Excellence! Since 1927, the Buffalo Bill Center has been dedicated to keeping western experiences alive. This Smithsonian Institution affiliate tells the story of the many people who have called Wyoming home. The most popular exhibit is the Cody Firearms Museum, which features a massive collection of antique weaponry.
Jackson Hole Rodeo
If you're a fan of rodeo, this one comes highly recommended! The Jackson Hole Rodeo receives glowing reviews from westerners who like a little fun. The events and performers are universally impressive, but not every attendee is a fan of the announcer's comedy. Reviewers note that the show is very patriotic, but some political jokes don't manage to land. If you're interested and easy-going, it's worthwhile to check it out.
National Museum of Wildlife Art
Wild bison a bit too much for you? That's okay- this museum has replicas! The National Museum of Wildlife Art is highly lauded for beautiful sculptures, photographs, and paintings of Wyoming's wildlife. The pieces range from interpretive to ultra-realistic, so everyone is sure to find something they like. Visitors recommend spending two or more hours here, which should be easy, as the museum is located conveniently close to the airport!
Where can I drive in 3 hours?
If you see all there is to see in Wyoming while you are on assignment with Barton, take an extended day-trip to a nearby state such as Colorado, Utah, or Montana. Wyoming is a great location to explore the United States because it borders 6 other states! From Wyoming you can travel to major cities, including Salt Lake City, Denver, or even Las Vegas.
There's so much to do and see in Wyoming that we could not fit it all on one page. But we hope this sparked your interest in living in Wyoming as a locum.
Ready to see what locum tenens job openings are available in Wyoming? Visit our current job opportunities page, give us a call, or fill out our application form and a recruiter will contact you by phone.
Remember to sign up for SMS texts to be alerted when new roles in Wyoming are posted.
Looking for more information about becoming a locum tenens provider? Check out the Barton Blog to learn everything there is to know about the locum tenens life or visit our locum tenens FAQs page.