Help Us Celebrate PA Week 2021
Barton knows that PAs are essential to the success of our healthcare system. This year, we join the AAPA in inviting PAs across the country to share their 'WHY' on social media.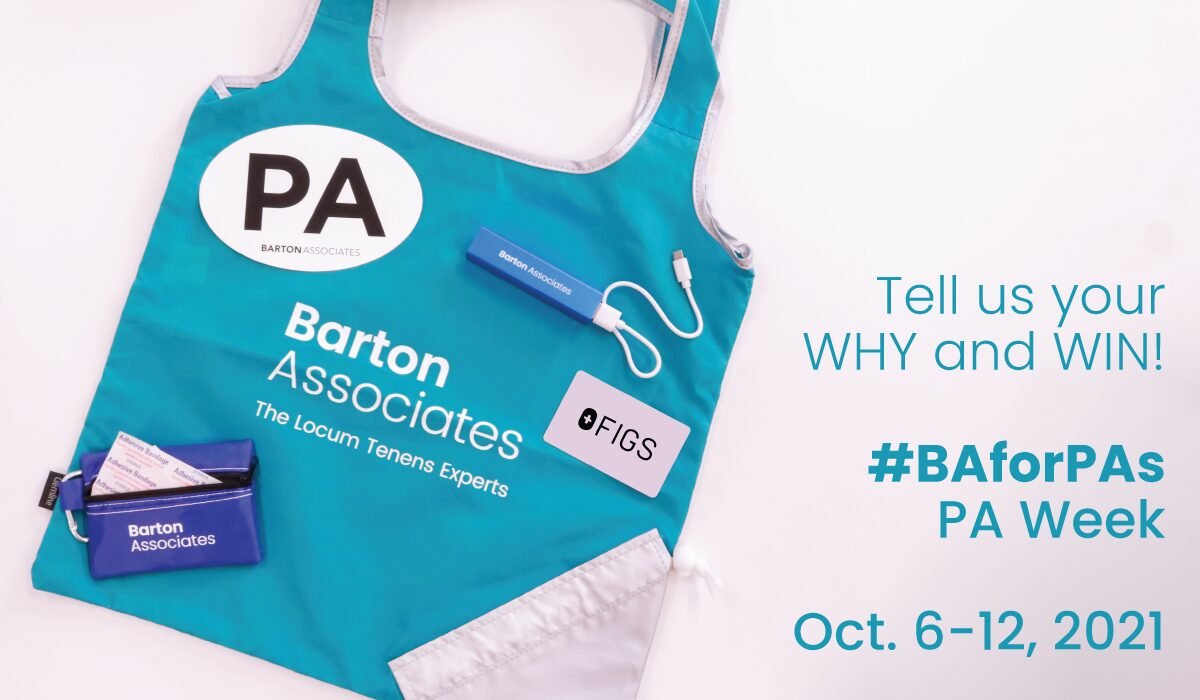 Learn More About Locum Tenens
Become a Barton Locum!
Physician assistants are a vital part of the healthcare system in the U.S. Whether they are on the frontlines fighting COVID-19, working a locum tenens assignment in a rural area, or serving their community locally, they are true heroes.
Barton is getting ready to celebrate PAs across the country for National PA Week 2021! This week, we take an extra moment to appreciate the physician assistants (PAs) who work tirelessly to serve our country.
To do so, we are joining the AAPA in inviting PAs across the country to share their 'WHY' on social media.  'Why they chose this career path, 'why' they chose locum tenens (if they did), or any other 'why'.  One lucky PA will win a Barton prize package!
What is the 2021 PA Week Contest?
Barton Associates want to learn more about 'WHY' PAs choose this line of work. We want to share the stories of PAs across the country via social media. We are asking PAs to post their 'WHY' to social media and invite friends to post too!
Rules & How to Apply:
Are you a PA? To enter, PAs should use the template below to share their 'WHY' on social media. Simply post using the template below on the channel of your choice. Be sure to use the hashtags listed.
One PA who posts will be selected the winner, which will be announced on social media the week of the 11th!
Not a PA but work with/know PAs? Share this page with them and tell them to share their 'WHY' to enter.

Template:
For #PAweek2021, I'm sharing why I became a PA along with @BartonAssociates and the AAPA.
I was inspired to become a PA because….[reason why you decided to work in the field/ why you love being a PA today]
I challenge [name] and [name] to share their reason why, and you'll be entered to win a prize pack! Let's show everyone what PAs are all about. #BAforPAs #PAweek #PAweek2021

HERE'S AN EXAMPLE!


Read the full giveaway terms and conditions.
Are you interested in learning more about locum tenens work? That's great! Fill out our form and a member of our team will be in touch.
Our 2020 Winners: 
Here what our 2020 #PAWeek winners shared about their experiences as PAs: