Oklahoma | Locum Tenens Travel Lifestyle
You're sitting at your computer, in the car, on a train, or hopefully a beach somewhere. Your phone vibrates. It's your Barton recruiter with a new listing to share. Excited to learn more, you answer. The listing is great pay, perfect schedule, and will start at a time that fits your schedule. But, it is in Oklahoma which you know very little about. No need to fear; we have you covered.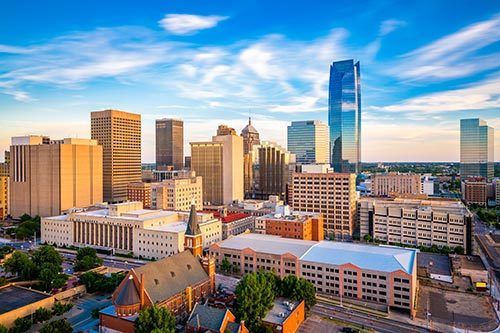 Ready to Hire or Work as a Locum Tenens?
Contact Barton Associates Today
What You Need to Know About Oklahoma as a Locum Tenens Healthcare Professional
Barton does not expect every provider to know the ins-and-outs of every state in the country. We've compiled information from TripAdvisor, state government pages, and tourist information sources to give you a glimpse into life in Oklahoma.
Remember, this is not an exhaustive list. Just a few nuggets of high-level information to get you started in your own research.
Locum Tenens Jobs in Oklahoma
REVIEW OUR JOB LISTINGS
WHAT YOU NEED TO KNOW ABOUT VISITING OKLAHOMA AS A LOCUM TENENS PHYSICIAN, NURSE PRACTITIONER, PHYSICIAN ASSISTANT, CRNA, AND DENTIST
The Beginning of Oklahoma
In 1889, President Harrison opened Oklahoma, a new territory, for settlers of the United States to claim their land. Known as the Oklahoma Land Rush, this event created what is now a state rich in history and culture.
What is there to do and see in Oklahoma?
TRAVEL BACK IN TIME TO LEARN THE HISTORY OF OKLAHOMA AND THE UNITED STATES
If you enjoy American history, Oklahoma is a great option! Just outside of Tulsa, OK, is a small town where the 'Black Gold' surge in the U.S. started. And, Oklahoma has the largest population of Indigenous people, just second to California. These cultures have significantly influenced Oklahoma's present day.
Additionally, the Oklahoma City National Memorial & Museum is a must-visit as a tribute to the lives lost in the Oklahoma City bombing.
ZOOS, MUSEUMS, AND OUTDOOR ACTIVITIES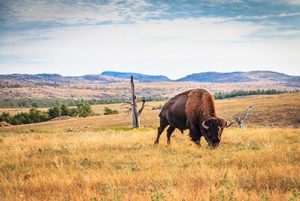 Buffalo grazing upon the Oklahoma wilderness landscape
For a more lighthearted day, plan a trip to the Oklahoma City Zoo and Botanical Gardens. Or, looking to really dig into history? The National Cowboy & Western Heritage Museum, the Gilcrease Museum located in Tulsa which, for history buffs, features the world's largest art and artifact collection from the American West, and the Historic Mattie Beal Home in Lawton are a few of the great options.
Take in the simplicity of the landscape of Oklahoma by visiting parks, outdoor hiking trails, or one of the many man-made lakes. This state is also known (to some) as a great location for great fishing, canoeing and boating, hiking, and even golf.
OKLAHOMA SPORTS
And, we can not forget to mention professional sports teams. When in Rome, right? One great way to take in the sports culture of a city or state is to cheer for a professional team. We're not suggesting that you burn your Tom Brady or Brett Farve jersey though. Oklahoma is home to the Thunder, an NBA team (that's basketball), a Triple A affiliate of the LA Dodgers (that's baseball), and there's even the Crusaders of Oklahoma Rugby Football Club to cheer for. If you have never watched USA Rugby, it's a great time.
Sports, history, and outdoor activities: there is truly something for everyone in Oklahoma.
Beyond Oklahoma, where can I visit within a 2 hour drive?
If you see all there is to see in Oklahoma while you are on assignment with Barton, take an extended day-trip to a nearby state such as Texas, Missouri, Kansas, or Arkansas. Oklahoma is truly in the middle of the country making this an ideal spot for quick flights anywhere in the United States or a weekend trip via car.
Assuming a starting point of Oklahoma City (and knowing that Tulsa is about 1.5 hours northeast of Oklahoma City), traveling to these major cities are a great option:
Dallas, Texas: 3.5 hours driving or a 1.5 hour flight
Austin, Texas: 6 hours driving or a 3 hour flight
Wichita, Kansas: 2.5 hour drive or a 3 hour flight
Kansas City, Missouri: 5 hours driving or a 4 hour flight. If you plan to drive, hit Wichita on the way!
The Ozarks Region, Arkansas: 3 hour drive or a 3.5 hour flight.
There's so much to do and see in Oklahoma that we could not fit it all one page. But we hope this sparked your interest in living in Oklahoma as a locum.
Ready to see what locum tenens job openings are available in Oklahoma? Visit our current job opportunities page, give us a call, or fill out our application form and a recruiter will contact you by phone.
Remember to sign up for SMS texts to be alerted when new roles in Oklahoma are posted.
Looking for more information about becoming a locum tenens provider? Check out the Barton Blog to learn everything there is to know about the locum tenens life or visit our locum tenens FAQs page.