South Carolina | Locum Tenens Travel Lifestyle
During the American Revolution in 1775, the territory that became South Carolina hosted more battles than any other colony. Did you know that? Neither did we. That's why we've created these travel guides for you to utilize before going on your next locum tenens assignment.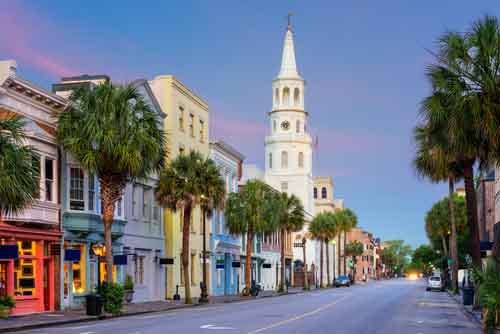 Ready for your next locum tenens assignment?
Contact Barton Associates Today
What You Need to Know About South Carolina as a Locum Tenens Healthcare Professional
We know you won't always know much about the state you are traveling to. To help you make an informed decision, we've compiled information from TripAdvisor, state government pages, and tourist information sources to give you a glimpse into life in South Carolina.
Remember, this is not an exhaustive list. Just a few nuggets of high-level information to get you started in your own research.
Locum Tenens Jobs in South Carolina
REVIEW OUR JOB LISTINGS

Dentist - SC
South Carolina is the site of your next locum tenens opportunity! Our client is looking for a dentist to begin coverage immediately. Hours include a mix of 8a – 5p and 8a – 1p shifts. The selected locum will be handling all aspects of general dentistry cases and procedures. This... View This Job

Physician - Urgent Care
Ever wanted to visit South Carolina? Now you can with this locum tenens opportunity! Our client is looking for a physician specializing in urgent care to begin coverage immediately. Hours include 24 hour call coverage shifts (8a – 8a). The selected locum will be handling 12 hour shifts for 3... View This Job
WHAT YOU NEED TO KNOW ABOUT VISITING SOUTH CAROLINA AS A LOCUM TENENS PHYSICIAN, NURSE PRACTITIONER, PHYSICIAN ASSISTANT, CRNA, AND DENTIST
South Carolina: A Brief History
The territory we now know as South Carolina became the 8th U.S. state in 1788 with the nickname "The Palmetto State."
Here are some other fun facts about South Carolina:
South Carolina's forests cover more than 67 percent of the state, and they're also one of the state's biggest natural resources—particularly loblolly pine.

South Carolina is native to mammals such as bobcats, wild pigs, gray foxes, and river otters
See for yourself everything that South Carolina has to offer! View our job board or fill out our form to have a representative give you a call.
What is there to do and see in South Carolina?
Charleston's Historic District
Immerse yourself in the gracious atmosphere of the antebellum south in Charleston, where more than 1400 historic homes, churches, and other buildings line the streets. A carriage ride will give you an overview and a little history as well, or you can join a walking tour that includes a peek into some of them. You can tour several historic homes, including the Aiken-Rhett House and the 1808 Nathaniel Russell House, which holds priceless collections of fine and decorative arts.
Myrtle Beach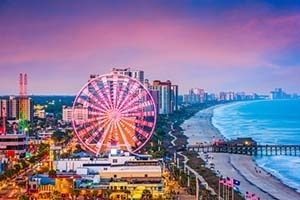 One of the most popular things to do in South Carolina in the summer is to retreat to the miles of pristine sands that line the coast at Myrtle Beach. As appealing as the beaches themselves are the many traditional seaside pleasures to choose from here. The Carolina Opry produces musical shows, and the Myrtle Beach SkyWheel takes visitors on 10-minute rides above the beach and boardwalk.
South Carolina Plantation Gardens
Many of the state's 2,000-plus plantations are open to visitors, and those around Charleston are noted especially for their outstanding gardens. Magnolia Plantation is in America's oldest publicly accessed gardens, begun in the early 1700s and first opened to visitors in 1870. They are unique as America's last grand Romantic-style garden. Middleton Place sits above America's oldest landscaped gardens; the house is fully furnished in original style.
USS Yorktown and Patriots Point
At Patriots Point, on the other side of the harbor from the Historic District, you can tour the historic Essex-class aircraft carrier USS Yorktown, built in 1943. This was the tenth aircraft carrier to serve in the United States Navy, and earned 11 battle stars for service in World War II, later adding five battle stars for service in Vietnam. The USS Yorktown "starred" in the 1944 documentary film, The Fighting Lady.
Deep Sea Fishing
From April through November, South Carolina is a prime destination for deep sea fishing, when avid anglers take to the water in a quest for sailfish, amberjack, cobia, giant blue marlin, barracuda, and other game species. Unique to the state's waters are the many artificial reefs, more than 40 of which are located off its 3,000 miles of tidal shoreline.
Where can I drive in 3 hours?
If you see all there is to see in South Carolina while you are on assignment with Barton, take an extended day-trip to a nearby state such as North Carolina, Georgia, and Tennessee. South Carolina is a great location to explore the United States because it borders 3 other states!
Assuming a starting point of Charleston, traveling to these major cities are a great option:
– Savannah, Georgia: 2 hours and 5 minutes
– Charlotte, North Carolina: 3 hours and 14 minutes
– Jacksonville, Florida: 3 hours and 48 minutes
There's so much to do and see in South Carolina that we could not fit it all on one page. But we hope this sparked your interest in living in South Carolina as a locum.
Ready to see what locum tenens job openings are available in South Carolina? Visit our current job opportunities page, give us a call, or fill out our application form and a recruiter will contact you by phone.
Remember to sign up for SMS texts to be alerted when new roles in South Carolina are posted.
Looking for more information about becoming a locum tenens provider? Check out the Barton Blog to learn everything there is to know about the locum tenens life or visit our locum tenens FAQs page.