New Jersey | Locum Tenens Travel Lifestyle
Traveling to New Jersey for your next locum tenens assignment? This article is for you! Here at Barton we know you won't always know much about the state you're traveling to. After all, there's over 50 states and territories you can go to as a Barton locum! That's why we make these state by state guides. Our staffing specialists and recruiters have compiled information from TripAdvisor, state government pages, and tourist information sources to give you a glimpse into life in New Jersey.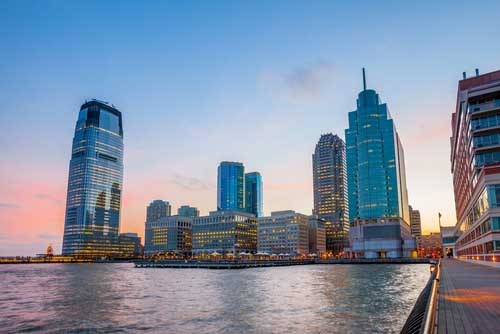 Ready for your next locum tenens assignment?
Contact Barton Associates Today
What You Need to Know About New Jersey as a Locum Tenens Healthcare Professional
Originally inhabited by several Native American groups, such as the Lenape, New Jersey was settled by the Dutch in the 1600s. The region was later claimed by England and became one of the 13 colonies. During the revolutionary period it was the third state to ratify the United States Constitution, and later was the final northern state to outlaw slavery. Today, New Jersey is known for its industry, diversity, and major transportation networks. The state has a wide range of geography, from large cities to rural mountain areas. Ready to explore this state for yourself? Read on and learn about some of the great attractions New Jersey has to offer!
Locum Tenens Jobs in New Jersey
REVIEW OUR JOB LISTINGS
WHAT YOU NEED TO KNOW ABOUT VISITING NEW JERSEY AS A LOCUM TENENS PHYSICIAN, NURSE PRACTITIONER, PHYSICIAN ASSISTANT, CRNA, AND DENTIST
What is there to do and see in New Jersey?
Atlantic City Boardwalk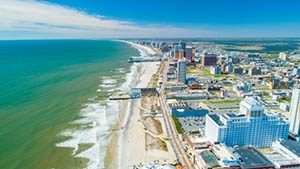 Opened over 150 years ago, the Atlantic City Boardwalk is a 6 mile stretch of retail, dining, and entertainment. In most regards this is a typical boardwalk, but it's a great place to spend the afternoon. Visitors note that many locations along the boardwalk are cash-only, so be prepared and bring some along!
Jersey Shore Alpacas
Located in Green Creek, Jersey Shore Alpacas provide fleece and fun for everyone! This venue is a knitter's dream, with over 20 different kinds of Alpaca yarn sold in the farm shop. You can even meet the fuzzy friends yourself! Unlike their llama counterparts, alpacas are notoriously nice, soft, and sociable. Check out the farm's website beforehand and arrange a time to visit.
Howling Woods Farm
Journey over to Jackson and experience this unique attraction. Howling Woods is a 501(c)(3) educational facility that rescues and cares for wolfdog hybrids. What's a wolfdog? You're sure to find out when you visit! Tours are by appointment and include an hour long walk through the facility and time to interact with the dogs.
Grounds For Sculpture
This 42 acre non-profit in Hamilton is part sculpture park, part arboretum. There are more than 270 sculptures, rotating exhibits, and six indoor galleries. This is a great place to relax and unwind for an afternoon. The grounds are absolutely sprawling, so be sure to wear comfortable shoes! You'll want to see every piece around the garden.
Thomas Edison National Historic Park
The Edison National Historic Park is both a museum and themed attraction. The building is the original residence of Thomas Edison. Most of the furniture belonged to the Edison family and are kept in the same spots as when they lived there! The museum is both an insight into historical life and Edison's inventions and artifacts. If you're a history fan in the slightest, you'll have a great time.
Cape May Winery and Vineyard
Founded in 1989, this family-owned and operated winery has four vineyards across Cape May. 26 acres of land grow 11 different varieties of grapes, which go into the wines including in tastings and tours! Both indoor and outdoor seating is available in the beautiful venue, as well as tasty, light food. Reviewers highly praise the friendly staff, so be sure to swing by!
What Else Can I Try?
If you see all there is to see in New Jersey while you're on assignment with Barton, there's plenty else to do! Northern Jersey is just a hop-skip away from New York City. The state is a central hub for much of the northeast due to its convenient location! You're just hours away from Pennsylvania, Washington DC, Boston, Connecticut, and Delaware.
There's so much to do and see in New Jersey that we could not fit it all on one page. But we hope this sparked your interest in living in New Jersey as a locum.
Ready to see what locum tenens job openings are available in New Jersey? Visit our current job opportunities page, give us a call, or fill out our application form and a recruiter will contact you by phone.
Remember to sign up for SMS texts to be alerted when new roles in New Jersey are posted.
Looking for more information about becoming a locum tenens provider? Check out the Barton Blog to learn everything there is to know about the locum tenens life or visit our locum tenens FAQs page.