West Virginia | Locum Tenens Travel Lifestyle
After archaeologists discovered spear points used to hunt extinct species such as mastodons and mammoths, they realized that people have lived in what's now West Virginia at least 10,500 years. Did you know that? Neither did we. That's why we've created these travel guides for you to utilize before going on your next locum tenens assignment.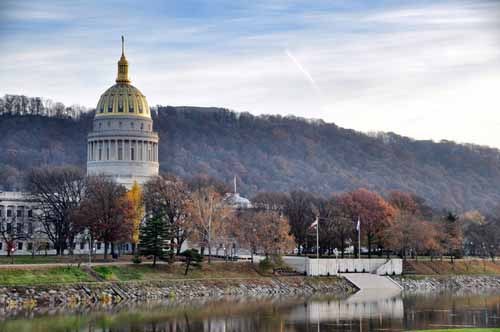 Ready for your next locum tenens assignment?
Contact Barton Associates Today
What You Need to Know About West Virginia as a Locum Tenens Healthcare Professional
We know you won't always know much about the state you are traveling to. To help you make an informed decision, we've compiled information from TripAdvisor, state government pages, and tourist information sources to give you a glimpse into life in West Virginia.
Remember, this is not an exhaustive list. Just a few nuggets of high-level information to get you started in your own research.
Locum Tenens Jobs in West Virginia
REVIEW OUR JOB LISTINGS
WHAT YOU NEED TO KNOW ABOUT VISITING WEST VIRGINIA AS A LOCUM TENENS PHYSICIAN, NURSE PRACTITIONER, PHYSICIAN ASSISTANT, CRNA, AND DENTIST
West Virginia: A Brief History
According to National Geographic, West Virginia was originally going to be called "Kanawha," a name that honors a Native American tribe. However, even though the region separated from Virginia, officials still wanted that as part of its new name.
Here are some other fun facts about West Virginia:
West Virginia is called the Mountain State because it's the only state completely within the Appalachian Mountain region

West Virginia is the only state in the Union to have acquired its sovereignty by proclamation of the President of the United States.
See for yourself everything that West Virginia has to offer! View our job board or fill out our form to have a representative give you a call.
What is there to do and see in West Virginia?
Harpers Ferry
The Shenandoah River meets the Potomac River at this small West Virginia town, which was the site of abolitionist John Brown's raid on the United States arsenal in 1859, an event that hastened the onset of the Civil War. Harpers Ferry National Historical Park has museums, historical exhibits, and programs, plus about 20 miles of hiking trails. You can explore the rocks where the rivers meet and walk up to St. Peter's Roman Catholic Church and the old cemetery on the hill behind it.
New River Gorge National River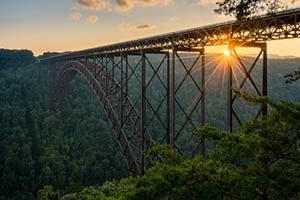 Contrary to its name, New River is actually one of the oldest rivers on the continent. As it flows into West Virginia, it cuts through the Appalachian Plateau, forming the New River Gorge and plenty of whitewater for tubing, rafting, and canoeing. Other recreational opportunities are all around it: hiking, ziplining, hunting, fishing, bird-watching, camping, biking, and rock climbing.
Whitewater Rafting
It's no secret that West Virginia is one of the best places to go whitewater rafting. Several rivers offer world-class rapids for experts, and others are well-suited to less experienced and learning rafters. The most famous waters are in the Gauley River, between Summersville and Fayetteville, in the Gauley River National Recreation Area. Here, the 25-mile river flows at high speed through gorges and valleys, providing the thrill of a lifetime to experienced rafters; it's no wonder the Class V rapids are nicknamed the "Beast of the East."
Trans-Allegheny Lunatic Asylum
As unconventional a tourist attraction as the West Virginia Penitentiary, the Trans-Allegheny Lunatic Asylum is a landmark in the history of treatment for the mentally ill. Constructed between 1858 and 1881, the asylum is the largest hand-cut stone masonry building in the hemisphere, and in the world it is exceeded only by the Kremlin in Moscow. It was designed by the architect Richard Andrews, who arranged the long rambling wings in a staggered formation, so that each of the connecting structures received as much therapeutic sunlight and fresh air as possible.
Cass Scenic Railroad State Park
At the Cass Scenic Railroad State Park, you can relive the Golden Age of Steam on a line built in 1901 to haul lumber from the forest to the mill, riding in refurbished logging flat-cars pulled by an original Shay steam locomotive. The full 4.5-hour trip includes switchbacks that allow the train to climb grades as high as 11 percent to reach Bald Knob. At an altitude of 4,700 feet, this is West Virginia's third highest point, overlooking spectacular views.
Where can I drive in 3 hours?
If you see all there is to see in West Virginia while you are on assignment with Barton, take an extended day-trip to a nearby state such as Maryland, Pennsylvania, Virginia, Ohio, and Kentucky. West Virginia is a great location to explore the United States because it borders 5 other states!
Assuming a starting point of Charleston, traveling to these major cities are a great option:
Columbus, Ohio: 2 hours and 37 minutes

Cincinnati, Ohio: 3 hours and 27 minutes

Lexington, Kentucky: 2 hours and 40 minutes

Pittsburgh, Pennsylvania: 3 hours and 21 minutes
There's so much to do and see in West Virginia that we could not fit it all on one page. But we hope this sparked your interest in living in West Virginia as a locum.
Ready to see what locum tenens job openings are available in West Virginia? Visit our current job opportunities page, give us a call, or fill out our application form and a recruiter will contact you by phone.
Remember to sign up for SMS texts to be alerted when new roles in West Virginia are posted.
Looking for more information about becoming a locum tenens provider? Check out the Barton Blog to learn everything there is to know about the locum tenens life or visit our locum tenens FAQs page.