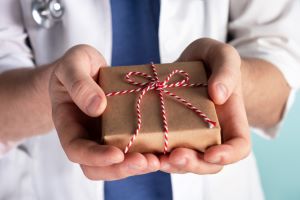 Before you schedule in your vacation time with your recruiter this winter season, consider some of the top benefits of taking locum holiday healthcare jobs.
Holiday locum tenens providers play a critical role in keeping healthcare facilities and institutions afloat during widely celebrated fall and winter celebrations. Holiday locum medical providers not only gain fulfillment by helping out when facilities need them most, but they're handsomely rewarded for their services as well!
More Schedule Flexibility
One of the biggest benefits of locum tenens work as it is, is having flexibility and control over your own work schedule. But over the holidays, this benefit gets a little upgrade. There is never a shortage of healthcare facilities who will need holiday locum tenens coverage, which means more job opportunities ripe for the picking!
The high demand for locum tenens medical providers not only gives you more opportunities to choose from so you can find what works best with your schedule, but it also gives you an upper hand when negotiating your schedule.
Higher Pay Rates
Speaking of high demand and negotiations, since most facilities are scrambling to fill their gaps in coverage right as the holidays creep closer and more permanent staff request time off, they generally offer very attractive pay rates upfront. More often than not, these rates can still be negotiated up by a locum's recruiter, especially if the facility is in a time crunch.
So whether you're looking to save up some extra money, or you need cash to spend on your loved ones' holiday presents, holiday healthcare jobs for locums can give you the extra cash you need to burn a hole in your pocket.
Relaxed Work Environment
Most healthcare providers are used to the hustle and bustle that comes with their day-to-day within their line of work. But, with the general public spending all their time celebrating the holidays with their families, it's safe to say that most prefer not to spend the festivities at a healthcare appointment.
This makes healthcare facilities generally a lot more peaceful and quiet to work in for medical providers. Not only will you likely have a lower case load, but the staff you work with may even have an overall positive attitude in light of the holiday lull, uplifting everyone's morale, and making for a more calm and easygoing work environment.
Locum holiday healthcare jobs may not be for everyone, but they do offer many advantages for those who keep an open mind!
Ready to give locum holiday work a try? Contact us and a representative will reach out shortly!