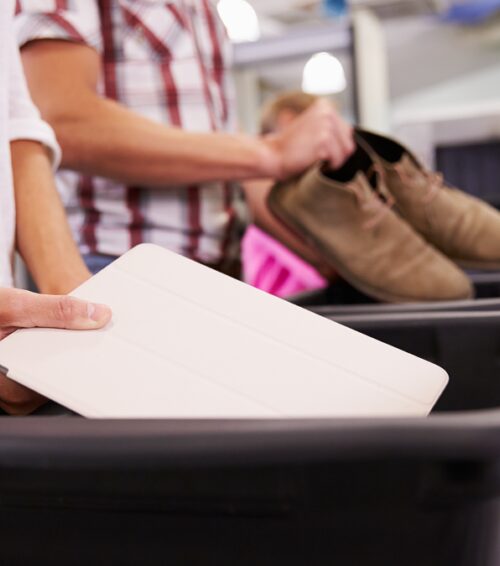 Locum tenens travel
work can send you all across the country to
interesting new places
. Of course, you may find yourself on an airplane, which means going to the airport, standing in an airport security line, and abiding by TSA clothing rules and regulations.
This experience is never fun, but there are a few tips and tricks to help you roll through it like a pro. Here are six things to avoid bringing into the security line:
What Not to Wear Through Airport Security
Deciding what to wear at the airport to expedite airport security screenings comes with two major considerations: clothing that is explicitly forbidden from wearing through a TSA check, and clothing — like bagging clothes — that are not expressly prohibited, but may extend the length of time you're with airport security. These TSA clothing rules will help provide you with the fastest time through TSA.
1. Complicated Shoes
Some airports are quite large, and you'll definitely want to wear shoes that are comfortable for walking. Make sure your shoes are easy to slip on and off because most airport securities require you to remove them temporarily. You do not want to be that person, slowing down the line because you're struggling with strappy sandals or knotted laces. In addition, wearing socks is important, otherwise you may find yourself walking through security in bare feet.
2. Anything Metal
Metal jewelry and piercings can set off the metal detector. Likewise, belt buckles can easily cause issues, and most TSA rules and regulations require you to remove them anyway. If you want to be a travel pro, choose a belt-free outfit — or at least preemptively remove your belt and put it in the bin with your phone and wallet. Metal fasteners on clothing and even the keys you accidentally leave in your pocket could require you to undergo extra screening. Finally, minimize the number of bobby pins or metal-heavy barrettes in your hair.
3. Big Luggage
Remember, TSA rules and regulations only allow one smaller-sized suitcase and one carry-on item when boarding the plane. Don't attempt to move through security with more than these items because you may find yourself being told to check your bags and start over at the back of the line. In addition, you'll want to keep your luggage organized: place electronics and liquids near the top so they're easily accessible when you need to pull them out.
4. Jackets and Coats
During airport screening, you'll be asked to remove coats and jackets, including bulky outerwear such as hoodies, parkas, sweaters, and vests. It's OK to wear a coat to the airport, of course, but it helps the security line move faster if you remember to take it off and put it in a screening bin before proceeding through the metal detector or body scanner (AIT).
5. Baggy Clothing
While baggy clothing isn't prohibited, TSA rules and regulations may require you to undergo extra screening if they cannot clear you as safe to travel. Baggy clothing can include low-hanging pants, flowy skirts, heavy sweaters or sweatshirts, and loose dresses – things that would allow malicious travelers to hide prohibited items. Airport security may need to do a pat-down inspection if your clothes are too loose and they suspect you may be hiding prohibited items.
Want to learn more about locum tenens jobs with Barton Associates? Fill out the form and one of our representatives will reach out to you!