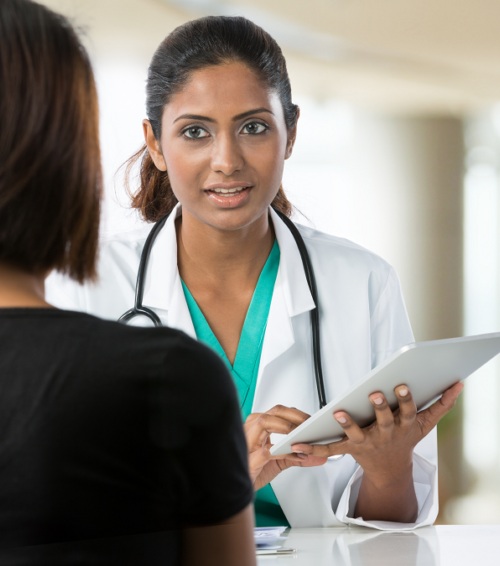 Editor's Note: Updated June 2019
You walk into the exam room or emergency department, or you are making the rounds for a physician. A patient utters the words you dread hearing: "I want to see a real doctor, not an assistant." In some rural areas, a physician assistant or nurse practitioner may be the only medical provider for miles, so a "real doctor" may not be around.
And sometimes, there are several physicians on site, but they have sent you in their place. Either way, patient management can be difficult, especially when one questions your medical expertise and advice.
To avoid further hesitation and doubt in your patient, focus on the similarities between each profession rather than the differences. Because each advanced-practice provider and every situation varies, pointing out minute differences may help patients understand the idiosyncrasies of these positions. Below are some tips, and even a few additional resources you can hang around the clinical areas to help ease these tense patient management situations.
Nurse Practitioners
All nurse practitioners were registered nurses before receiving either a master's or doctoral degree.So, when a patient questions a NP's medical expertise, the conversation should begin with the education involved to become one:

"I was a registered nurse once, and still am one at heart, but I furthered my education and received an advanced degree to learn the practice and administration of medicine. My education was very similar to that of a physician."
Nurse practitioners undergo at least 500 hours of clinical training while working toward their advanced degree, and many programs require a minimum of three years of bedside work experience prior to entering graduate school.
After graduation, NPs do not just run out and start a clinic on some street corner. They are first certified by one of the national certification bodies, similar to physicians sitting for boards before beginning practice. Mention to your patient that in addition to receiving a board certification, NPs undergo peer review of their skills, and, like physicians, are required to continuously complete education and training to stay up-to-date on shifting trends in medicine.
Like physicians, to continue practicing, NPs must maintain their certification by documenting patient hours (at least 1,000 pertinent to their field) and 100 education hours, 25 of which must be credited to pharmacology training as new drugs are always hitting the market. Make sure that your patient knows that because NPs hold many of the same responsibilities as physicians, they must maintain a similar wealth of knowledge and training to continue practicing medicine.
In any setting in which a NP is practicing, there is very little that a physician can do that is outside of a NP's scope of practice. NPs are able to perform minor procedures and assist physicians in major procedures, but are not permitted to perform invasive surgeries. This difference tends to be of little consequence, as the majority of NPs practice in outpatient primary care.
Physician Assistants
When a patient asks a physician assistant for a "real doctor," an argument similar to that of an NP can be put forward. Unlike NPs, who must be registered nurses prior to entering their respective programs, PAs must only hold a bachelor's degree in the field of their choice as long as they meet the prerequisite requirements of their medical school program. Many PAs find themselves taking a few extra, medicine-driven classes to meet those requirements.
Personally, I took an English class, a medical terminology course, and an additional psychology class before entering my program, and I was pre-med as an undergrad. These prerequisites are intended to verify that each candidate has the base knowledge necessary to succeed before adding the clinical skill set needed to practice medicine.
The training model for PAs very much mirrors that of physicians, and so the discussion with the patient should begin there. The average length of a PA program is two years; the first year is similar to the first half of physician training, while the second year is comparable to a physician residency. Before they graduate, PAs are required to complete more than 2,000 hours of clinical training, alongside physicians, NPs, and other PAs. By the time a PA graduates, they are well versed in medicine and have accumulated an abundance of experience at the patient's bedside.
Similar to NPs and physicians, PAs must also pass a lengthy certification exam after graduation. It should be explained to patients that not only must PAs graduate from a difficult program, but they must also pass a certification exam, as well as recertify every 10 years — far above and beyond what is required for "real doctors."
In all three training models, physicians, NPs, and PAs must meet continuing medical education (CME) requirements every year. Most CME programs are attended by all three types of professionals, ensuring that NPs and PAs are not only trained similarly to physicians, but that they continue their education alongside them as well.
Understanding these similarities — in education, in certification, and in continuous training — will help ease any doubt patients have of your capabilities and understand that you are as much of a healthcare provider as any "real doctor."
Are you an NP or PA who has fielded patient requests to see a "real doctor"? How do you handle patient management in these situations? Leave your tips in the comments, and be sure to check out the additional resources below!