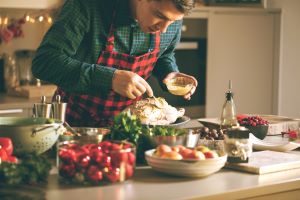 Let's face it, most "easy holiday recipes" are never as quick and effortless as they claim, especially for a locum in a time crunch!
The holidays can be an especially busy time for locum tenens medical providers, whether or not they're on assignment. For those who are home for the holidays, you'll likely want to capitalize as much as you can on the time you have to spend with your family and loved ones; and those away on locum jobs will likely be focused on catching some shut-eye in between back-to-back shifts.
Whichever way you are spending the fall and winter festivities, you may not end up having a lot of time to prepare your favorite holiday treats and side dishes. From sweet potatoes with brown sugar, to green beans with cream sauce, sometimes your family favorites can simply be too in-depth and time consuming to prepare with the time you have to spare.
So whether you're home for the holidays, or you're craving a taste of the elebration while away on assignment, these quick and easy recipes from Taste of Home only take about 10 to 15 minutes to prepare, and are a great way to satisfy your holiday hunger when store bought just won't do!
Every great holiday meal has some hor'dourves to munch on before the main course, in between breaks, and before desserts come out! This delicious Cranberry Cream Cheese Spread can be made with only 5 ingredients (including the crackers!) in 10 minutes, and is sure to please a hungry, pre-entree stomach!
Another easy, 4-ingredient recipe that only takes about 10 minutes or less to prepare is Turkey-Cranberry Bagels. The best part about these bagels is that, for locums away on assignment, you don't need grandma's famous roasted turkey to make it, and for locums at home who do have leftovers, they can be put to good use the day after your festivities are over!
We know that most are used to the classic green beans and mashed potatoes beside their turkey or ham for holiday meals, but this Garlic Parmesan is so simple to make that it might just be worth trying something new! Aside from a hot pan and some asparagus, all you'll need is some butter, garlic, and parmesan cheese.
Away on assignment or at home with the kids, this White Christmas Sangria is the perfect non-alcoholic holiday thirst quencher for one, or the whole family! With hints of organge, pomegranate, and cranberry, this refreshing drink combines the most refreshing fruity flavors of the holidays, and is especially perfect for those who aren't exactly fans of the more common drinks of the holiday season, like spiced teas and ciders, hot chocolate, or any other spiced or hot beverage.
Giving and receiving chocolate coins for Hannukkah is a fun tradition for children and adults alike. If you remember receiving these holiday treats and want to remember that child-like fun, or if you're planning on giving out Gelt to children you love in your life, it's quicker and easier to make than you think! The best part? You probably have all the ingredients you need at home, since you can customize this recipe to whatever you have in your pantry.
Here at Barton, we understand the stressors involved in the locum life surrounding the holidays. That's why we wanted to make this year's holiday season (and festive treats!) as easy on you as possible with these quick and easy holiday locum recipes!
Interested in taking on a holiday locum tenens assignment? Get in contact with us to connect with an experienced recruiter!