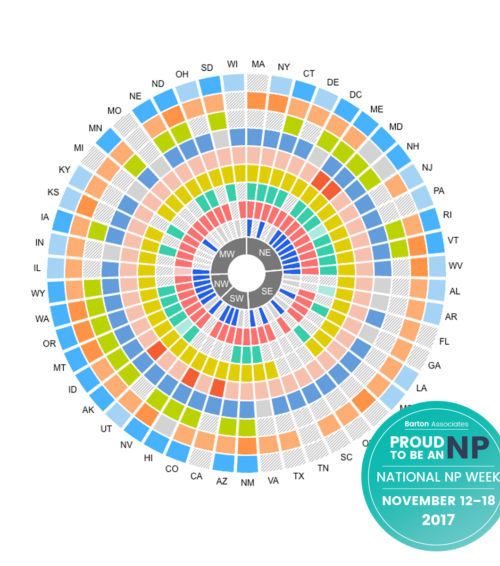 It's National NP Week! Thank you to NPs across the profession for your hard work and dedication to healthcare. We here at Barton Associates are celebrating with you by publishing NP-focused content all week long!
Nurse practitioners (NPs) are stepping up to meet the demands of the physician shortage. Across the country, hospitals, practices, and companies in need of coverage are turning to NP talent to provide continuous quality of care for patients and limit burnout for existing staff.
While this shortage has affected facilities everywhere, those in rural areas are the most dependent on this skilled group of medical professionals. As these needs have grown stronger, NP scope of practice has expanded. Are you considering staffing a locum tenens NP to address a staffing shortage at your facility? Make sure you're familiar with practice regulations near you.
To celebrate National NP Week, we fully updated our Nurse Practitioner Scope of Practice Wheel with the latest state laws so you can quickly navigate NP scope of practice in your state with a fun, interactive guide!
Full, Reduced, or Restricted Practice
According to the American Association of Nurse Practitioners (AANP), full NP scope of practice means state practice and licensure law allow all NPs to evaluate and diagnose patients, order and interpret diagnostic tests, initiate and manage treatments, and prescribe medications, all under the authority of the state board of nursing. Currently, NPs have full practice authority in 22 states plus D.C.
Reduced practice is defined by the AANP as a reduced ability for NPs to take part in at least one element of NP practice. In these states, the law allows NPs to provide patient care in a regulated collaborative agreement with an outside health discipline, or by limiting the setting or scope in other ways. Currently, NPs have reduced practice authority in 16 states.
The AANP defines restricted practice as the restricted ability of an NP to engage in at least one element of NP practice, as they are required to be supervised, delegated to, or otherwise managed by an outside health discipline to care for patients. Currently, NPs have restricted practice authority in 12 states.
Medical Staff Membership
The medical staff membership section of our NP Wheel refers to laws that regulate NPs' ability to join a medical staff. Depending on the state, this law may fully allow, reduce, or restrict this ability, while some states have no law at all. Currently, permission for NPs to join a medical staff is fully allowed in 12 states, reduced in 31 states plus D.C., and restricted in four states. There is no law for NP medical staff membership in three states.
Autonomous Practice
Practice autonomy refers to the degree of physician involvement in different elements of NP practice, including diagnosing and treating patients. NPs can independently diagnose and treat patients without physician involvement in 22 states plus D.C. NPs must be supervised by a physician in 28 states. Some restricted states require physicians to sign NP charts to qualify for reimbursement.
Primary Care Provider
According to the AANP, more NPs are choosing primary care than physicians and PAs: Three out of four NPs deliver primary care, and more than 89 percent of NPs have been prepared in primary care. However, not all states have a state statute or administrative code that recognizes NPs as primary care providers. The law recognizes NPs as primary care providers in 42 states. In eight states plus D.C., the law doesn't define whether NPs can be primary care providers.
Independently Prescribe Schedule II Drugs
Many states reduce an NP's ability to prescribe schedule II drugs. Some require NPs to apply for permission, some have laws that depend on an NP's area of population focus and certification, some require the physician to be in the specialty or practice area as the NP, and others enforce a variety of other requirements.
Order Physical Therapy
In many states, NPs are fully authorized to make referrals for physical therapy, or a referral is not required in that state. In other states, a physician must make the referral. The former is true for 46 states plus D.C., and the latter in four states.
Sign Death Certificates
When it comes to signing death certificates, physician involvement varies. NPs are fully authorized to sign death certificates in 26 states. In three states (Alaska, Arkansas, and New Jersey), NPs can only sign death certificates under specific conditions. Alaska requires the physician to authorize an NP's signing, and to certify the death certificate within 24 hours. In Arkansas, only hospice-employed NPs can sign death certificates. New Jersey only authorizes NPs to sign death certificates in specified situations. The remaining 21 states plus D.C. only allow physicians to sign death certificates.
Sign Disabled Person Placard Forms
In a majority of states (43 plus D.C.), NPs are legally allowed to sign disabled person placard forms. Only Illinois reduces this ability, allowing NPs to provide proof of disability for "person-with-disabilities" plates, but not for a "handicap license plate." In the remaining six states, NPs are not able to sign disabled person placard forms.
POLST/POST/MOLST/MOST/COLST
The National Physician's Orders for Life-Sustaining Treatment (POLST) Paradigm was put into place to help honor a patient's wishes during end-of-life planning and treatment. The acronym varies across states, with some referring to it as Practitioner Orders for Life-Sustaining Treatment (POLST), Physician Orders for Scope of Treatment (POST), Medical Orders for Life-Sustaining Treatment (MOLST), Medical Orders for Scope of Treatment (MOST), Clinician Orders for Life-Sustaining Treatment (COLST), and others.
NPs may sign their state's form in 25 states. Seventeen state programs are still developing. The remaining eight states plus D.C. either don't have a program or aren't currently participating in the initiative.
NP scope of practice has come a long way. Where would you like to see it expand in the future?
Happy National NP Week! We don't want you to miss any of our NP-focused content in the coming days. Check it out

on the Barton blog!