If you're a physician or physician assistant, an AMA profile is essential for practicing in certain states. And if you work locum tenens physician jobs, an AMA physician profile is especially in expanding your freedom to work an assignment in any state with one less logistical requirement standing in your way. Here's an overview of what it is, why you might need one, and how to get it.
What is an AMA Profile?
The AMA physician profile verifies credentialing information to individuals and organizations such as licensing boards and hospitals. Physicians can obtain one regardless of whether the physician is an AMA Member.
Each profile includes a wide-variety of primary source information, including:
Medical and/or osteopathic education and year of graduation
Graduate medical education, residency training, specialty/subspecialty, sponsoring institution, and training dates
State license(s) issued and issue date(s), expiration date(s), status (Active, Lapsed, Expired, etc.) and type of license (temporary, limited, or unlimited)
National Board of Medical Examiners (NBME) certification year
American Board of Medical Specialties certification(s) and subcertification(s), effective date(s), and expiration date(s)
Why Do I Need an AMA Profile?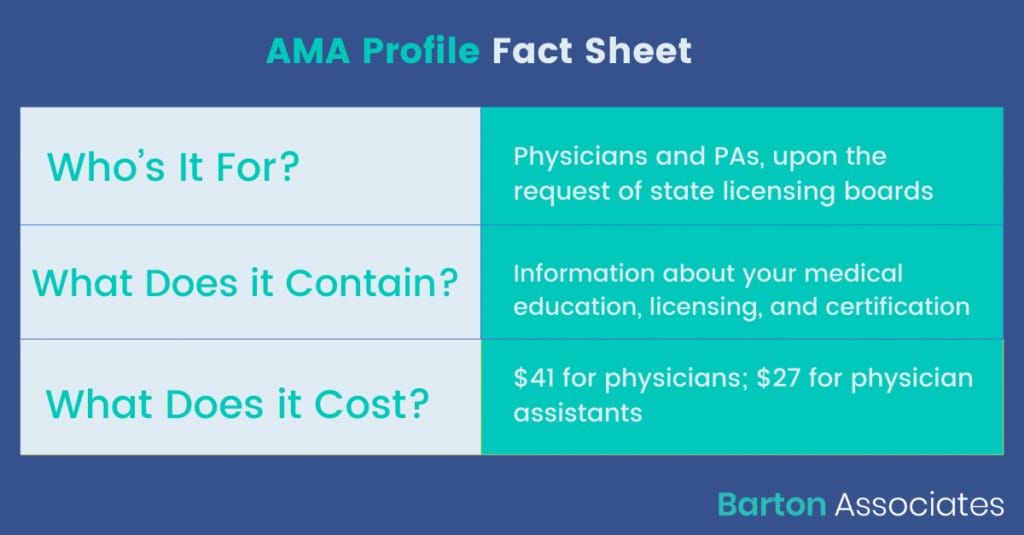 Certain state licensing boards request an AMA physician profile from the American Medical Association as part of licensing criteria. These states include Virginia, Vermont, South Carolina, Arkansas, North Carolina, Alabama, New Jersey, West Virginia, District of Columbia, Hawaii, and Washington.
How to Use the AMA Profiles Hub
Barton Associates' Licensing Department is here to help you in obtaining a copy for any state license application that you may be trying to complete. Here are step-by-step instructions on how to get your profile though the AMA Profiles Hub if you decide to handle this on your own:
Go to the AMA Profiles Hub and provide your last and first name along with your date of birth to find your profile (If the system cannot find you, you must call the AMA at (844)-552-1868).
Once the system locates your profile, click "Login", read the agreement, and click "Accept".
Choose the state medical board you wish to receive your profile. Click the "Go" button and then click "Checkout".
Choose "First Class Mail" and then click the "Continue" button to enter your payment information. When you have entered all the necessary information, click "Submit".
Print out the confirmation page, which will include a reference number in case you must re-order the profile.
How Much Does an AMA Profile Cost?
An AMA profile costs $41 for physicians and $27 for physician assistants. If the state medical board does not receive your profile, simply contact the AMA customer service line and ask them to send it again at no extra charge. The process to request your AMA physician profile can seem daunting, especially if you are limited on time. Let Barton Associates' Licensing Department help you with obtaining the state license for your next locum tenens assignment – no matter where in U.S. it is!