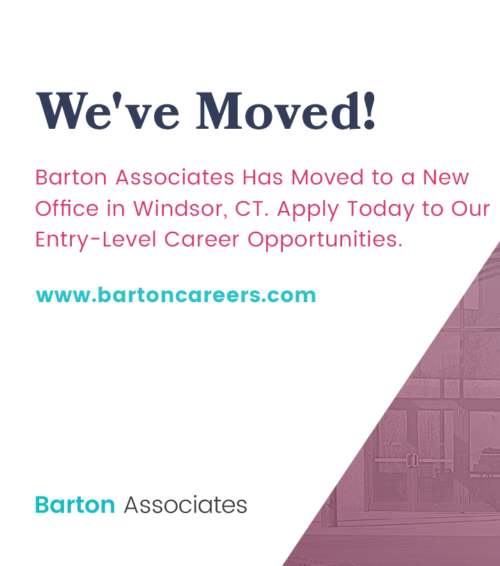 Barton Associates, a leading recruitment firm in the $3.6 billion locum tenens market, opened an office in Windsor, CT, on April 24.
Barton Associates previously had an office in Enfield, CT, but the company's sizable growth created a need to drastically increase the available amount of desk space. The move to Windsor provides room for an additional 50–75 employees over the next year. This location, with its strategic proximity to Springfield, MA, and Hartford, CT, was specifically selected to enable the company to bring career opportunities to the area.
"We selected this new location to better access the great talent coming from some of Massachusetts's and Connecticut's top universities," says Jonathan Retchin, director of talent acquisition, who's moving to the new office in Windsor. "Barton Associates provides young professionals with an unparalleled opportunity to grow both professionally and financially, and we plan to hire more than 50 new and recent graduates this year alone."
Located just off Route 91 in an up-and-coming area, Barton Associates' new Windsor office has plenty of nearby conveniences for employees such as Dunkin Donuts, Blimpie, and Gold's Gym. Employees also gain access to the company's extensive benefits package.
The property's owner, Mark Greenberg of Greenberg Real Estate, heralded the move because it will bring an influx of new professionals to the area. "We welcome Barton Associates and all of its employees headquartered here and wish them the best for a successful opening and operations of its office here in Windsor," he explains.
Barton Associates has eight locations in six states (MA, CT, NH, FL, TX, AZ) and is currently staffing for various roles in all its offices.
To learn more about working at Barton Associates, visit BartonCareers.com.