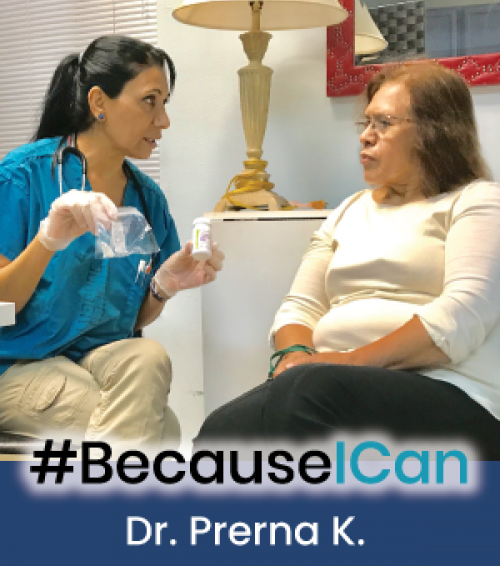 #BecauseICan is a Barton Associates campaign featuring the real lives of locum tenens providers and the reasons that they do locum tenens work. For all of the providers featured, the flexible nature of locum work allows them to live life on their own terms. Whether that means frequent travel, volunteer work, or extra time to pursue a passion, this campaign features great providers who live life on their terms because of all they CAN do with locums.
For these providers, the answer to the question "Why Locum Tenens?" is Because I Can!
Dr. Khanna, our 2021 Locum Heroes winner, currently works as a qualified medical examiner (QME) in California, but has been doing locum tenens work since 1998. She is board certified in occupational medicine, internal medicine, and preventative medicine. For Dr. Khanna, she chose locum tenens work as a way to help those in need after disasters.
Prerna's quest for helping those in need has taken her all over the world. Thanks to the flexibility of locum tenens work, she has been able to answer the call whenever disaster strikes. Dr. Khanna's dedication to helping people has brought her to places like Haiti, Japan, Sri Lanka, India, Indonesia, and the Philippines. She also worked as a contractor for the World Health Organization (WHO) during the Ebola pandemic.
In India, Dr. Khanna brought over toothbrushes to help kids with their personal hygiene. "The kids were using twigs to clean their teeth and they had terrible cavities, and gum disease, and all kinds of stuff," she said. "So I had taken toothbrushes and toothpaste and we had toothbrush clinics that I taught them how to use toothbrushes." She lived there with them for two weeks.
"My entire lifestyle is about being flexible. I want to get up and go when I'm called to help out for disasters."
You don't need to go overseas to provide relief through locum tenens work. "The places that locum tenens workers go to, they're in desperate need of somebody. These are critical access areas, these are rural areas, these are areas where a practitioner suddenly and unexpectedly went out and there's a gaping hole in people who need to be seen. The locum tenens workers in and of themselves are providing, in a sense, humanitarian work," she said.
"Don't underestimate the value of locum tenens workers. They are doing very, very valuable work where patients would go unseen if it wasn't for them and untreated and uncared for. And we have delays in care, and the patients would get into trouble, and if you didn't take care of a wound, they end up with an amputation, or if you didn't have someone to evaluate their chest pain, they'd end up with a heart attack at the hospital. They provide absolutely essential service," she said.
Whether you are going overseas to help those in need or working close to home, working as a locum tenens provider gives you the flexibility to go wherever you're needed. So many providers are making the switch to locum tenens, so why not you?
Want to learn more about locum tenens with Barton Associates? Fill out the form and one of our representatives will reach out to you!