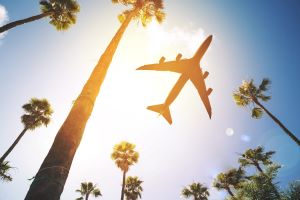 Make every dollar count in the new year by utilizing the best travel healthcare worker discounts for locum tenens medical providers in 2023!
During our kick off of the new year, many of us may make new year's resolutions to improve our budgeting skills, save more money, and boost our finances overall. Since locum tenens providers get paid some of the most competitive rates within the healthcare sphere, you may already be ringing in the new year with a healthy bank account, but that doesn't mean you can't bring in more abundance!
Why spend more on travel when you're eligible for a whole slew of healthcare worker discounts? After all, if the discounts exist for you, it's not called penny pinching, it's smart spending! Whether you're planning on making your next assignment a bit more lively by seeing some entertainment, or you're planning to book luxury vacation with no work required, we have your back with the best healthcare worker discounts and deals on travel for locum doctors, nurse practitioners, physician assistants, and dentists in 2023!
Travel Discounts for Healthcare Workers
Finding the best travel deals shouldn't have to be stressful. No matter where you're looking to go, we found amazing deals on hotels and accommodations, flights, and rental cars in order to take the burden of cost cutting off of your shoulders!
Stays, Resorts, & Accommodations
While vacation planners are usually able to locate good deals on hotels and accommodations online, there's often a good reason why your stay is discounted, and if you're looking for a first-rate experience, you likely won't get it at these locations. With all the hard work our medical workers and first responders do every day, they deserve a premier experience wherever they stay, so before you check out your cart with full priced items, check out these special discounts for healthcare workers on top hotels and accommodations!
Casino & Hotel Discounts for Healthcare Workers
A luxurious getaway overseas is always nice, but they're not realistic for every trip you may plan. Sometimes taking your vacation planning back to basics (and within the U.S.) is all you need to save money while enjoying some time away from home. Casino hotels are not only a great option for planning a personal trip when you take some time off, but if you'll be on a locum assignment in the area, they can add some extra fun into the mix when you need to blow off some steam after a long shift. Here are some of the most exciting casino and hotel deals for locums in 2023, all offering 35% off to medical providers!
Car Rentals
So you've booked your flight and hotel for your next locum assignment or vacation and now you need a way to get around town. As any experienced locum will tell you, the cost of taxis and Ubers adds jup fast, and public transportation can be unreliable. Booking your rental car in advance at the earliest possible moment, as we always recommend, can save you both some stress from rushing to secure a rental last minute, and money by avoiding last minute booking upcharges. Extend those early-bird savings by also knowing where you can get a good deal for simply doing what you do as a medical professional!
Hertz – Hertz is probably one of the most well-known car rental companies, with over 90 years in the business, and they're offering up to 25% off on rental cars for healthcare workers, helping to make your travels more seamless, and rewarding for your wallet!
Budget – Another popular car rental company, Budget, is offering medical professionals discounts of up to 25% off on car rentals as well. With over 3,000 locations across the globe, you're likely to find a budget car rental wherever your travels, or locum assignments, may take you!
Dollar Car Rental – Already guaranteeing the lowest rates on your next rental car, Dollar Car Rental is giving healthcare workers the most bang for their buck with an additional discount of up to 25% off!
Ready to earn a competitive rate with Barton? Check out our open locum jobs, or fill out our contact form to get started today!
Please note that the content of this blog is for informational purposes only. Conduct your own due diligence before making any and all financial decisions.