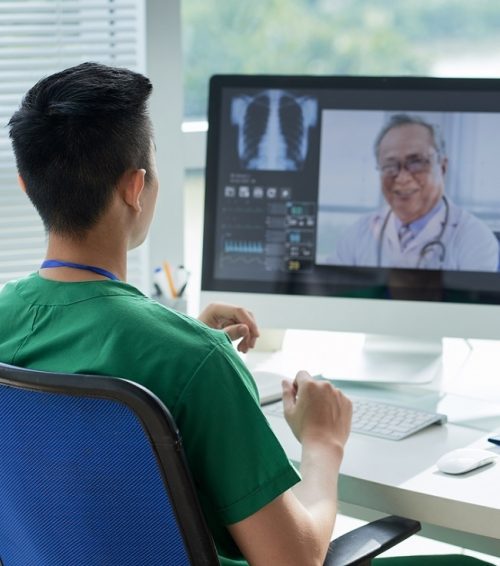 Before working in telemedicine, I had many questions. Having worked mainly in an outpatient setting, I wanted to know how telemedicine worked. What would the workflow be like? How did the technology work? What type of clinical conditions could I expect to assess and treat? What was the level of support provided to clinicians and to patients? Drawing from my experiences, here are four considerations to think about when applying for a telemedicine position.
WHAT
Scheduling your work shifts can vary across telemedicine companies and their open assignments. Some may have you select a set schedule in advance, others may allow you to work on a per-diem basis where you login at your convenience. Some companies offer 24/7 medical care to patients allowing you greater flexibility with your own work schedule. If you are licensed in multiple states, that may open up your availability to take care of more patients. You may work as an independent contractor or as a hired employee with a stable part-time or full-time work schedule. Expect that company needs can change on a regular basis: for instance, the flu/cold season is usually busier and therefore there may be a greater need for clinicians during the winter months.
WHERE
Consider where you will be seeing patients. You want to make sure that you have access to a private and comfortable setting where you can see patients without interruptions. Seeing patients from a busy cafe may not be the best idea, but a home office or even a well-lit walk-in closet will work! Create a safe online setting for both you and your patients to make sure that patient confidentiality will not be breached. Some clinicians may have the opportunity to utilize their employer-based work office for telemedicine visits. Take appropriate caution as patients may be dialing in from anywhere. I've had several patients call or video in from a cell phone while they're in their car which is fine. However, several times I had to share my concern and advise patients to pull over and not drive while on the phone for their and others' safety.
Tip! One benefit to being able to see patients within their home setting is if they can't recall the name of a medication they are taking, they can just fetch it and read the label to you.
HOW
How does it work? Know your legislative guidelines – for example, in some states you have to see patients by video rather than having a phone encounter. Before your first shift with any company, make sure you are given ample training on the portal being used. Inquire about support services for both clinicians and patients. One company I worked with had an online chat service ready, so if any questions popped up during a patient visit, I could type away and get immediate administrative help. On the patient end, will they be provided with support? With some telemedicine organizations, you will be the one providing triage. When patients call in with concerns that you are unable to manage, is there a customer service team available? If patients are having difficulty connecting via phone or video, is there a support team that can provide technical troubleshooting?
As in a traditional office setting, make sure there is a follow-up system in place for the management of lab results, if that telemedicine company has the ability to have labs ordered for patients. Also, consider the implication of ordering and following up on lab tests – for instance, if tests for sexually transmitted infections (STIs) come back positive, in addition to appropriate follow up with the patient, understand if there are any local health department implications such as official reporting of results and/or partner identification and notification.
WHO
Who will you be taking care of? Will you be expected to see both children and adults? Will you be seeing patients with acute medical conditions and/or chronic health issues? Think about the implications of each – for instance, if you renew an anti-hypertensive for a patient with a history of chronic uncontrolled hypertension, how will their blood pressure be subsequently measured and who will follow up to see if their medication regimen is effective or not. Or, if someone is having an acute asthma attack, how do you do an objective assessment? Many times, just being able to clinically triage over the phone or video call is valuable and you can direct the patient to the appropriate follow-up care at an urgent care center or ER, if need be. For any significant medical issues or clinical dilemmas, I had no hesitation explaining to patients the need for immediate assessment in person with a clinician.
Make sure you understand the geographical implications of where you practice. Will you be seeing patients in-state only or will you be expected to provide medical care to individuals overseas? Your telemedicine company should also provide clear instruction about what can and cannot be prescribed – for instance, prescribing opiates is usually prohibited. Also, you may want to consider assessing if the telemedicine company practices evidence-based medicine.
Telemedicine can bring convenience and improved access to healthcare for many patients. For the clinician, it can also provide convenience and greater flexibility in work schedule.
Want to learn more about locum tenens with Barton Associates? Fill out the form and one of our representatives will reach out to you!