In celebration of CRNA week, I wanted to reflect on our roles as a CRNA during the National COVID-19 Pandemic. This past year has brought fear, loss and hardship to many. Our world has definitely been turned upside down and we have had to change and adapt the way we would normally do things. As anesthesia providers, we continue to put our lives on the line, day after day, to help others and save lives. CRNAs have played a vital role in the critical care management of COVID-19 patients. This includes intubation and airway management, ventilatory support, sedation, invasive line insertion, taking on new roles leading emergency preparedness, ICU intubation teams, leadership, and government affairs.
The following CRNAs reflected on their response to the COVID-19 Pandemic: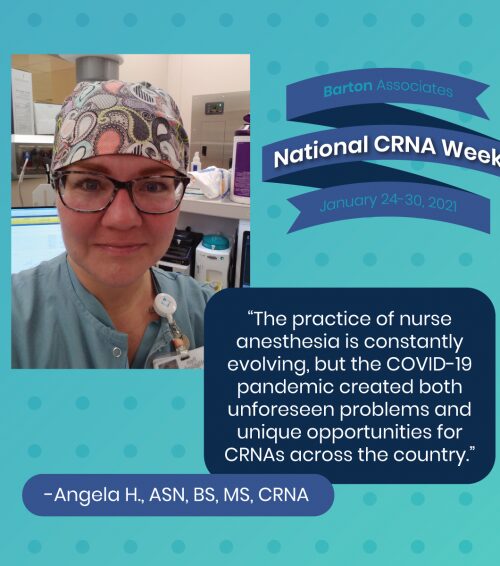 "The practice of nurse anesthesia is constantly evolving, but the COVID-19 pandemic created both unforeseen problems and unique opportunities for CRNAs across the country. I currently practice as a CRNA within an ACT model in rural Pennsylvania.
On March 30, 2020, the increasing demand for skilled providers was evident, and CMS supervisory restrictions were temporarily lifted as our versatile critical care capabilities and professionalism were recognized. This enabled CRNAs across the country to expertly treat our patients without the redundancy of physician supervision. In the months that have followed this ruling, I have assisted the intensivist team in creating and implementing our facilities' COVID intubation protocol, and intubated and cared for patients both in the operating room and ICUs independently when necessary. Our dedication to our patients and profession have never been more critical or evident, and my hope is to see our extraordinary efforts to provide affordable, quality care be permanently recognized."
-Angela H., ASN, BS, MS, CRNA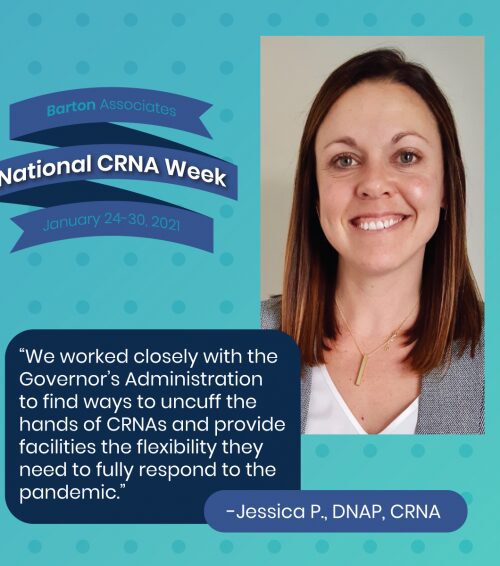 "Prior to the start of the pandemic, it was impossible to imagine the day that certified registered nurse anesthetists (CRNAs) would be furloughed. However, as an attempt to preserve medical supplies and mitigate viral spread to the public and healthcare practitioners, Governor Wolf issued an order to cease all elective surgeries. As a result, many CRNAs across Pennsylvania were sidelined, myself included.
Conversely, my CRNA colleagues working the frontlines in the hospital settings, immediately rose to the challenge and found innovative means to provide care to the critical COVID-19 population. We quickly recognized that Pennsylvania CRNA licensing issues and unnecessary regulative restrictions made it impossible for healthcare facilities to fully utilize the unique skillset that CRNAs possess to manage COVID patients. We worked closely with the Governor's Administration to find ways to uncuff the hands of CRNAs and provide facilities the flexibility they need to fully respond to the pandemic. As part of the Governor's executive order, the requirement that CRNAs be supervised by a physician was temporarily uplifted. The waiver has been hugely important as part of the state's response to the healthcare crisis by availing more CRNAs and physicians to provide hands-on care, nearly doubling our provider capacity."
-Jessica P., DNAP, CRNA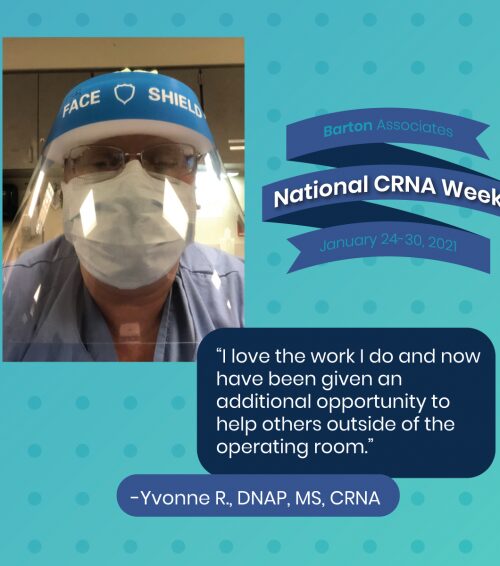 "This pandemic has changed all of us in some way. The biggest change in myself has been the realization that CRNAs are truly the best providers. At our facility, the CRNAs are doing double duty and working in the ICUs as well as the operating rooms. Our eye for detail along with an extensive knowledge of the body has heightened the level of care for our patients. We are able by our training to pick up on irregularities before deterioration to worsening conditions. We are able to place needed lines without waiting for someone else. We are not only easing the workload of the ICU RNs but also that of the nurse practitioner.
I have also found myself doing a lot of teaching. Most of the RNs are given protocols to follow but not given the rationale behind their care. Understanding is key. We are the best advocates for our profession. I love the work I do and now have been given an additional opportunity to help others outside of the operating room.
As previously mentioned, our Gov. Tom Wolf had granted a temporary waiver to suspend CRNA supervision requirements, allowing us to practice to the fullest extent of our education, training and licensure during this time of need. As of now, Pennsylvania remains one of only a few states where CRNAs are not recognized as advanced practice providers despite operating at the full scope of our practice. CMS should consider permanently waiving Pennsylvania CRNA supervision requirements. CRNAs are already the primary anesthesia care provider in the vast majority of rural and underserved areas and at least 18 other states have opted out of physician supervision requirements. It's time that we are recognized as advanced practice providers and that we be granted a permanent waiver of supervision requirements to provide safe, affordable, quality care to our patients."
-Yvonne R., DNAP, MS, CRNA
Want to learn more about locum tenens with Barton Associates? Fill out the form and one of our representatives will reach out to you!