How to Explain a Gap on Your Nurse Practitioner Resume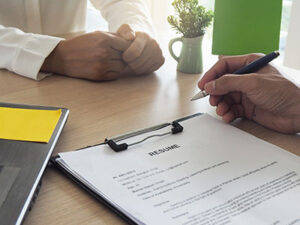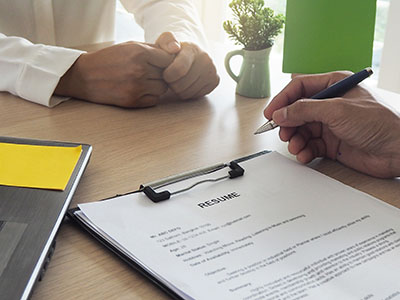 So you've taken a few years off of work and now you have a gap in your nurse practitioner resume. Because the unemployment rate during the early stages of the COVID-19 pandemic hit over 14%, you can rest assured that many people are in the same position.
There are plenty of good reasons to have a gap in employment. Some people take time to care for family members, others want to work on professional development, and some just want to take their time finding the perfect employment match.
Regardless, you may end up having to explain that gap on your resume. We're here to tell you how. Read on for a few quick tips.
First: Make Sure It's Actually a "Gap"
This might seem unusual, but you should actually make sure that you have a legitimate gap in your resume before you try explaining it. It's possible that your brief open period between jobs won't be a red flag to an employer. After all, it's not abnormal to spend a small amount of time looking for a worthwhile career, and employers know that.
A gap of a month or two is no cause for concern. Even a gap of several months during the early days of the COVID-19 pandemic won't often be addressed as employers understand that it was a difficult time for everyone submitting job applications, even people who were working or pursuing nurse practitioner jobs.
Gaps become more obvious if they're almost an entire year-long or longer.
Consider Making the Gap Less Obvious
Many people think that it's dishonest to make a gap look less obvious on a resume, but this isn't the case. We actually think that honesty is the best policy when you're job-hunting (more on that later), but we also don't think that you need to "call out" potential "problems" on your own resume.
Depending on what resume format you use and how long your gap is, it can be easy to make it less obvious or hide it altogether. As a matter of fact, if your gap was only a year long or shorter, no one ever has to know about it.
When you're creating your resume, you don't have to include the month that you started and left each job title. Most of the time, including the year is more than enough. As long as your gap isn't too long, you can hide it completely this way.
With this in mind, it is still possible that an employer will ask you about specific dates when you make it to the interview stage. If this happens, the rest of our tips will help you.
You can also use a resume format that doesn't put work experience at the forefront. Instead, it focuses on skills and achievements. The functional resume format may be the best resume format in 2022 for nurse practitioners who want to hide their employment gaps.
Be Honest When Writing Your Resume
If you have a long gap that you're unable to hide, don't panic. Regardless of what it was for, it's best to be honest and prepare to explain it.
Many people think that they have to make up a reason or seriously embellish to convince an employer that their employment gap is no big deal. This isn't the case. It's likely that your employer has had a gap or two in employment in their life as well.
List the "Gap" as Its Own Job
If your gap is long enough, list your reason as its own job. This legitimizes it and gives you an opportunity to talk about what you gained from the gap.
For example, let's say that you were taking care of an ill or aging family member. While it may not seem like it on the surface, that actually would have given you great experience that applies to NP jobs.
Underneath your reason, write what you gained and learned from it just as you would with any other job or internship. So if you were a caregiver for two years, your experience could be something along the lines of:
Administered medications daily
Checked vital signs
Displayed fantastic bedside manner to keep the patient comfortable
Coordinated care with other healthcare professionals
Assisted with basic grooming and household tasks
Those are all fantastic for any nurse practitioner.
Not all gaps will look as "nice" on a resume, but that's okay. You can list any valuable experience you gained between jobs. Whether you worked on professional development, raised an infant, or just searched around for the perfect job, you've learned things that can make you a better nurse practitioner.
Keep It Concise
You don't have to go into explicit detail. Once you mention the gap and what you gained from it, move on to the next topic.
This is also true during interviews. Don't feel pressured to spend excess time explaining yourself. It may make your gap seem more important than it is.
Nurse Practitioner Resumes: Basic Resume Tips
So now that the pesky gap is out of the way, let's talk about some more basic tips.
When you're looking through NP resume examples, pay attention to how they word their skills section. Often, employers are using specific keywords to find their ideal employees, and if you have those keywords, your resume will rise to the top.
For example, "administered medications" is stronger and more professional than "gave medications." It's more likely to be a specific term that an employer is looking for.
Consider your soft skills as well as your "hard" skills. Soft skills are things like attention to detail, written and verbal communication, working in a team, and anything else that may not be knowledge or occupation-based, but will act as a complement to those harder skills.
Remember that you don't need to list all of your skills and experiences if it's not all relevant to the job description you're applying for. Prioritize recent experience and experience that lends itself well to your new job.
For example, if you have work history in a retail environment from before you finished school, this likely won't help your employer understand you as a candidate. When you only have limited space, it's far better to include relevant volunteer work experience.
Bonus: if your employment gap was a long time ago after an irrelevant job, this is another great way to hide the gap.
Gaps in Your Locum Nurse Practitioner Resume? Don't Panic
Having a gap in your nurse practitioner resume is nothing to worry about, especially when we're in the midst of a pandemic. Stay calm and prepare yourself to talk about why you took time away. What did you learn and how can you apply it to your new career?
Let your resume show that your gap in employment isn't a red flag.
Are you looking for a new career? At Barton Associates, we connect medical professionals with locum tenens job opportunities that suit their skills and expertise. Look at our job board today.