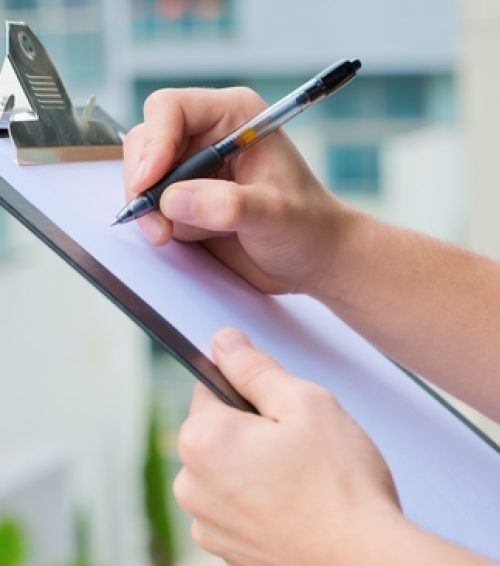 As luck would have it, your assignment coincides with a Joint Commission (TJC) inspection. The organization is beefing up protocols, tucking away all that equipment stored in a back corridor of the operating room, and double-checking expiration dates on medication vials. They don't have time to coach you.
While you might be unlucky being on assignment during an inspection, you are lucky enough to have access to TJC's online National Patient Safety Goals. Once you have the inside scoop with the help of these annually published guidelines, TJC's focus will make sense. Here are seven areas Joint Commission surveyors will focus on in 2020:
Correctly Identifying Patients
Identify patients with two identifiers, such as name and date of birth, no matter how uncommon their names are.
When transfusing a patient, identify the patient with two methods by checking the blood bank number, blood type, and the blood or blood product's expiration date.
Improving Staff Communication
TJC focuses on this goal to ensure test results are reported to the correct provider in a timely fashion. For locum tenens health care providers, we need to confirm our colleagues have our cell phone or pager numbers.
Although not part of the National Patient Safety Goals, closed-loop communication is vitally important when dealing with verbal orders.
In addition, every staff member in the facility needs to wear an identification badge, so patients and coworkers know who you are. This is especially important as an incoming locum tenens provider.
Using Medicines Safely
If it hits the table, it needs a label. Medicine in syringes, medicine cups, and basins must be labeled, even medicines that have a distinct appearance, like propofol. For medicines that aren't going to be used immediately, a date and time need to be added to the label.
When withdrawing medicine from a multi-dose vial, the vial top needs to be swabbed with an alcohol wipe and the vial accessed with a clean needle each time. Best practice is to use a multi-dose vial for only one patient. If it is to be used for more than one patient, the vial cannot come into the patient treatment area, but must instead be stored in a clean medication preparation area, such as the nurses' station.
Inspections also focus on protocols that manage anti-coagulated patients. While your clinical judgement regarding whether a procedure can be safely performed on an anti-coagulated patient isn't a focus of an inspection, the clinic or hospital's anti-coagulation guidelines for nursing, pharmacy, and medical staff are a subject of the survey.
A final focus on medication safety is reviewing and reconciling the patient's medication list during each encounter.
Using Alarms Safely
This is a simple: alarms need to be audible and tended to.
Preventing Infection
Perform hand hygiene before and after every patient contact, even if you've worn gloves.
Follow the institution's protocols for the use of personal protective equipment (goggles, masks, gowns, and gloves) and for aseptic/sterile technique when placing central lines, arterial lines, epidural catheters, indwelling urinary catheters, etc.
Finally, minimize the length of time a patient has an indwelling urinary catheter.
Identifying Patient Safety Risks
TJC's will continue to focus on suicide prevention in 2020. The burden, however, does not only fall on psychiatric and primary care physicians and nurses. We are all responsible to seek help for patients who express thoughts of harming themselves.
Hospital protocols addressing the safe use of restraints has been a focus in past years.
Preventing Mistakes in Surgery
This doesn't speak to accidentally perforating the uterus during a D&C. This speaks to performing the correct surgery on the correct patient on the correct side.
It starts with a consent signed by the patient or guardian for the procedure. The patient must also have a mark identifying where the surgery will be performed. Follow the hospital's protocols regarding who can site-mark the patient.
Immediately before the procedure, everyone caring for the patient participates in a time-out, starting with introducing ourselves – an especially important part of the process for a locum tenens health care provider. While the rest of the time-out content varies from place to place, the patient's name, procedure, operative side (if applicable), time antibiotics were given, risk of intraoperative fire, use of laser, need for specialized equipment, need for cultures or specimens, etc. are usually part of the process.
Want to learn more about locum tenens with Barton Associates? Fill out the form and one of our representatives will reach out to you!