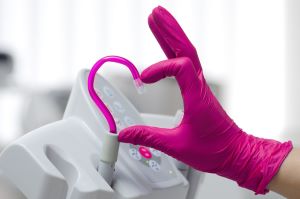 Every year, on March 6th, Barton Associates celebrates those who keep our chompers chomping, and our smiles shining! National Dentist Day was established to show appreciation for Dentists, raise awareness for proper oral health, dental habits, and dental care, and encourage those avoiding their Dentist to schedule an appointment for a dental checkup.
Travel Dentists do a lot in one assignment! They can do anything that a staff dentist can, and often take over all responsibilities for the provider they're covering for whether it be due to an unplanned absence, or a serious staff shortage. No matter how short or long the assignment, it's important for locum tenens Dentists to feel valued. That's why Barton encourages our clients to show their appreciation this Dentist Day with 3 ways to thank your travel Dentist!
Give the Gift of Take-Out
Come lunch time, your new locum tenens Dentist probably isn't going to know the first thing about what food options are available around the clinic, or even which ones are actually open during Covid.
This Dentist Day, take some of the stress off of their adjustment to the new area with a gift certificate to Uber Eats, GrubHub, or DoorDash so they can have lunch delivered right to them. Better yet, make them feel even more welcome by sharing some of your staff's favorite lunch spots so they can eat like a local!
Express Your Appreciation
Travel Dentists are tasked with taking over the regular duties of a staff Dentist all while adjusting to a new environment and patient population at the same time which can definitely feel overwhelming. Living the locum lifestyle means constant moving and hustling.
The easiest way to say thank you for all their hard work is with a simple card or note expressing your appreciation for how they've helped out your practice in their short time there. Make it personal by recognizing their specific strengths and accomplishments, or take it a step further with a fruit basket!
Offer Your Recommendation
Though your travel Dentist's main focus while working for you is fulfilling the tasks and responsibilities at hand, the nature of their work means that eventually, they will move onto another assignment at a different practice.
While locum Dentists more often than not have a large arsenal of supervisor and peer recommendations and references ready for their next prospective employer, the fear of annoying those people for references too often never really goes away. Help to ease that fear by adding another name to their reference list; as they say, the more the better! You can offer a pre-written recommendation letter, or simply offer your blessing for their agency to call when a new reference is needed on file.
Whichever way you choose to celebrate a travel Dentist this Dentist Day, don't forget to snap a photo with them wearing your brightest smile, and making a social media post with the hashtag "#NationalDentistsDay"!
HAPPY NATIONAL DENTIST'S DAY FROM ALL OF US AT BARTON ASSOCIATES! START YOUR OWN LOCUM TENENS JOURNEY TODAY.