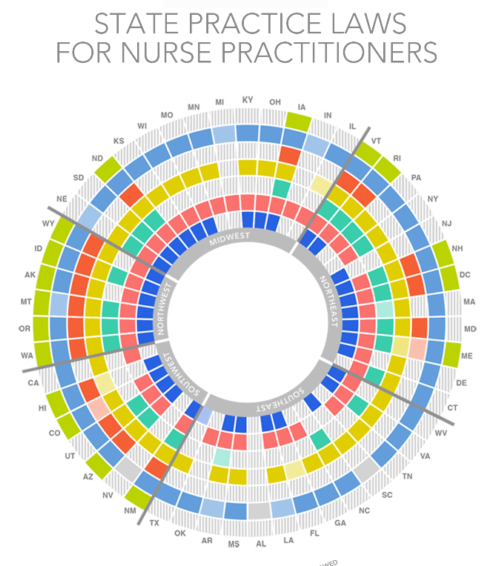 Discussions involving nurse practitioners (NPs) and their role in healthcare often include terms such as "scope of practice," "independent practice," and "prescriptive authority." It's clear these concepts encompass what an NP can and cannot do, but what do they really mean, and how does this affect the profession as a whole?
This article elucidates the differences between these topics and calls upon NPs to help educate their colleagues, employers, and representatives.
Scope of Practice
Scope of practice is defined as the particular procedures, actions, and processes that a healthcare provider is legally permitted to do. Scope of practice varies by state and is governed by the law. The American Association of Nurse Practitioners (AANP) succinctly defines a nurse practitioner's scope of practice:
"Nurse practitioners are licensed, independent practitioners who practice in ambulatory, acute, and long-term care as primary and/or specialty care providers. Nurse practitioners assess, diagnose, treat, and manage acute episodic and chronic illnesses. Nurse practitioners are experts in health promotion and disease prevention. They order, conduct, supervise, and interpret diagnostic and laboratory tests, prescribe pharmacological agents and nonpharmacologic therapies, as well as teach and counsel patients, among other services."
While the scope of practice between an NP and a physician is similar, the scope of practice between an NP and a registered nurse (RN) is quite different. An RN can legally make a nursing diagnosis and implement a nursing treatment, such as health education. In contrast, an NP can legally make a medical diagnosis and implement treatments such as prescription medication, diagnostic imaging, and invasive procedures.
Some states allow a more progressive scope of practice for NPs, while others require physicians to supervise their actions. Physician supervision laws in states such as Texas, Alabama, and South Carolina limit the services that nurse practitioners are legally allowed to do, sometimes decreasing patient access to medical care. In contrast, states such as Washington and Maine allow NPs to provide patient care without such limitations. This Interactive Scope of Practice Law Guide illustrates scope of practice differences among states.
Despite this variation, all NPs are educated to practice as independent practitioners — that is, without physician supervision or oversight — regardless of where they attend nurse practitioner school.
Independent Practice
Independent practice is an NP's ability to provide care without mandated supervision from a physician. An NP who lives in a state that has granted independent practice can assess, diagnose, and treat a patient in the same way that physicians do.
As mentioned above, all NPs are educated to provide patient care without supervision; however, some states have enacted laws that require NPs (and their employers) to compensate physicians for overseeing an NP's work.
The degree of independence varies between states, and it is a contentious topic among national organizations representing both NPs and physicians. The AANP categorizes each state's degree of independence as full practice (entirely independent), reduced practice (partially independent), and restricted practice (nonindependent).
In full practice states, NPs can provide patient care without physician involvement. In reduced practice states, laws require physicians to have some involvement, such as discussing patient cases with NPs or meeting some of their patients. In restricted practice states, laws prohibit NPs from providing care they were educated to provide and require costly supervisory agreements between NPs and physicians.
Lobbying efforts focus on achieving independence in all states as recommended by the Institute of Medicine, AARP, Robert Wood Johnson Foundation, and National Council of State Boards of Nursing. Of note, recent national legislation passed that granted independent practice to all NPs who work in Veteran's Affairs facilities regardless of which state they are in.
Prescriptive Authority
Prescriptive authority refers to a healthcare provider's legal ability to prescribe prescription medication. Patients and even employers often wonder, "Can NPs prescribe medication?" That is, do NPs have prescriptive authority? The answer is a big YES! Nurse practitioners can prescribe medication, including controlled substances, in all 50 states and Washington D.C.
The degree to which NPs can prescribe medication without mandated physician supervision, however, varies by state. Today, in 21 states and Washington D.C., NPs have the explicit legal authority to prescribe. In the remaining states, NPs can still write prescriptions, however there is some mandated oversight from a physician.
Lobbying efforts from NP organizations also focus on removing these unnecessary legal barriers to prescribing medication. The AANP advocates for nurse practitioners' ability to prescribe without physician involvement, that state boards of nursing (not physician state boards) be responsible for NP prescriptive authority regulation, and that nurse practitioners be able to prescribe medical devices and services such as home healthcare in addition to medication.
Campaign for Consensus
Because of the unnecessary variation among states regarding what NPs can and cannot do, the National Council of State Boards of Nursing launched the Campaign for Consensus. This initiative helps states achieve independent practice.
Moreover, the Campaign aims to align individual state laws with the current best practices for healthcare regulations, licensure, education, and certification, and strives to help consumers, employers, and other healthcare providers understand the correct scope of practice for NPs.
Specifically, the Campaign lobbies for all states to incorporate these rules into their legislation:
Recognition of the title "nurse practitioner."
Licensure as both an RN and as an NP.
Graduate or postgraduate education from an accredited institution.
Board-issued certification in a medical specialty.
Independent practice.
Independent prescribing.
Learn More
This article is just the tip of the iceberg! To get involved in NP advocacy, contact your local NP organization and join the AANP. To learn more about NP scope of practice and independent practice, check out these resources:
What questions do you still have about NP independent practice, scope of practice, or prescriptive authority? Let us know in the comments!