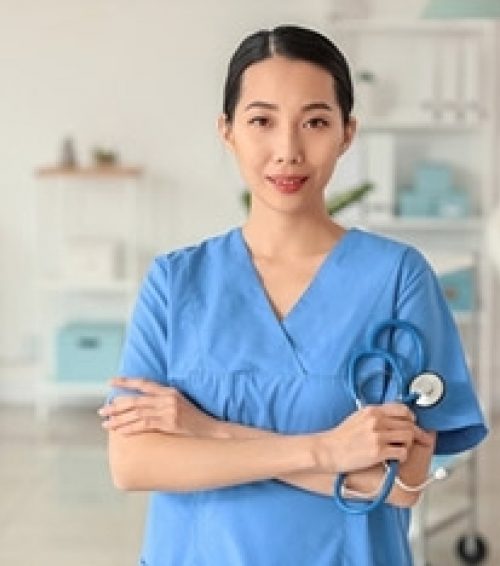 What is the Difference Between an NP and a DNP?
Nurses play a lot of different roles in healthcare and, as such, often vary in terms of education and experience. Because there is no one way to be a nurse, there are many different ways for those in the field to reach the same goal: To provide the best care possible for patients.
One variation that might be confusing is the difference between a nurse practitioner (NP) and a Doctor of Nursing Practice (DNP). Often when people hear the word "doctor," they think of someone who has an M.D. or D.O. But it is important to note that someone with a DNP is still a nurse—unlike an NP, a DNP is a degree, not a role, and the "doctor" here refers to a doctorate degree. A DNP is one of two terminal degrees in nursing, meaning it is the highest degree that can be achieved in that field. The other terminal degree in nursing is a Doctor of Philosophy (Ph.D.)
The differences between an NP and DNP go beyond education however. Here is a quick look at what each entails.
What is an NP?
A nurse practitioner is an advanced practice registered nurse (APRN). According to the American Association of Nurse Practitioners (AANP), all NPs must complete a master's or doctoral degree program and obtain advanced clinical training. They must also pass a certification exam. There are 10 certifications an NP can obtain:
Acute care
Adult medicine
Adult-gerontology acute care
Adult-gerontology primary care
Family
Gerontology
Hospice and palliative care
Pediatrics
Psychiatric/mental health – family
Women's health
NPs can deliver primary or specialty care to patients. They can also carry out the majority of their medical functions without a physician's approval. Nurse practitioners can:
Diagnose and treat acute conditions
Act as a primary care provider
Diagnose and treat acute conditions
Write prescriptions (in some states)
Order diagnostic tests
Check out our NP wheel for state-by-state NP scope of practice laws.
What is a DNP?
As mentioned above, a DNP is a terminal degree in the field of nursing. According to the American Association of Colleges of Nursing, the DNP curricula builds on traditional master's programs for nursing and provides education in quality improvement, evidence-based practice, and more. Unlike an NP, however, a DNP does not require a certification exam.
A DNP may be ideal for nurses who wish to become leaders in the field; a nurse with a DNP may seek out a title such as Chief Nursing Officer or Nursing Administrator. Nurses with a DNP might also seek out educational opportunities and focus more on academic research and evidence-based practice. However, nurses with a DNP may also choose to practice as APRNs, even though not all will go that route.
Which Path to Choose?
If you are a nurse and are deciding whether to pursue a career as an NP or to seek further education through a DNP program, you should consider what your long-term goals are. If you wish to remain on the clinical side and work primarily with patients, it may make more sense to become an NP. But if you want to take on more of a leadership role and enjoy doing research, a DNP may be the right fit. You'll also want to consider factors such as the amount of time you are willing to spend in school—a DNP requires more courses and clinical hours than the MSN obtained by many nurse practitioners—and what you want your earning potential to be. Both choices, however, are essential to the healthcare system, and both provide the opportunity to make a meaningful difference in patients' lives.
Want to learn more about locum tenens with Barton Associates? Fill out the form and one of our representatives will reach out to you!