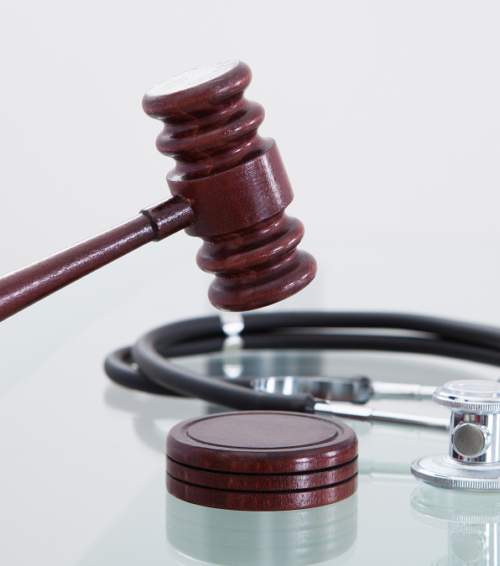 Nurse practitioners (NP) are less likely to be named in a malpractice suit than physician assistants or physicians. According to research conducted by the Federation of State Medical Boards, "NPs may decrease [malpractice] liability, at least as viewed through the lens of a national reporting system."
From 1991 to 2007, there was one malpractice claim filed for every 2.7 active physicians, one for every 32.5 active PAs, and one claim filed for every 65.8 NPs.
The statistics are in line with several other studies analyzing care provided by both NPs and physicians, which have found that NPs have the same or better patient outcomes when compared to physicians.
Although statistics say NPs are much less likely to be named in a malpractice suit, physicians who enter into collaborating or supervision arrangements with NPs may be liable for NPs' actions. An article published by Medscape cites cases where physicians and NPs have been named as codefendants in malpractice suits.
Most of the cases could have been avoided with effective communication between physicians and NPs and a greater understanding of the NP scope of practice laws. Cases include situations where NPs performed tasks outside their scope of practice, physicians blindly signed NP notes, and NPs made medical decisions without consulting the collaborating/supervising physician.
To be sure physicians are meeting collaboration/supervision requirements and that NPs are practicing within their scope of practice, doctors and NPs should be familiar with laws in their state.
Of course, the concern over physician liability may be moot in 22 states plus D.C., where NPs have plenary authority, meaning they can practice without any physician involvement.
The American Academy of Nurse Practitioners (AANP) is actively lobbying for NPs to have plenary authority in every state, but that goal is still several years away. In the meantime, the number of practicing NPs is on the rise and NPs are assuming a bigger role in the healthcare system. Those new NPs are going to enter into partnerships with physicians, and both parties should make sure they work together to minimize their malpractice risk.
Want to learn more about NP scope of practice in your state? Check out our interactive
NP Scope of Practice Wheel
!