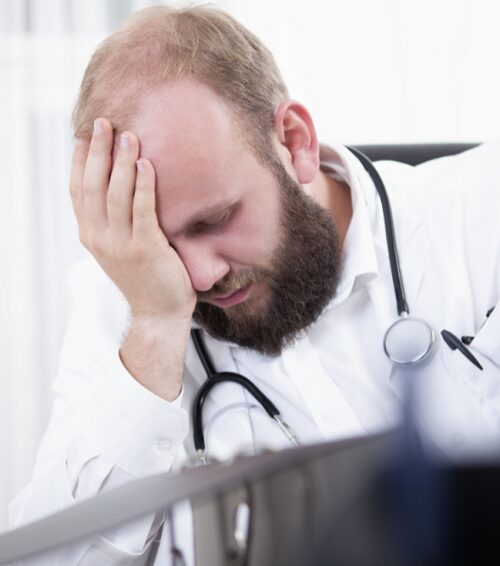 Physician burnout has recently become a hot topic, although it is certainly not a new one. According to commentary published in a 2011 issue of The Journal of the American Medical Association (JAMA), 30 to 40 percent of U.S. physicians are experiencing burnout. Similarly, a 2012 study published in the Archives of Internal Medicine reported that 46 percent of physicians reported at least one symptom of burnout. Not surprisingly, higher rates are reported among those whom patients see first: emergency medicine and primary care physicians. What's the reason? There are multiple reasons, and each physician has his or her own favorites. But the current state of healthcare is largely to blame.
Most physicians find themselves surrounded by more paperwork and documentation than they had ever expected, which contributes to longer hours and frustration with the system. Longer hours are also spent on increasing requirements for maintenance of certification, as well as simply staying on top of advances in their fields. However, longer hours no longer lead to increased income, as reimbursement in general is decreasing. Additionally, physicians are practicing in an era in which medical errors are magnified and there is a plethora of medical information available on the internet. This leads to increased patient expectations as well as an increase in defensive medicine.
These reasons, among many others, negatively affect the collective mental health of physicians. Some report mental fatigue or guilt over not spending enough time with their patients. Some report lack of empathy as a result of more patients with more demands or poor compliance. Others report anger and frustration with their loss of autonomy and personal time.
Physician burnout should be a concern for all Americans as it can directly affect the quality of care they receive. Additionally, many have predicted a physician shortage, especially in primary care, which is unlikely to be remedied soon. As if that wasn't enough, we are now in danger of losing many physicians to early retirement or career path changes as they becoming increasingly dissatisfied with their current situations.
There is plenty of available reading on the causes of burnout and its increasing incidence. What is not known is what might be done about it or how bad it may get. Certainly, newer regulations and increasing burdens on physicians may make things worse. In many offices, new implementation of electronic medical records may be financially taxing and time-consuming. Additionally, millions of Americans, who were previously uninsured and are now insured, need access to care. It will be interesting, to say the least, to see how things shake out in healthcare over the next few years.
How do you cope with professional burnout as a healthcare provider? Tweet us @bartonlocums!