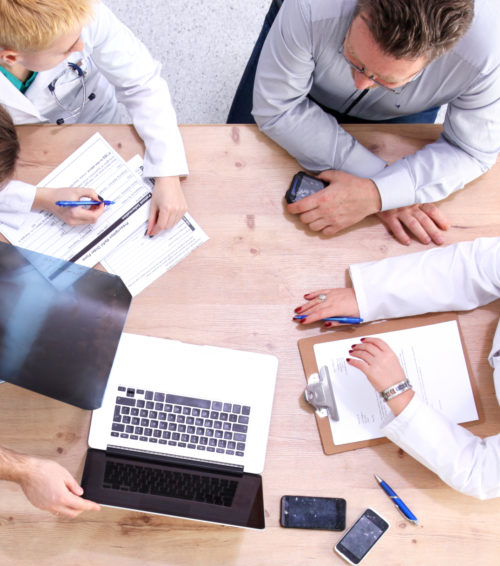 With the rising popularity of physician assistants (PAs) around the country, especially in areas that are traditionally underserved and suffer more acutely from the physician shortage, some people might question the amount and quality of collaboration in the physician-physician assistant relationship.
The good news is that advances in technology are expanding the role that PAs can play in healthcare delivery, allowing them to practice at the top of their licenses.
How New Tech Expands Collaboration
In Physician's Practice, Stephen H. Hanson, PA-C, writes that the physician-PA relationship has been altered thanks to technology. At one point, collaboration between a physician and a PA meant that the physician had to be physically present — or at least easily reachable by landline phone — when the PA was treating a patient. Nowadays, however, technology gives PAs more freedom to operate by expanding the definition and boundaries of this collaborative relationship.
Hanson notes, "Most state laws, notably those in California, allow for electronic supervision of PAs. This means that as long as I have the ability to contact my supervising physician, who remains responsible for the care of the patient that I am treating, I can practice in any setting."
Hanson admits that there are still kinks to work out, such as using smartphone videos and texted photos in ways that do not break HIPAA laws. However, he believes that the implications for this expanded collaboration — especially in rural or underserved areas where healthcare needs are acute — are important. They could help PAs work at their full capacity with patients who most need help, thus improving and strengthening healthcare delivery systems around the country.
California and the AAPA Weigh In
By virtue of its sheer size and generally progressive stances, California is an important litmus test for many new areas of healthcare delivery. The Golden State is setting an example for other states regarding giving physicians and PAs a certain degree of freedom when it comes to defining the nature of their collaborative relationship.
According to the Physician Assistant Board of California, collaboration can take many forms, such as:
The allopathic or osteopathic physician (MD or DO) seeing the patient on the same day the PA cares for the patient.
The MD/DO reviewing and signing PA orders and a patient's medical records within 30 days of a PA seeing a patient.
The MD/DO developing a series of protocols for the PA to follow to guide the course of treatment, and then reviewing and signing off on at least 5 percent of the patient's medical record within 30 days.
Other, unspecified methods of collaboration approved of by the board.
(Curious about how your state stacks up? Visit our PA Scope of Practice Wheel.)
It also states specifically that the collaborating physician does not need to be physically present in order to collaborate with a PA, provided that the MD/DO can be contacted at all times by telephone, a telemedicine service, or other electronic communication method.
The American Academy of PAs (AAPA), too, is promoting the use of telecommunication to enhance the collaborative efforts of PAs and physicians. In order to establish consistency, the AAPA recently updated its "Guidelines for State Regulation of PAs," noting that, while it recognizes the "differences in political and healthcare climates" from state to state, it also endorses the "appropriate and flexible" use of PAs.
The "Guidelines" note that the physician does not necessarily have to be physically present in order to provide direction, finding that it's necessary only that "the PA and a collaborating physician have access to each other."
What This Means for Patients and Healthcare
There is no doubt that modern healthcare in America is struggling because of the physician shortage, a greater number of patients, and increasing pressure to improve both the quality and cost-effectiveness of healthcare delivery.
Because this problem is so complex, the solution is complicated as well. Thankfully, technology is helping to overcome some of these challenges by allowing for a broader definition of what it means for PAs to collaborate with physicians. This freedom helps all healthcare practitioners work together to ensure that patients are receiving consistent, quality care.
How has technology improved your ability to collaborate with other healthcare professionals? Tweet us @bartonlocums.