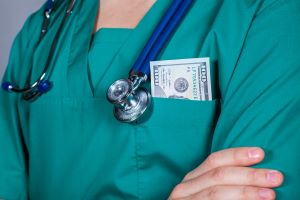 As we wrap up 2022 and look toward the year ahead of us with excitement, we can't help but glance back on all of the good that came out of Nurse Practitioners' work throughout the United States in the previous years. Working in a variety of healthcare settings, from emergency nurse practitioners to pediatric nurse practitioners, every NP deserves a round of applause; and with the average annual salary for nurse practitioners growing by about 4.5% year by year, it looks like they're getting the recognition they deserve!
While the average nurse practitioner salary has been steadily increasing, some NP specialties are growing faster than others. The "2022 Advanced Practice Provider Compensation and Productivity Survey" by Sullivan Cotter, takes a closer look at the highest paid nurse practitioner specialties based on median total cash compensation including base pay plus performance incentives for almost 700 healthcare organizations across hospitals, emergency rooms, and more.
Check out the full summary at Becker's Hospital Review now!
Ready to make your highest NP salary a reality? Fill out our contact form today to get started with locum tenens today!