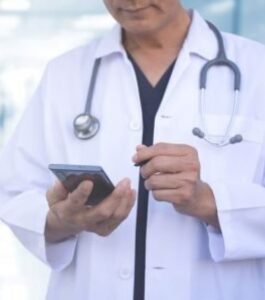 Why should you download doctor apps as a physician?
Most people think of doctor apps mainly as tools for patients to schedule an appointment, research health plans that accept insurance, or view their visit cost. Apps for patients to find board certified mental health providers like a doctor psychiatrist or psychologist, and browse through licensed therapists in their area also exploded in popularity during the pandemic.
Patient use of virtual care as opposed to face to face appointments for primary care, urgent care, and online therapy, became more common due to Covid. However, there is also a wide range of doctor apps out there that prove to be useful for physicians as well.
Barton did our research to find the top 5 most useful, and most popular apps among physicians for you to give a try!
5. Sermo
As a physician, and especially as a locum, it's always important to build your network. Sermo is currently the #1 most popular global social networking platform for doctors, and doctors only!
Mainly used as a medical crowdsourcing platform for physicians, Sermo has over 800,000 registered and verified users across 150+ countries. Users come together to share their experiences, and peer-to-peer medical expertise on medical advice, diagnosis, or treatment. While you are required to provide your real name and verify your credentials as an M.D. or D.O. to register on the app, you can choose to post and interact under a preferred username.
Sermo is mainly used as a secure, private, and free platform for physicians to get second opinions. However, it does offer some other additional features, including a comprehensive database of drug ratings. With over 1 million and counting user-rated drugs, this database can help physicians in better informing their prescribed treatments based on patient outcomes as observed by other doctors.
4. RealCME
Depending on your state of licensure, you may have to complete your required Continued Medical Education (CME) courses every 1 to 4 years, which can take up anywhere from 12 to 50 hours of your time per year. If setting up and staring at your laptop for hours on end to complete your CMEs feels like a drag, RealCME may be the solution for you.
RealCME allows physicians and other healthcare providers to conveniently complete their required CMEs right from their cell phone. With over a million active members, the app offers an expansive library of frequently updated accredited courses and interactive educational activities within various specialties and topics. Some other handy features include performance goal tracking, personal performance reports, and a choice from a wide range of activity formats.
3. VisualDx
It's not uncommon for physicians to get stumped on a diagnosis, and while getting a second opinion is always helpful in overcoming this obstacle, the VisualDx app is another time saving tool to have in your back pocket.
VisualDx is an expansive virtual library of over 32,000 digital images depicting different variations of rare diseases, which are frequently reviewed by medical experts to ensure accuracy of the content. The app also takes a number of diagnostics into account, with images which represent patients across different ages, skin types, and more.
The app's library spans across a multitude of specialties, including pathology, dermatology, emergency medicine, infectious disease, oral medicine, radiology, and opthamology. It allows physicians to build custom differentials within their specialties, while taking other patient findings into consideration such as allergies, recent travel, history and symptoms.
2. Epocrates
Boasting positive reviews from users not only on the app store itself, but also within the NIH National Library of Medicine, it's no surprise that millions of doctors and other healthcare professionals rely on Epocrates. In fact, it is the #1 mobile medical reference app designed to help medical providers make more informed clinical decisions.
The main feature which Epocrates is best known for is its easy-to-navigate database of reliable and comprehensive pharmacology information for drugs and over-the counter supplements. With a quick search query, which is conveniently forgiving of spelling errors, physicians can find such information about medications as dosing, uses, interactions, reactions, contraindications, and much more! Users can also check for interactions with as many as 30 drugs at the same time, and information within a given category can then be expanded upon with just a single tap.
1. MedScape
Chock full of the latest in healthcare news, reference articles, helpful clinical tools, and more, MedScape is the one-stop-shop major health care app that every physician should have downloaded. Created to provide a personalized experience to every doctor in over 30 different medical specialties, MedScape gives physicians easy access to the tools and information they need, when they need it.
During your free time, you can browse your own personalized news feed with breaking news in healthcare and expert commentary within your specialty, or even put in some hours working on your CMEs. To keep you up to date on all the new happenings in healthcare, the app also features information on all the latest FDA approvals, clinical trial data, conference news, and more.
The app offers a plethora of other clinical tools, giving users access to over 400 medical calculators, which are organized by specialty for a more straight-forward, and user-friendly experience. In addition to the available medical calculators, MedScape also provides additional resources such as step-by-step procedural videos, a drug interaction checker, and pill identifier.
Whether you're looking for reliable clinical tools or networking platforms, our list has something for everyone, to be used anywhere.
Want to learn more about becoming a locum physician? Fill out our contact form to connect with an experienced recruiter!