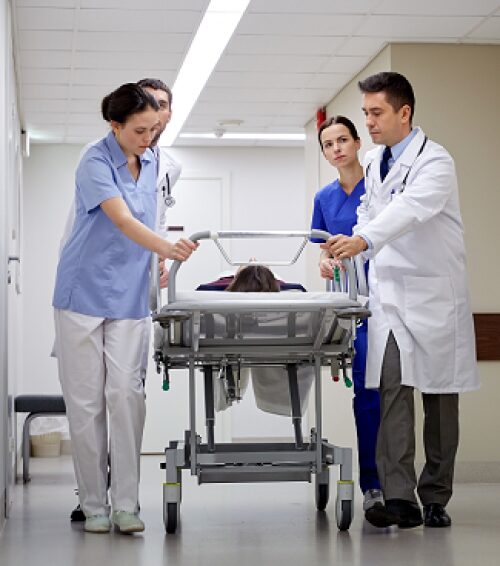 In healthcare, one key indicator of success is strong patient relationships. In our conversations with experienced locum tenens professionals, we ask how they build patient relationships and establish bedside manner over short-term interactions. One thing we've learned is that specialty matters. Emergency medicine clinicians, in particular, possess skills to provide quality care when time is short. Here are four reasons locum tenens could be an attractive option for emergency medicine clinicians:
1. Locum Tenens Matches the Fast-Paced Environment of Emergency Medicine
In a fast-paced setting like the emergency department, your top priority is providing proper care as quickly as possible — often under pressure. The momentum of emergency medicine doesn't allow for much patient bonding. Locum tenens is ideal for the type of professional who worries about patient relationships in his or her emergency medicine career. In a temporary role (where short-term relationships are already expected), you'll avoid any guilt of "leaving" a patient next week, freeing yourself to focus on efficient diagnosis and treatment.
2. Avoid Facing Disappointed Patients
Handling patients who might miss their regular doctor is a common concern for clinicians who are hesitant to pursue locum tenens. For Dawn S., emergency medicine PA, this has never been an issue. "In emergency medicine it's different, because [patients] never get the same [doctor], usually," she said. "And if they do, they're obviously coming to the ER quite frequently, and honestly, for the wrong reasons." She clarified, "Some people use it as a primary care, and they shouldn't."
Worried about missing out on the chance to follow up with patients in locum tenens? For emergency medicine providers, this is far less of a concern.
3. Bedside Manner Comes First
While caring for a patient and consulting with their family in an emergency setting, it's more important to focus on great bedside manner in the moment. You don't need to worry about building a lasting connection. Locum tenens assignments allow you to concentrate on being there for your patient during a stressful time and providing the best care possible.
4. Locum Tenens Provides a Chance to Connect With Colleagues
Connecting with your coworkers on a professional level bodes well for job satisfaction in any industry, but it's arguably essential in healthcare. In emergency medicine, establishing strong professional relationships with your colleagues is crucial to providing your patients with great care and optimal bedside manner. Locum tenens assignments enable you to focus on building these relationships, learn how to work well together, and reject hospital politics. In the end, it's in your patients' best interest.
The Barton Associates team can help you identify positions across the country that match your interests and skill set. Simply contact a Barton recruiter, and they'll work with you to learn exactly what you're looking for. At the end of the day, no matter your specialty, locum tenens is a lucrative opportunity to care for patients who are truly in need — even if it's only temporary.
Is locum tenens right for you? Check out Barton Associates' open locum tenens jobs today.