Did you know that having more flexibility is reported as one of the top benefits of locum tenens work that motivated talented nurse practitioners to get into locum tenens work?
As a leading locum agency, Barton has discussed the benefits and advantages of going locum time and time again. With every locum tenens assignment, locum tenens physicians, nurse practitions, physician assistants, CRNAs, and Dentists enjoy the advantages of having a better work life balance, earning a higher hourly rate to earn extra income, expanding their skill sets, and experiencing a diverse range of practice settings at different medical facilities when they work locums over full time positions.
We can go on and on about the benefits of taking temporary positions to earn while you travel, but don't just take it from us! In 2022, Barton Associates surveyed over 280 locum tenens nurse practitioners to gauge what their experiences practicing medicine as a locum were like during the height of the Covid-19 pandmic. As a part of our goal to uncover what motivates locum nurse practitioners to do locum work, the second question of our 2022 NP Covid-19 Experience Survey asked participants what got them into locum work in the first place.
Our Top Reasons to Get Into Locum Work inforgraphic below outlines the most popular answers from our survey about why participants started doing locum work, and why you should consider getting started with your first locum tenens job in 2023!
Download our Top Reasons to Get Into Locum Work infographic here, or take a look below to see the full details now!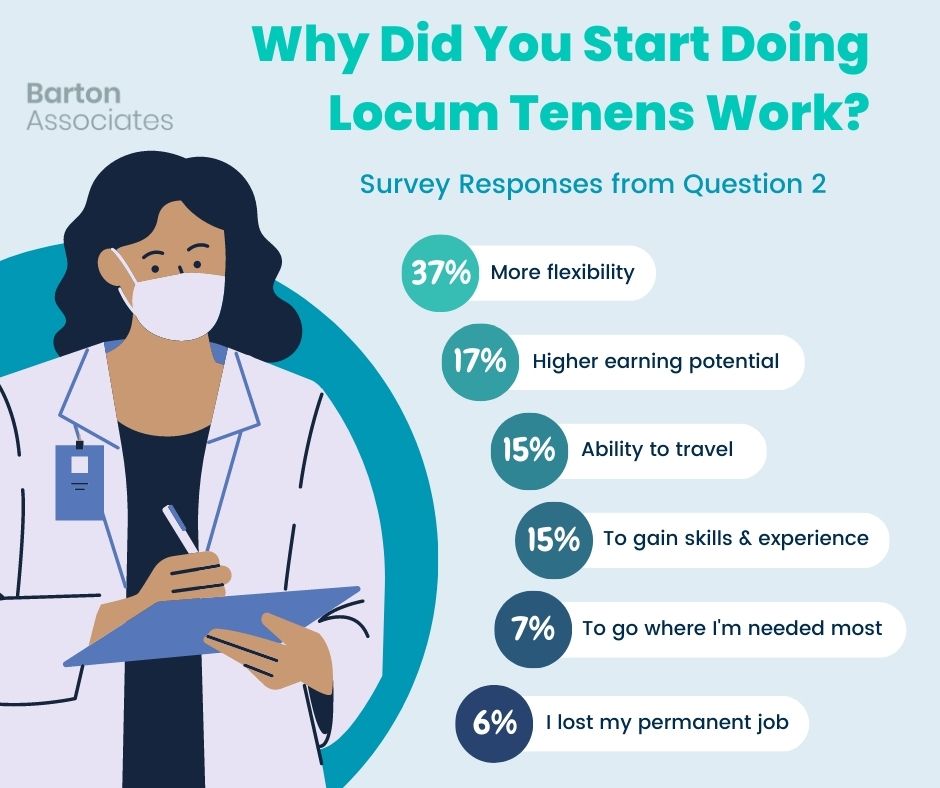 Ready to reap the rewards of locum tenens work and jump into your very first locum tenens assignment? Fill out our contact form to get in touch with an experienced representative, or take a look at our open locum jobs today!