Did you know that having more flexibility is reported as one of the top benefits of locum tenens work that motivated talented nurse practitioners to get into locum tenens work?
As a leading locum agency, Barton has discussed the benefits and advantages of going locum time and time again. With every locum tenens assignment, locum tenens physicians, nurse practitions, physician assistants, CRNAs, and Dentists enjoy the advantages of having a better work life balance, earning a higher hourly rate to earn extra income, expanding their skill sets, and experiencing a diverse range of practice settings at different medical facilities when they work locums over full time positions.
We can go on and on about the benefits of taking temporary positions to earn while you travel, but don't just take it from us! Barton Associates surveyed over 280 locum tenens nurse practitioners to gauge what got them into locum work in the first place.
What Does Locum Tenens Mean?
"Locum Tenens" is Latin for "holding one's place. Although the term's origins dating back to 1640, its modern use stems from the 1970s when rural areas required additional physician staffing for their medically underserved populations. Locum tenens physicians would temporarily work in these rural areas to provide medical access that would otherwise be unavailable.
Today, locum tenens refers much more broadly to all healthcare providers who occupy a position on a temporary basis, regardless of the reason. The industry has grown rapidly over the last 50 years, with more than 85% of healthcare facilities relying on locum tenens providers in all 50 states. The term has also expanded to include a wider variety of healthcare providers, not just doctors and physicians.
What Does Locum Tenens Mean?
What is a Locum Tenens Provider?
Locum tenens providers work at healthcare facilities to fill gaps in care or occupy vacant positions on a temporary basis, though the positions can be short-term or long term.
A locum tenens staffing and recruiting agency such as Barton Associates assigns these providers to short- and long-term positions at hospitals, medical practices and organizations across the United States.
Locum providers possess the same qualifications as their perm counterparts. Most locum providers originally worked in perm positions, and some locum providers will use locum work to gain experience in a specialty they will later pursue in a permanent position.
What Are the Top Benefits of Locum Tenens Work?
Why you should consider locum tenens jobs in 2024? We surveyed 280 locum tenens providers on why they initially chose locum work. Here are their top reasons: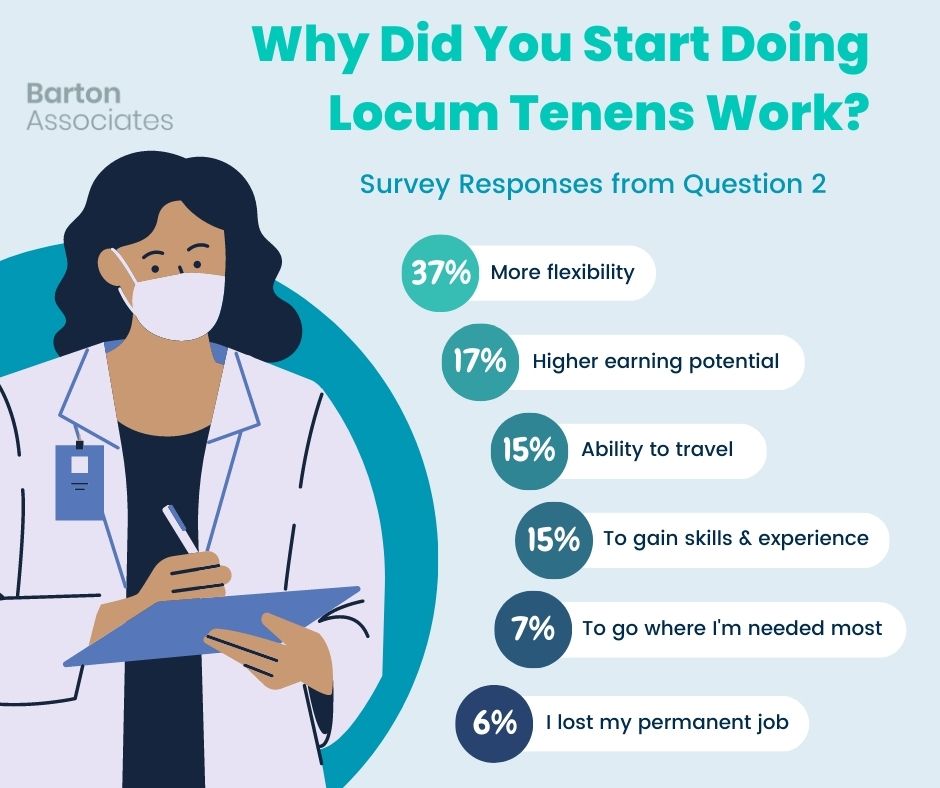 Flexibility (37%)
Nurse practitioners and other providers overwhelmingly cite flexibility as the biggest draw to locum work. Whether it's to avoid burnout with a more manageable schedule, or to create more time to focus on the things that matter to you in life, like giving back or fostering a better work-life balance, locum work allows you to choose assignments and contracts that match your needs.
Higher Earning Potential (17%)
Locum nurse practitioners make up to 80% more than their perm counterparts depending on the specialty and state. Over the last year, the average NP made $93 an hour, which was 64% more than their perm counterparts on an hourly basis.

Ability to Travel (15%)
Many nurse practitioners choose locum work for the chance to travel — while saving money. Because the locum tenens agency covers the travel expenses, it's a terrific, cost-efficient opportunity to see the world.
Because each state has its own licensing requirements for nurse practitioners, this may mean you will need to obtain a license in a new state. The good news? Barton handles all logistics and licensing fees when you qualify for an assignment in a new state.
Ready to reap the rewards of locum tenens work and jump into your very first locum tenens assignment? Fill out our contact form to get in touch with an experienced representative, or take a look at our open locum jobs today!