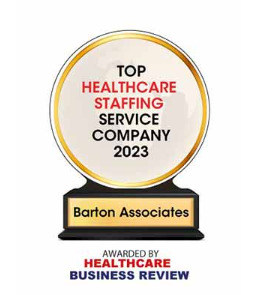 Barton Associates has been named a Top Healthcare Staffing Service Company for 2023 by Healthcare Business Review. Featured on the cover of the March edition of the magazine, are Robert Indresano, CEO of Barton Associates, Lina Gallotto, EVP of Barton Associates and President of Barton Healthcare Staffing, MaryAnn Stolgitis, President of Wellhart, and Anne Zukowski, SVP of Barton Associates' Inbound Division.
The article introduces The Barton Companies and explains the company's success, growth, diversity, and training approach. Highlighted in the publication is the collective mission of the three businesses; to help combat the healthcare crisis in the United States by providing facilities nationwide access to highly-skilled medical providers, insuring that clients are able to fulfill their mission of providing healthcare to those in need.
The Barton Companies, which includes Barton Associates, Barton Healthcare Staffing, and Wellhart, continues to see substantial growth, opening a new office in Las Vegas, NV in June 2023, and is planning to add hundreds of new employees in 2023.
Together, Barton Healthcare Staffing (allied health and specialty nursing), Wellhart (local, federal, and state government projects), and Barton Associates (locum tenens), are able to help fill gaps in coverage with MDs, DOs, NPs, PAs, CRNAs, dentists, behavioral health providers, specialty nurses, and most allied health clinicians.
Read the entire article to learn more about how Barton Associates, Barton Healthcare Staffing, and Wellhart, are augmenting healthcare with locum tenens and travel clinicians.