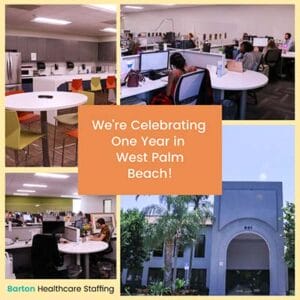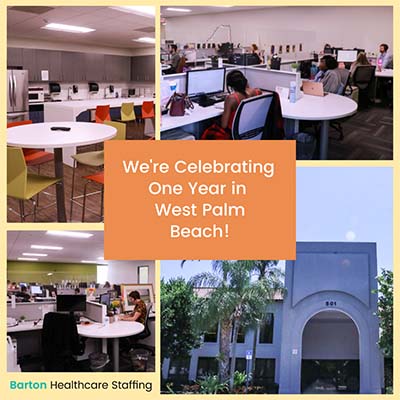 Barton Healthcare Staffing, a leading specialty travel nurse and travel allied health staffing firm, celebrates first year at their West Palm Beach, FL, location. Headquartered in Peabody, MA, Barton Healthcare Staffing (BHS) expanded their office and footprint in September of 2021 by moving into the top floor of their parent company Barton and Associates. Lorenzo Gonzales, Associate Director of Sales and Recruiting and leader of the West Palm Beach office, has grown the office to nearly 40 employees. Gonzales expects to expand the West Palm office to 70+ in the upcoming year.
BHS' parent company, Barton and Associates, the 4th largest locum tenens staffing company in the United States, recently celebrated 5 years at the West Palm location in 2021. Barton and Associates' West Palm office resided in Jupiter, FL, prior to its move in 2016. West Palm Barton and Associates Director of Sales & Recruiting, Jason Marose, is also looking to expand his team of nearly 100 employees.
The temporary staffing (locum) industry is booming and the Barton Companies are proud to be part of the solution to combat the healthcare staffing shortage. If you're looking to start, or continue, your career in staffing, visit www.BartonCareers.com to discover the current openings in Barton's 10 offices.
For more information about Barton and Associates companies contact us at info@bartonassociates.com.