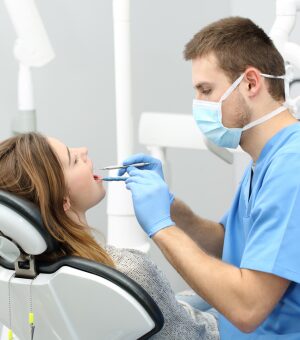 In the 1990s, former United States Surgeon General C. Edward Koop made the widely quoted remark, "You're not healthy without good oral health." Dentists strive to live up to this maxim every single day, working across the U.S. to promote dental hygiene among Americans and treat oral diseases and ailments. But while employment of dentists is expected to grow 4% by 2032 in the country according to the U.S. Bureau of Labor Statistics (BLS), their geographical distribution is not equal—in fact, many areas of the country are currently experiencing a shortage of dental health professionals. If you're looking for dentist jobs in 2023, you've come to the right place: read on for more information about the state of the job market, and why you should consider taking a locum tenens dentist assignment with us.
Dentist Job Outlook
As mentioned previously, employment of dentists is expected to continue to grow over the next decade. Estimates by the BLS forecast around 5,100 new openings for these critical medical professionals each year until 2032. The bureau attributes new dentist job openings to the fact that dentists are retiring or otherwise moving on from their profession.
This influx in openings is also poised to coincide with an increase in demand for dentists—a phenomenon that's part of a larger trend in the medical industry as the Baby Boomer generation ages and the need for healthcare increases. But as alluded to earlier, there's no guarantee that dentists will be equally distributed across the country, leaving some areas with a greater need for dental professionals.
As of September 2023, around 75 million Americans currently live in areas with a shortage of dental health professionals, according to the U.S. Health Resources & Services Administration (HRSA). But some states fare better than others—for example, Massachusetts has 62 dental health professional shortage areas (HPSAs), whereas Missouri, which has a comparable population to the Bay State, has 338.
Lack of access to qualified dental professionals in HPSAs and elsewhere across the country means people won't get the critical oral care they need to lead healthy lives. Luckily, locum tenens dentists can help bridge these geographical disparities by traveling to places they're needed the most.
Why Become a Locum Tenens Dentist?
Locum tenens is a Latin phrase meaning "holding one's place," but in a healthcare context, the term refers to a temporary travel medical professional who substitutes for a provider or works an open job until it can be filled with someone more permanent.
Working as a locum tenens dentist comes with many benefits compared to taking a permanent position at a clinic or private practice. As a locum tenens dentist, you'll have the flexibility to choose the assignments you want to take, on the schedule you want to have, in the places you want to travel. And since many of the places you will take an assignment at need hands fast, your earning potential will skyrocket, as locum tenens dentist starting rates can be as much as 25% higher than the national average hourly rate depending on factors like location and demand.
In addition, taking a locum tenens assignment is perfect for those looking to travel, as they open up the opportunity to live and work in new places around the country. While working in a new place, you'll keep your skills sharp and you may even gain some experience in a novel practice setting.
We'll Help You Find Locum Tenens Dentist Jobs
Does it sound like locum tenens dentistry is right for you? Whether you're a new graduate, a seasoned professional, or recently retired, Barton Associates has the experience and skill you need to find a locum tenens dentist assignment that's right for you.
When you apply to one of our many open locum tenens dentist positions, you'll be set up with your own personal recruiter who will act as your agent in finding you an assignment. This recruiter will work alongside you to determine your skills and goals, bringing you the best opportunities that match your needs. Once you've secured a position with us, our travel team will coordinate all lodging accommodations for you, and our licensing team will set you up with all of the credentials you need, if necessary.
Ready to get started? Apply to one of our jobs today, or reach out and we'll get back to you shortly.