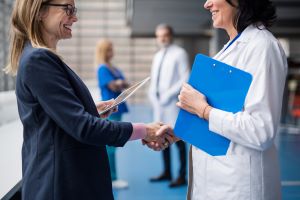 The healthcare staffing industry trends of 2022 are showing increasing market growth, and high demand for staffing services of healthcare workers that does not seem to be going away any time soon. In fact, the healthcare staffing market size in the U.S. hit 24.1 billion in 2021, and is estimated to reach 34.7 billion by 2030 according to Grand View Research.
Amidst both the physician and nurse practitioner shortages facing the U.S., temporary healthcare staffing agencies are seeing increased demand for temporary staffing of locum tenens healthcare professionals. The Bureau of Labor Statistics (BLS) reports that around 500,000 nurses will retire within the next few years, and the Association of American Medical Colleges reports a shortage of about 21,000 to 55,200 primary care doctors by 2032.
Projecting the locum tenens industry to hit $5.4 billion by the end of 2022, the Staffing Industry Analysts (STI) recently released their Locum Tenens Market Growth Assessment for 2022, covering how much the industry is expected to grow and why:
Hospital Spending Growth
Hospital demand for care by the end of 2022 was expected to persist despite projections for high price growth until a normalization is expected to occur between 2023 and 2024. Between 2021 and 2022, hospital spending hgrew by +1.2%, and physician & clinical services spending increased by +1.1%.
While 2022 saw faster growth in spending for physician and clinical services, once individuals with healthcare insurance resume routine healthcare patterns as expected, hospital spending growth is expected to drop by -1.3%, while physician and clinical services spending growth is projected to stay relatively stable, with a minescule drop by -.1%.
Provider Shortages & The Locum Market
In response to a growing geriatric population, causing both higher retirement rates of full time medical providers along with a higher need for healthcare services throughout the U.S., the locum tenens industry in particular is expected to be a large support for healthcare facilities nationwide.
According to the BLS, the total employment of U.S. physicians and surgeons is projected to grow by 2.8% and 3.4%, respectively, from today to 2031. The specialties with the most expected employment growth within this time frame are psychiatrists, at a growth rate of +8.7%, ophthalmologists, at a growth rate of +6.4%, and pathologists, at a growth rate of +4.5%, while employment growth for nurse practitioners and physician assistants is expected to increase by 40% and 28%, respectively.
While more frequent use of complex care plans to address serious health conditions are one driver of the growing job market for physicians, surgeons, and advanced practice providers (APPs), the aging population has caused a higher demand for these providers; and with more and more physicians reaching retirement age within the next few years, this demand is only expected to grow.
Many full time physicians and APPs are not only retiring due to their age, but also as a result of burnout, which has also led to reduced hours and attrition. As an increasing number of healthcare professionals intend to cease their practice in clinical medicine, locum tenens agencies provide a solution by providing facilities with positive candidate experiences, as well as providing physicians with a greater work/life balance.
The Physician Shortage in Primary & Specialty Care
According to reports published by the Association of American Medical Colleges (AAMC) in 2021, the United States should expect to see a projected shortage of somewhere between 37,800 and 124,000 physicians by the year 2034, which includes shortcomings in both primary care as well as specialty care.
Drivers of this increased demand for and decreased supply of physicians are both an aging and growing population, with an estimated growth of +10.6% by 2034, which brings the total population from about 328.2 million to an estimated 363 million. As all baby boomers will be at least age 65 by 2030, the population aged 65+ is projected to see a dramatic increase by a whopping +42.4%, according to census.gov, which will result in higher demand for primary and specialty care for older individuals.
Due to the aging population and increase in complex chronic diseases, as mentioned above, the U.S. is experiencing an increased need for non-primary care medical specialties. With the supply of physicians within specialty categories being lower than that of prior years, the AAMC estimates a shortage of medical specialists of between 10,300 and 35,600 full time employees (FTEs) by 2034.
In primary care, the AAMC estimates that 1,221 physicians leave primary care every year to become hospitalists, and 306 leave to pursue other, non-primary care specialties. These numbers, in addition to the 5,635 primary care physicians who leave annually to pursue pediatric or internal medicine, are expected to result in a primary care physician shortage of somewhere between 17,800 and 48,000 by 2034.
These projected shortages will likely translate into both primary care and specialty care facilities likely leaning much more on temporary healthcare staffing with locum tenens in 2023 and onwards in order to fill the rising need for primary and specialty care physicians.
Ready to meet your new temporary healthcare staffing partner? Fill out our contact form and find your next quality locum tenens candidate today!