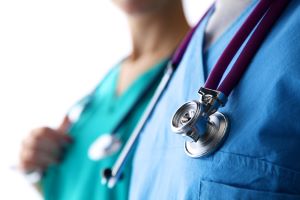 Licensure compacts like the IMLC or NLC (Nurse Licensure Compact) largely take the headache out of the often time consuming and tedious process of licensure for many medical providers and clinicians, which is particularly attractive to locums.
Unfortunately, the NLC largely leaves out advanced practice registered nurses (APRNs) like NPs and CRNAs, leaving them wondering why APRNs have seemingly been one of the only provider types left out of the compact licensure movement. However, even though the NLC does not technically directly relate to nurse practitioner licenses, since NPs are still required to hold RN licenses in addition to their advanced practice requirements, the compact still affects NPs in some beneficial ways.
While a brand new APRN Compact has recently been established, there are not yet enough member states for the new compact to have any major benefits to locum tenens nurse practitioners. That's why we encourage you not to let your RN license, or licenses, go to waste when you can still use it to your advantage with the NLC!
New eNLC Implementation
While we still refer to the compact by its most well-known name, the NLC, on January 19 in 2018, the Nurse Licensure Compact was officially changed to the Enhanced Nurse Licensure Compact, or eNLC. This meant that the old legislation underwent some changes, including the additions of more uniform license requirements and background checks.
New Legislation, New Rules
The implementation of the new eNLC also affects advanced practice registered nurses like NPs, as well as any other healthcare work that holds an RN license in one of the 35 states that has multistate privileges as of the date this article was written.
The good news is that if you have an RN compact license from an eligible eNLC compact state issued after July 19, 2017, you get to forego the requirements for obtaining your RN license in a new participating state, and will only have to complete a few extra steps to gain your NP license based on state medical board regulations.
The even better news? If you have an RN license in an NLC state issued before July 20, 2017, you have multistate privileges in the other eligible compact states!
Ready to put the NLC to use in your next locum NP assignment? Check out our job board to find fresh openings now!