One of the potential roadblocks in the locum tenens experience is getting licensed to practice in a new state. In many cases, this process is time-, money- and paperwork-intensive. Massachusetts' application is 50 pages long, while Utah's is only four pages. There are also wide variations in the time it takes to get your license, with a temporary Maine license available in three weeks compared to up to eight months to get a permanent license in Texas.
View Barton's interactive Physician Licensing Guide to learn more about your state, or the one you want to practice in next!
To address some of these issues, the Federation of State Medical Boards (FSMB) proposed what has become known as the Interstate Medical Licensing Compact Commission (IMLCC). As of June 2021, 27 states had joined the Compact. Between April 2017 and May 2021, the IMLCC alone processed 13,824 applications, which resulted in 20,061 licenses being issued.
To join the Compact, a state must adopt legislation based on a model developed by the FSMB, state medical boards, the Council of State Governments and other stakeholders. State medical boards retain licensing and disciplinary authority. This is a way to share certain basic information across multiple jurisdictions. The Compact also covers Osteopathic physicians in member states.
Requirements for Applying to Compact Commission
To be licensed through the Compact, you must hold a full, unrestricted medical license in a member state that serves as your State of Principle License (SPL). When choosing your SPL, you must meet at least one of the following criteria:
At least 25% of your practice of medicine takes place in your SPL,
Your employer is located in the SPL,
Or the SPL is your state of residence for federal income tax purposes.
Not all Compact states can currently serve as your SPL, so see graphic below or visit the IMLCC's website for a current list.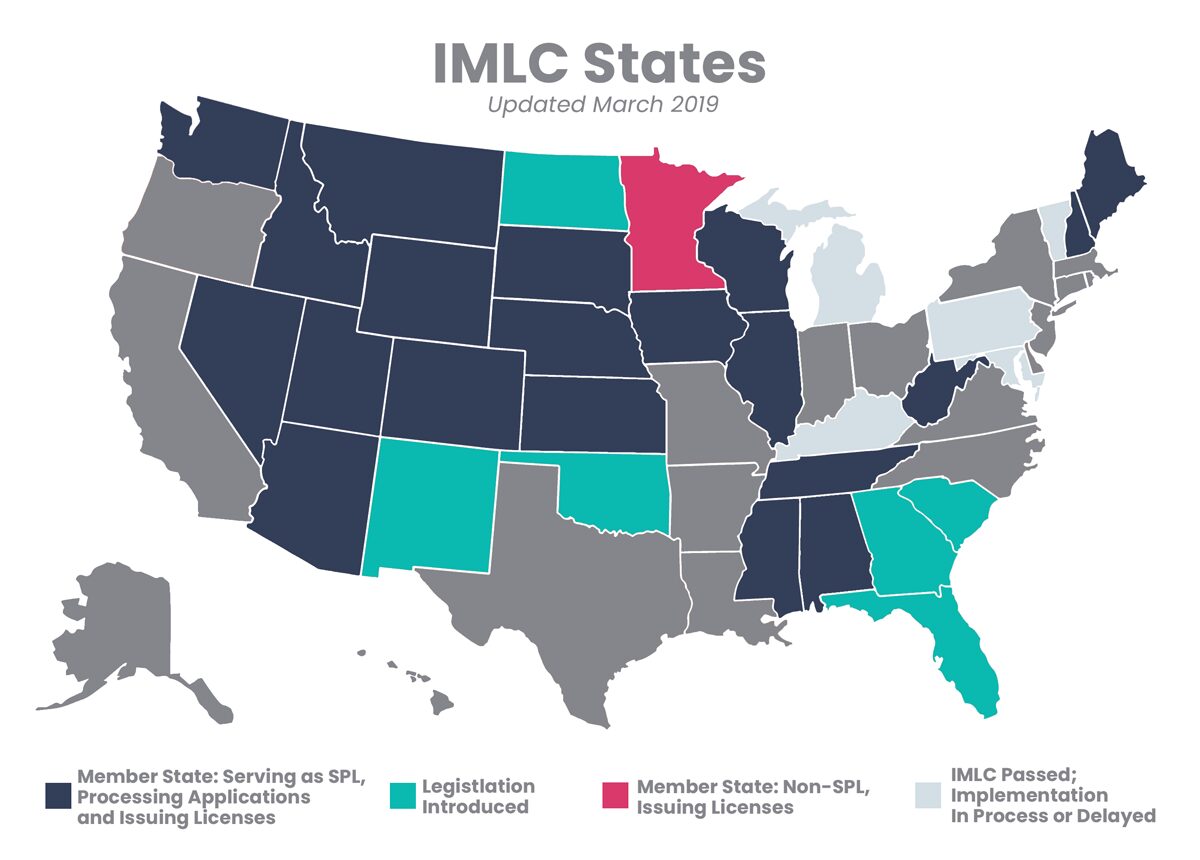 In addition, you will be required to:
Have graduated from an accredited medical school, or a school listed in the International Medical Education Directory.
Successfully complete a graduate medical education program accredited by the Accreditation Council for Graduate Medical Education or American Osteopathic Association.
Have passed each component of the USMLE, COMLEX-USA, or equivalent in no more than three attempts.
Hold a current specialty certification or time-unlimited certification by an American Board of Medical Specialties or American Osteopathic Association Bureau of Osteopathic Specialists.
Have no history of disciplinary actions toward your medical license.
Must not have any criminal history.
No history of controlled substance actions toward your license.
Must not currently be under investigation.
How to Sign Up
If you're a locum taking a new assignment in a state you've never practiced in before (or a provider new to locum work!), the IMLC is a definite headache-saver.
You must sign-up through the "Apply here" tab on the Commission's website. You will be asked to give demographic and professional information. Then you are directed to select your SPL.
There is a non-refundable application fee of $700 paid by the provider to the Commission. It is strongly suggested that you be very careful in filling out the sign-up information. Incomplete applications will not be processed, you will forfeit the fee, and have to pay another $700 for the second try.
You will submit fingerprints to the designated criminal justice agency of the SPL, so that a criminal background check can be initiated.
The application is then sent to the medical licensing agency in the SPL. They review primary source verifications such as schooling and board certifications that are required. They also complete the state and federal background checks.
Applying to Individual States
If you meet all of the requirements, the SPL issues a Letter of Qualification (LOQ) to the Commission who notifies the physician. The applicant then selects the states within the Compact where they want to be licensed. While Barton Associates does not cover the initial $700 application fee, Barton will cover the cost of your additional, Compact-state licenses if you take assignments there.
This is great news for Barton locums, because – during the 365 days that the LOQ is active – there is typically an additional processing fee of $100 per state payable to the Commission, which our licensing team will pay on your behalf. Once a license is issued, you do not need a current LOQ for renewal.
Once you obtain your new license, you will still have to renew each state as it expires, pay the appropriate fees, and meet any state-specific requirements such as CME, etc. If you are actively working with Barton, our licensing team will pay those fees and take care of renewing your license for you. It's really that simple!
The Barton licensing team can also obtain new licenses for you without an assignment, with an additional licensing agreement. For more information on licensing and your options, contact your recruiter.
Quicker (and Often, More Affordable) Licensure
The American Medical Association's webpage on obtaining a medical license says a physician should expect to wait at least 60 days. The Commission suggests that can be reduced to 10-15 days after the LOQ is obtained.
Another bonus, when you are ready to purchase licenses through the IMLC, they are typically at a highly discounted price. For example, a standard Alabama price for licensure is $485, but costs only $75 if licensed through the IMLC. Idaho's original cost of $500 drops to $313, and Nevada's standard cost of full licensure ($1050) drops to $375 if obtained through the IMLC.
Want to learn more about locum tenens with Barton Associates? Fill out the form and one of our representatives will reach out to you!
*This blog was updated on June 21, 2021.*