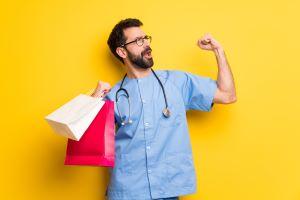 As a locum tenens healthcare provider, you may reap the benefits that locums have to offer, but you still work hard! Healthcare providers do a lot for the public good, and they deserve a little reward every now and then. Thankfully, a lot of companies agree with that sentiment, with many who are giving out free stuff for healthcare workers upon verification* of their ID!
The opportunities for saving online as a healthcare provider are boundless, but finding the right ones takes a lot of time, and a lot of patience. At Barton, we understand that you don't have the time to sit and sift through every deal looking for the hidden gems, so this Locum Tenens Week, we compiled an organized list of all the freebies we could dig up so that you don't have to! The best part? You won't have to worry about whether that deal you're eyeing will work for you. We read the fine print to ensure that all medical credentials are good here, that is, these deals can be used by any medical provider type!
Freebies
Food & Beverage
Need a quick midday pick-me-up? Cumberland Farms has your back! To show their appreciation to healthcare providers and first responders, the convenience store offers a free iced coffee of any size when you show your badge or ID at any location!
Saving money on your lunch break doesn't always have to mean eating yesterday's leftovers! Lunch is on the house at Nando's when you show your badge or ID at any of their locations. Just promise us you'll try their legendary flame-grilled Peri-Peri Chicken!
Health & Fitness
It's not easy hauling yourself to the gym on your time off work, after all, it's your hard-earned time to relax! Get fit AND spend your "me-time" all at home with your first month of Obé premium at-home fitness classes free! All you have to do is verify your status on ID.me.
For those aiming for big fitness goals in little time, Onnit's 6 Bodyweight program promises transformative results in as little as 6 weeks, and healthcare providers get free access plus 15% off all their products site-wide!
With all that working out, you'll need to keep your body well-nourished! Swap out buying vitamins at your local pharmacy, where even discount items will leave your pockets empty, with a free 6-month membership to Lucky Vitamin, where you get extra discounts, free shipping on orders $25+, and even a personal certified Wellness Consultant! What's more, it's a freebie within a freebie. Along with your free membership, you'll also receive free gifts!
Self Care
Whether you reach for a glass of wine, or run a hot bath when you get home from work, everybody has different ways to unwind after a stressful day. Meditation with Hallow is one great way to calm your nerves while connecting with your mind, body, and for providers of the Catholic faith, your spirituality. Hallow, the app store's #1 Catholic, audio-guided meditation app, normally charges $59.99 per year, but is offering medical providers a one-year free pass with verification on ID.me!
We've all taken home a complimentary hotel soap or two, because who doesn't love a good free sample? From hair care to laundry detergent, add to your travel and emergency bin of minis with free samples of gentle products from P&G including Head & Shoulders hair care products, laundry detergent, fabric softener, and dryer sheets!
Grocery & Shopping
Your average BJ's shopper usually pays $55 per year to shop bulk-buying deals, but the wholesaler is giving medical providers VIP treatment! Verify your credentials through ID.me, and enjoy 4 free months with BJ's to stock up on all your favorites and must-haves.
Did you know that the same exact furniture you were eyeing at your favorite retail store is probably selling for significantly less online? A Club O membership unlocks exclusive rewards and savings on Overstock's steeply discounted inventory, and you can join free of charge for your first year!
Services
Your locum tenens recruiter may know all about your impressive skill set, but do they jump out at your next prospective employer when they review your CV? The resume experts at Indeed want all of your qualifications to shine through during the locum job application process, which is why they're offering a free, personalized resume review for medical providers which includes written notes with rewritten content, and a 10 minute video just for you with guidance on how you can update and improve your CV!
Between the germs at work and at the gas pumps, there are a lot of opportunities for bacteria to make a home in your car. If you think your car could use a little TLC, Hendrick Automotive Group is offering a free disinfectant service to healthcare providers with no additional purchase required!
Looking for a special gift idea or personal memento to hold onto? Capture and display your favorite snapshot of life on a free 16×20 canvas, compliments of the Canvas People for healthcare professionals!
External Pain
Being on your feet all day every day definitely calls for comfortable shoes, but footwear that supports orthotic health isn't exactly budget-friendly, and also doesn't have any proven benefits over orthotic shoe inserts. Thanks to Dr. Scholl's, your next pair of orthotic insoles aren't just the cheaper option, they're free! To receive your free pair of Dr. Scholl's Massaging Gel Work Inserts, simply click on the link above and follow the listed instructions.
We know that working in healthcare can be a real headache (pun intended). That's why Bayer Consumer Health is offering free samples of their products such as Aleve, Bayer Aspirin, Claritin, and One-a-Day vitamins! Register for or log into your Bayer Consumer Health for Healthcare Providers account for more information and to order your free samples.
During the height of the pandemic, everyone got a taste of medical providers' pain from frequent wear of face masks and discovered that the constant pressure and friction can cause quite a discomfort. Save your money and your ears by claiming your free EarSavers for healthcare providers from GlowForge, with easy instructions on their site linked above!
Free Gifts with Purchase
If you've heard of at-home workout systems, then you've definitely heard about Peloton. If you're considering purchasing a Peloton Bike, Bike+, or Tread, don't place your order until you've chatted with a member of their team, who will guide you through the verification process to receive your FREE accessory package, or $200 off your purchase of Peloton Accessories.
As an American company, Polaris thanks our country's heroes, including medical providers, who like to ride off the beaten path. Whether you want an off-roading vehicle for camping, plowing snow, or just to have some good old-fashioned fun, you can take advantage of the Polaris Heroes Advantage program for $250 worth of free accessories with your purchase!
Many people shy away from shopping wholesale due to a higher price tag up front, but the truth is that you can save big by buying in bulk! Watch your savings add up when you join a Costco membership plan, starting at $60 per year, and receive a free $20 Costco Shop Card when you verify on ID.me!
Forget about planning out what's for dinner after a long, grueling shift! Home Chef is offering healthcare workers with 16 free, and completely customizable meal kits for all preferences and cooking skill levels! Simply verify on ID.me, and receive your free meals on your first order as well as 10% off on all future orders.
This Locum Tenens Week we hope you'll accept a big thanks from Barton, as well as all of the companies listed above by treating yourself with some free gifts!
*Verification of your status as a medical provider can either be done in person by showing your badge in physical store locations, or through online tools such as ID.me, a service which verifies one's status as a medical provider or other essential worker to unlock online discounts and deals with verification.
Ready to start your search for your first locum tenens assignment? Fill out our contact form to get started with your new personal agent!