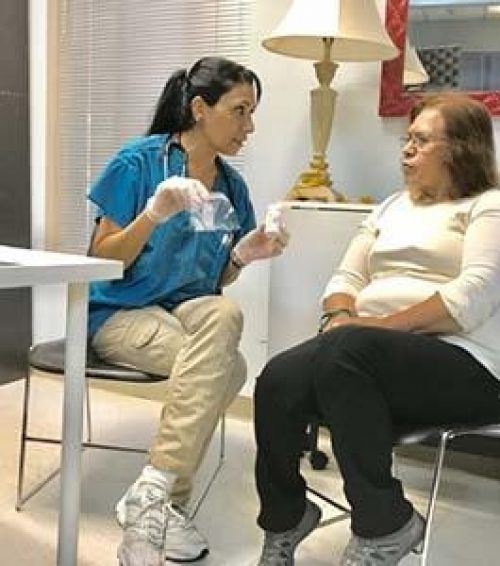 Earlier this year, Barton Associates announced its third annual Locum Heroes campaign, with a focus on giving back to locum tenens providers who make a difference in their communities, near and far. In response, we received an overwhelming amount of responses, each describing incredible stories of the ways that locum providers have spent their time on and between assignments.
This year, our judging panel chose Dr. Prerna Mona Khanna as the 2021 Locum Hero for her dedication to providing disaster relief, both nationally and internationally. As a Barton Associates Locum Hero, Dr. Khanna will receive a personal award of $2,500, and an additional $2,500 which will be donated in her name to the charity of her choosing. Continue reading to learn more about Dr. Khanna's deserving story, as well as the charities that she selected.
Meet Dr. Khanna
Dr. Khanna worked locum tenens positions off and on beginning in 1998 right after finishing her residency, but it became more predominant in 2014. Currently, she is working as a qualified medical examiner (QME) in California.
Between her locum tenens assignments, Dr. Khanna found herself volunteering wherever disaster strikes and help is needed. Whether it be a natural disaster, poverty, or anywhere a cry for help is heard, Dr. Khanna utilizes the flexibility of locum tenens to answer the call of duty.
Locum tenens positions allow me the ability to do what I love when I'm not working, which is volunteering – mostly in developing countries.
Throughout her volunteering, Dr. Khanna has found herself all over the world. In her experiences, she has found herself running a toothbrush clinic in India, helping in Japan after the Great Tohoku earthquake, providing aid in Haiti after their earthquake in 2010, helping after a tsunami in Indonesia with the United Nations (UN), and providing relief after the typhoon in the Philippines in 2012. She also worked as a contractor for the World Health Organization (WHO) during the Ebola pandemic.
If it weren't for the flexibility of locum tenens, Dr. Khanna would not be able to drop everything and go help out as often as she has. Dr. Khanna is thankful for having the ability to volunteer as much as she has and, in turn, holds locum tenens providers in such high regard.
Don't underestimate the value of locum tenens providers. They are doing very, very valuable work where patients would go unseen if it wasn't for them. They provide absolutely essential service. The locum tenens providers in and of themselves are providing, in a sense, humanitarian work.
Read on to learn more about Dr. Khanna and her experiences exactly how she explained them to us.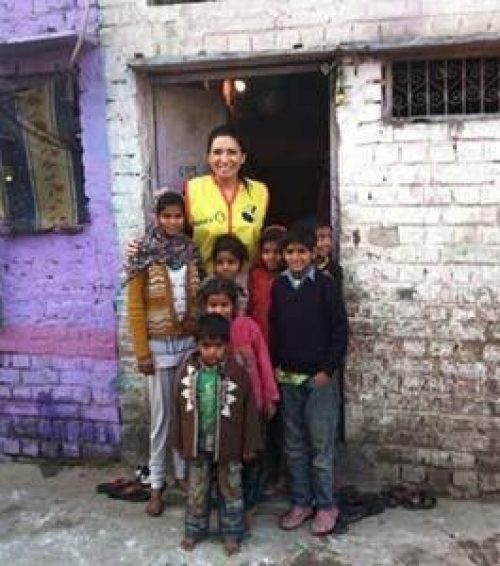 India
"I spent two weeks in the slums of India, and I took care of kids, and I had a cute little toothbrush clinic because they were using twigs to clean their teeth and they had terrible cavities, and gum disease, and all kinds of stuff. So I had taken toothbrushes and toothpaste and we had toothbrush clinics that I taught them how to use toothbrushes."
Japan
"March 11th was actually the 10-year anniversary of the Japan Great Tohoku earthquake and tsunami. And so after that happened, a few months in between my locum tenens assignments I actually went to Japan, and I worked with a group of elderly who were in some of the settlement homes because their homes had gotten destroyed.
And I took blood pressure kids and everything and I trained them how to take their blood pressure because there's a very real phenomenon called disaster hypertension. And it's for people who have been through disasters who develop chronic hypertension, and they have no idea that it's happening because hypertension is a silent killer. And so I trained them how to use the kids, I trained their family members and I left some kids there and that was my way of giving back to the world after disasters."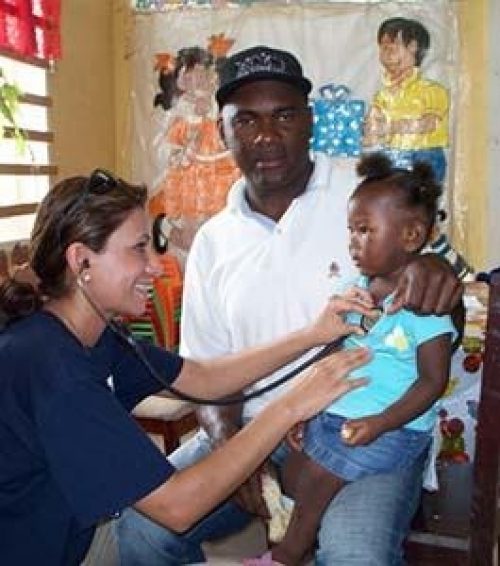 Haiti
"I think three months after the earthquake in between locum tenens assignments. I went to Haiti for a month, and I volunteered there seeing patients who were living in the tent cities there.
They had these big, big, wide swaths of areas where they had erected tents and they had people living there because they had lost their homes in the earthquake."
Indonesia
"I went to Banda Aceh. Banda Aceh, Indonesia was the city which was closest to the epicenter of the underground earthquake that caused the 2004 Indian Ocean tsunami and I spent a month in Banda Aceh. And we took United Nations helicopters to go to the outlying areas in Indonesia so we could reach the people there because it's a developing country and the roads that had been destroyed after the earthquake and tsunami were still not completely built up yet.
The only way to reach those people was by helicopter so we would go out by helicopter and we would treat them there and the organization that I was with was building clinics in those outlying areas and I did that."
Charities
Dr. Khanna has chosen to donate to two charities:
Asian Pacific Policy and Planning Council (A3PCON) is a coalition of community-based organizations that advocates for the rights and needs of the Asian and Pacific Islander American (APIA) Community in the greater Los Angeles area, with a particular focus on low-income, immigrant, refugee, and other disadvantaged sectors of the population. To accomplish this mission, A3PCON strives to:
Serve as a vehicle for promoting the needs, interests and concerns of the APIA Community to policy makers and the general public.
Promote collaboration, planning and collective action amongst its members to support common advocacy/policy, organizational development and capacity-building goals.
Activate the APIA electorate and promote public accountability to the APIA Community through non-partisan political and electoral participation.
Kappa Delta Foundation, Inc's mission is to secure funds for the educational, leadership, and charitable purposes of the Kappa Delta Sorority, of which Dr. Khanna is a member. Through contributions from alumni, collegians, and friends of Kappa Delta, the foundation is able to fund scholarships and educational opportunities, provide internships and leadership training, and support their national philanthropies and numerous local community outreach programs.
Thank you so much for going above and beyond for people all over the world, Dr. Khanna. Your dedication to healthcare embodies what it truly means to be a Locum Hero.
Be sure to check out our full interview with Dr. Khanna below. Subscribe to our channel for more content like this in the future!
Want to learn more about locum tenens with Barton Associates? Fill out the form and one of our representatives will reach out to you!