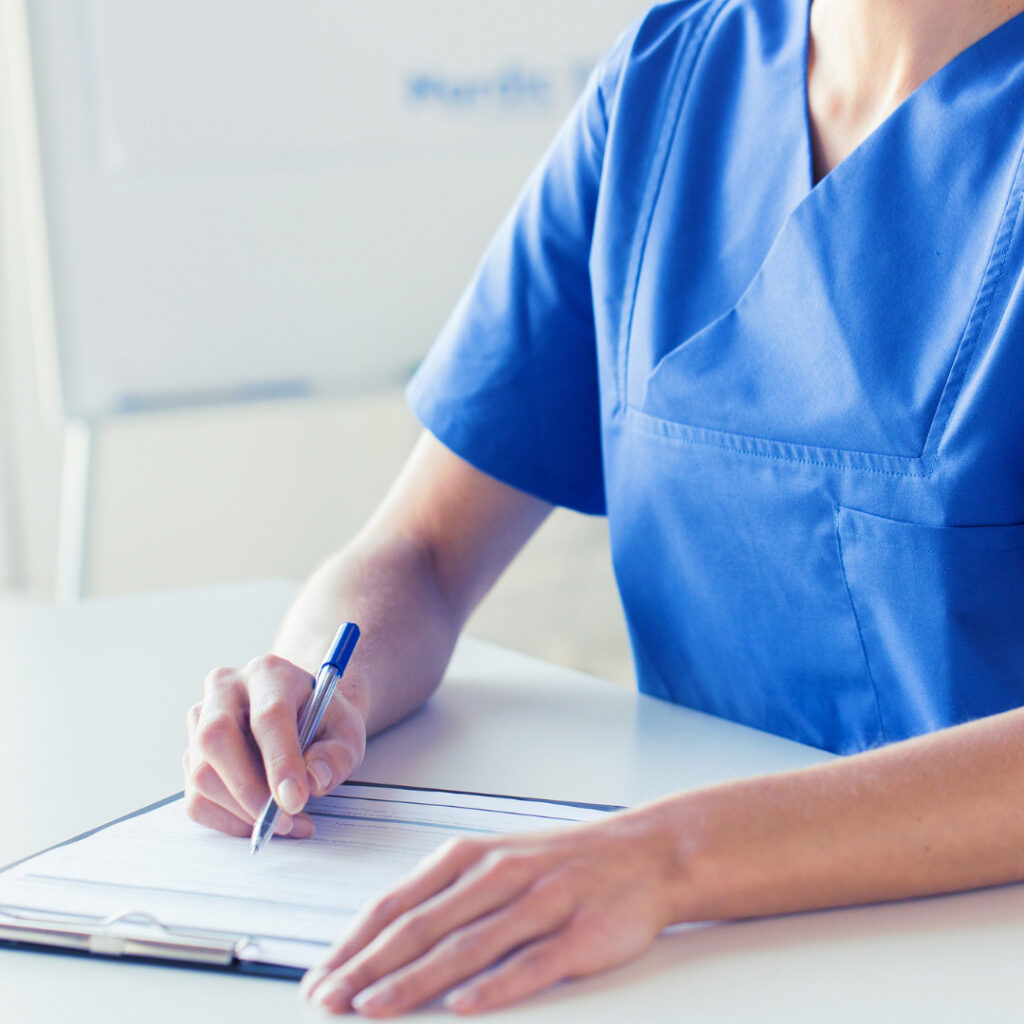 When it comes to primary care, around 101 million Americans live in areas with a shortage of healthcare professionals, according to the U.S. Health Resources & Services Administration (HRSA).
Jerie Lynn W., a locum family practice nurse practitioner (NP), knows this fact all too well. For the past two and a half years, she's traveled across the country—taking temporary positions at underserved clinics and Indian Health Services (IHS) facilities to provide quality medical attention to patients who desperately need help.
"I have a passion and interest working with Indian Health Services, and so that definitely is a factor in which locum tenens assignments I choose," Jerie Lynn said. "Right now, I'm working at a not-for-profit clinic in Oregon, but it's still medicine with people who have a hard time finding good quality healthcare and facilities that can't find people willing to work there."
An Oklahoma native, Jerie Lynn's very first full-time NP job was at a Californian IHS facility in a permanent position. Since she partnered with Barton Associates as a locum tenens provider, she's maintained her dedication to caring for underserved populations by taking assignments that broaden her worldview.
"Where I came from, people are very, very similar in regard to race and a lot of other issues," she said. "As a locum, I get to go work with people and be exposed to different cultures and ideas constantly. So that's been really exciting."
IHS Facilities and Rural Areas
Working at an IHS facility is different from taking a job at an average clinic, according to Jerie Lynn, because tribal populations have unique cultures that influence how providers administer care and how patients receive it.
"It's about understanding that you are working with a completely different culture and that this is their home," she said. "There are definitely expectations that you are going to be culturally appropriate—you're going to be respectful, you're going to be polite, you're going to be open and understanding that some of the medicine and treatment is not necessarily what you would do anywhere else."
Jerie Lynn said that patients at IHS facilities can be more reserved compared to patients at a clinic that isn't on a reservation.
"The patients themselves can be very awesome," she said. "The tribal members may not let you close when you first get there because they are used to people coming in and out so frequently. So you need to understand that it is a little bit different—that you are a visitor. But it's extremely rewarding and it's definitely an area where there is such a high need."
Today, Jerie Lynn works at a rural non profit health clinic—and while she isn't primarily working with tribal populations like she did at IHS facilities, she's still being exposed to many different cultures.
"They're underserved and they work with people from around the world," she said. "We use an interpreter for 40 different languages. … I learned a lot there just because I'm not used to working with people from all these different countries and continents. So that's also been an extremely interesting experience."
Ultimately, Jerie Lynn said she approaches any locum tenens job she takes with transparency and equal treatment for all who walk through the doors.
"In my interactions with patients, I just try to treat everybody the same," she said. "I'm just very respectful, friendly and open. … When you work with people from all around the world, it would be impossible to learn every norm, which can lead to misunderstandings and communication barriers. What I do find is that if you engage with patients, let them know that you are new to the area and don't know everything but are open to learning, they tend to be very gracious."
Traveling with Pets and Family
Many locum tenens providers travel alone when they take an assignment, but Jerie Lynn has a different situation. She's been traveling with her younger brother and her cat, which can sometimes make finding housing hectic.
Luckily, Jerie Lynn's Barton recruiters are intimately aware of her specific needs—working alongside her and the company's internal travel team to find amenable solutions to her unique housing situation.
"[Working with Barton], you can be as involved or not as involved as you need to be," Jerie Lynn said. "They are perfect, they will do everything. The rental car, the lodging, the airfare, everything to get you set up. Because of my situation, I have to be a little bit more involved, but I still do that by speaking with my recruiter."
There have been times where assignments don't work out because she cannot find a place that allows pets. However, this is a tradeoff she's willing to make, because her cat is her "buddy."
"If you're willing to think outside of the box and coordinate with your recruiter in the housing process, I think you can always find something," she said. "I've had more luck than not."
Although Jerie Lynn has only been a locum tenens provider for a few years, she said she's found a good rhythm when it comes to when she takes assignments and where. She's taken her assignments in Oklahoma and the West Coast, but wants to travel to the East Coast in the future for a locum tenens assignment.
"I think my sweet spot is six months and after that I like to take off about four to six weeks to go home, handle my life, and then start another assignment," she said.
Working with Barton
Over the course of her partnership with Barton, Jerie Lynn has worked with two recruiters. Both, she said, have been great resources in helping her find and take locum tenens jobs.
"I love them both," she said. "My recruiters would be what has kept me with Barton."
She also said that Barton's meaningful, long-term relationships with client medical facilities is invaluable.
"My recruiters are actually able to tell me—from having other people work there—about the clients," she said. "Some other companies, they know nothing about them other than what they wrote on a piece of paper. I end up having more confidence going in."
In addition, there have been a few times where Jerie Lynn needed a new medical license for her locum tenens assignment.
"I turn it over to Barton and they have somebody who works on that," she said. "And they do a fantastic job of doing everything that needs to be done for a license."
Jerie Lynn said that new locum tenens providers should be aware that no matter how prepared you might feel for a new assignment, there are always going to be some hiccups.
"No matter how good your recruiter is, no matter how much you prepped yourself on your side, there's always going to be unexpected events," she said. "The advice that I have is to just be aware of that. … There will be surprises, so just allow yourself the room to have flexibility. Just breathe and talk to your recruiter and you can usually get almost everything straightened out."
If you're a healthcare provider looking to take on a locum tenens assignment, check out our open positions and reach out to our talented recruiters to get started.