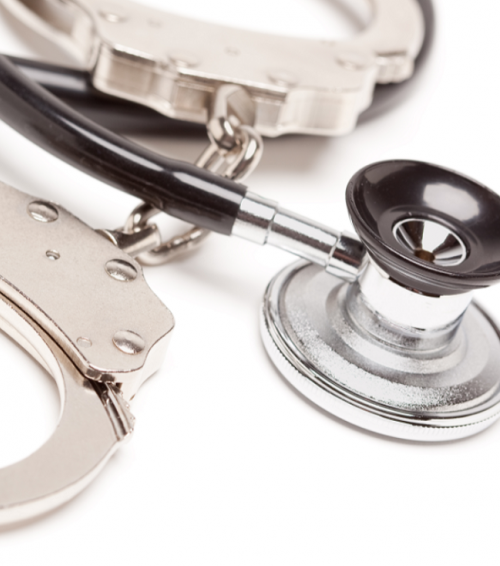 Editor's Note: To conclude our NP Week celebration, we are posting articles that show the daily life for three nurse practitioners who work in different settings. We think you will enjoy this look into the different roles NPs play in our nation's healthcare industry. You can find the other Day in the Life articles as well as all our NP Week content on our NP Week 2012 page.
About the Author
Renee Dahring has worked as an family nurse practitioner in the prison system since 2000. In addition to her clinical practice, she helped build and grow a successful staffing company in Minnesota and teaches nursing as adjunct faculty at Metropolitan State University and the University of Minnesota. Dahring also writes a column for Advance for NPs and PAs and manages a website that offers career advice.
Morning
6:30 a.m.: I get dressed for work. When you work in a jail it's important to look professional but dress very conservatively. This means no low cut tops, tight fitting clothes, or high heels. I don't wear excessive makeup or jewelry either.
6:45 am: I gather the supplies I will need for the day and double check to make sure I have no contraband in my bag. Many everyday items are not allowed inside a correctional facility. This includes glass containers, metal silverware (especially knives), and other things most folks don't think twice about packing in their lunch. I am lucky I can bring my smartphone to work. Many correctional facilities don't allow cell phones because there is a risk that they could fall into the wrong hands.
7 a.m.: I take a minute to remember which facility I am going to today. Unless a jail or prison is quite large, it will not have provider coverage five days a week. Most of us who work in correctional healthcare cover more than one facility. Because I am the only healthcare provider at the facilities I practice, I am able to work autonomously, which I love.
7:30 a.m.: I enter the facility. Once inside, I am on camera everywhere I go. An officer in a control room remotely unlocks all the doors I pass through and controls the elevators for me. It will take me about 10 minutes to get to the clinic area.
7:40 a.m.: I enter the clinic area and greet the nurses.
7:45 a.m. – I take a look at my clinic list. Before noon, I will see between eight and 14 inmates. Inmates request medical attention via a "kite," which is a note sent to the nurses. The nurses do a preliminary evaluation of the inmates and decide who needs to be seen today.
8 a.m.: The correctional officer who is assigned to the area arrives. We negotiate the flow of inmates scheduled to be seen in today's clinic. Unlike clinics on the outside, our patients must be escorted to and from the clinic. Men and women must be brought down separately, and sometimes certain inmates have to be kept apart from others due to gang affiliations or their crimes.
8:10 a.m.: I do chart checks until the inmates arrive. I cosign orders, read lab results, and review outside medical records that have arrived since my last clinic.
8:15 a.m.: My clinic begins. I see a little bit of everything from both male and female inmates. Some are minor illnesses, and some are more serious. One man broke his foot three weeks ago and didn't follow medical advice. He says it hurts and limps dramatically into the exam room. I examine his foot and he limps out until he believes I can no longer see him. Then he walks normally.
9 a.m.: Another inmate tells me he needs Percocet and muscle relaxers because the stress in jail is giving him back pain. He tells me what he will do if I don't give him the drugs. "I will lay on the floor until you send me to the ER," he says. Many inmates view the hospital as a better place than jail. I must evaluate these cases very carefully. I tell him I will treat his pain, but I will not give him opiates. He is not happy!
9:30 a.m.: I see a couple minor skin rashes, which are fairly common in jail. The rashes are usually due to a combination of scratchy jumpsuits and institutional soap.
10 a.m.: I see a man who is an urgent add-on to the list. He is 50 years old and a chronic alcoholic. He was kicked out of his living facility for bad behavior and then decided to turn himself in for an outstanding warrant. He says he has a long history of heart issues, and he is complaining of difficulty breathing. I examine him and find his heart rate is very irregular. This fellow really does need to go to the ER.
11:30 a.m.: I finish the clinic. The number of times I hear "thank you" exceeds the threats of "I am gonna sue you," so it's been good morning. The ER calls. They have admitted the inmate with the irregular heart rate to the ICU.
11:45 a.m.: I leave the facility, and tell staff I am "busting out." We never tire of these corny jokes.
Afternoon/Evening
Noon: I am on call for the remainder of the workday for consults and questions.
5 p.m.: I purposely ignore the local news; I don't care to know what crimes my future patients have been accused of committing.
Does Renee's day sound interesting? Check out our
NP resource hub
for more information!