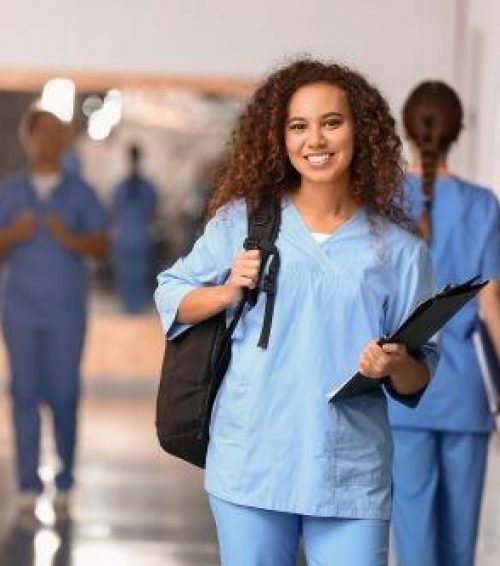 As a medicine resident about to complete your training program requirements or a new medical graduate from your residency program, you have countless career paths to consider as you begin to move into the health care world.
Medical school graduates and those about to graduate from their residency positions have many options to choose from. Should you utilize the National Resident Matching Program or other resources to find a fellowship? Maybe pursue a full-time position? Perhaps seek out a a job offer from your program directors?
Whichever courses of action you may be mulling over, we urge you to add locum tenens work into your pool of options.
For many U.S. medical students, depending on state laws and rules set by their institutions, residents can usually pursue medical moonlighting jobs once they've completed the United States Medical Licensing Examination (USMLE) Step 3, and their medical license has been received.
For International Medical Graduates (IMGs), however, there's one extra requirement before the USMLE can be completed, and the opportunity to moonlight becomes possible.
Before beginning a graduate medical education program in the U.S., international medical graduates who received a basic medical degree from an international medical school not recognized by a U.S. accreditation council must first be certified by the Educational Commission for Foreign Medical Graduates (ECFMG). Once their ECFMG certification is granted, IMGs can then proceed to apply for residency in the U.S., take Step 3 of the USMLE, and become eligible for moonlighting.
International Medical Graduates make up almost one-quarter of the total U.S. Graduate Medical Education (GME) training pool, according to a 2018 report in the National Library of Medicine. That's why it's important to include IMGs' possible pathway to locums in the conversation. But regardless of whether you received your basic medical training in Denver or Dubai, if you're still weighing out your post-grad plan options, consider some of the pros and cons for residents and new medical graduates as you deliberate!
Resident Pros:
According to the Education Data Initiative, the average amount of debt that physicians in the U.S. accrue just from medical school is $215,900. On an average resident salary of about $52,000 to $54,600, you probably won't get much of a start on paying it off until after you've completed your medical training in full, and have obtained formal medical employment.
Fortunately, there's a way to supplement the salary you are earning in residency, and maybe even get a jumpstart on paying off your student debt by using locums to moonlight! Medical moonlighting is extracurricular medical work that is not a part of your residency or fellowship program, and is therefore paid separately, in addition to the salary you are paid by your institution.
Paying off educational debt isn't the only thing that moonlighting can help you get ahead on. It also helps residents proactively add real-world work experience outside of training onto their CVs, which ultimately takes a lot of time and pain out of finding employment post-graduation. Even having one moonlighting gig under your belt helps, but since locum jobs allow residents to try multiple different opportunities, they greatly add to and diversify your skills and experience, making you a much more attractive candidate to prospective employers.
Due to the flexible schedules and shift hours of locum tenens assignments, they are the most popular avenue for residents interested in moonlighting. Residents can find locum opportunities that fit into their busy schedules, and use short-term assignments as a trial period to test whether locum work may be a viable career choice for them post-graduation.
Resident Cons:
While moonlighting is a great way to earn some extra income and start building up experience, for many residents and fellows, adding extra work on top of their academic schedule sounds too overwhelming. This may be the reason why all residency programs bind students to duty-hour restrictions limiting them to 80 hours per week, and why some institutions prohibit moonlighting altogether.
Those residents who are determined to moonlight and whose programs allow them the opportunity to do so, can initially struggle to find and obtain their first few locum assignments. If a hiring manager is willing to consider a resident to fill an opening, it will be noted on its file. Your recruiter will specifically seek out these positions and notify you about them, however, they are generally few and far between, and when you do find one, competition can be fierce.
New Graduate Pros:
The honest truth is, it's not easy to land a job straight out of residency or fellowship, and the extensive interviews, background checks, and credentialing can be a bit much. But finding locum tenens jobs through a staffing agency like Barton takes the job searching off your shoulders while your personal recruiter does the heavy lifting. All you have to do is provide your information and preferences, and we do the rest!
The silent majority of the American workforce dreams of having a career that pays them to travel. Locums offer new graduates the opportunity to explore every corner of the country while earning comparably higher salaries to their permanently employed counterparts. Dedicated licensing and travel teams handle communications with medical boards and sort out housing accommodations to put you on the path of least resistance.
New Graduate Cons:
On the other side of the locum coin you will find that even though your locum tenens agency takes most of the burdens of job searching off your plate, that most travel jobs still prefer or require a candidate with a certain amount of relevant experience. Though locum opportunities that are open to newly graduated applicants are more common than those open to residents, the lack of guaranteed reliability on a steady paycheck causes hesitance for many new grads.
If you're still thinking about your career path post-residency, get paid to try before you buy for a mix of facility types, environments, and patient populations!
Ready to jumpstart your medical career with invaluable locum experience? Contact us to chat with a dedicated locum recruiter today!