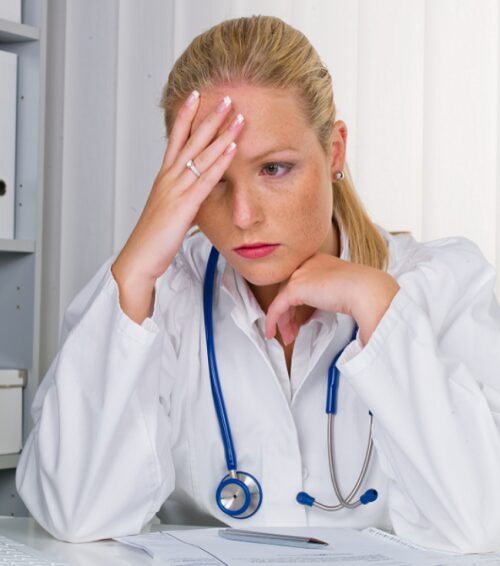 With added workloads and expectations being heaped upon physicians and nurse practitioners, more and more providers are showing signs of burnout. Although a burnt out provider may be easy to spot as an outside observer, it might not be so easy to recognize symptoms in yourself.
The Maslach Burnout Inventory (MBI) is one of the most commonly used tools to assess burnout. Most recently a modified version of the MBI was used to survey more than 7,000 U.S. physicians representing all medical specialties. The study, which was published in the Archives of Internal Medicine, found that 46 percent of those surveyed experienced at least one sign of burnoutand that 60 percent of physicians in either primary care, emergency department, or internal medicine specialties showed high levels of burnout.
Are you burnt out provider? If you experience any of the following feelings more than a few times a month, it could be an indication that you are moderately burnt out. If you feel them any more often, it could be a sign of a bigger problem.
Emotionally drained by your work.
Working with people all day long requires a great deal of effort.
Work is breaking you down.
Frustrated by your work.
Working too hard at your job.
Working in direct contact with people causes lots of stress.
Looking at patients as if they are objects.
Tired when getting up in the morning to face another day at work.
Believing patients make you responsible for some of their problems.
Being at the end of your patience at the end of the work day.
Not caring what happens to some of your patients.
Becoming insensitive to people since you've been working.
Fear that your job is making you uncaring.
Burnout is a serious problem. A study published in The Journal of the American Medical Association found that "physicians who have burnout are more likely to report making recent medical errors, score lower on instruments measuring empathy, and plan to retire early and have higher job dissatisfaction, which has been associated with reduced patient satisfaction with medical care and patient adherence to treatment plans."
If you are experiencing symptoms of burn out there are simple things you can do. If you are experiencing minor symptoms it may help to learn stress relief techniques such as breathing exercises. More extreme symptoms may require a reassessment of work-life balance or a possible career change that allows for a more flexible schedule. You owe it to yourself and your patients to get stress under control.
Locum tenens is one popular option for reducing stress and burnout. To get started, see our open locum tenens jobs.