Chances are you have chosen the locum tenens career path because of its flexible nature. A key factor in a provider's decision to go locum is often having the ability to travel around the country. One of the major things holding providers back is not having the appropriate state license.
As you know, each state has their own timeframe in which a new license can be issued. However, here are the states where you can get a new CRNA license in six weeks or less.
Read on to learn about the specifics of each state.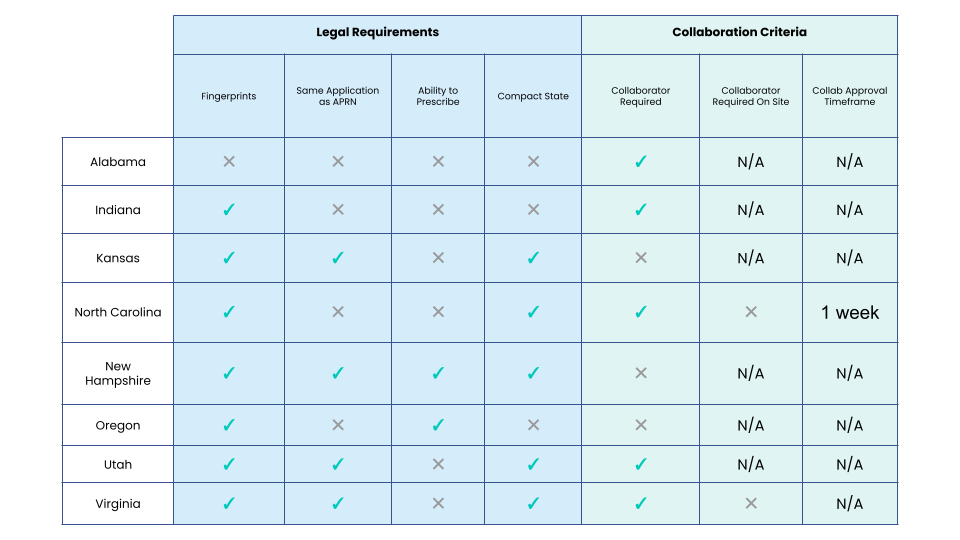 Additional Information
Alabama
CRNA applicants must have earned at least a master's degree, or post-master's certificate in advanced practice nursing from an accredited graduate program in nurse anesthesia recognized by the Board. If the CRNA graduated from an accredited school of nurse anesthesia prior to 12/31/2003, they are exempt from the master's degree requirement.
Check out our open jobs in sweet home Alabama!
Indiana
The CRNA may administer anesthesia if they act under the direction of and in the immediate presence of a physician.
Sing Back Home Again in Indiana as you get off the plane and begin your new assignment! Check out our open jobs in Indiana now!
Kansas
Browse our open jobs in Kansas today! Who knows, maybe you'll meet Dorothy and Toto!
New Hampshire
New Hampshire is full of mountains and scenic forests! Check out our open positions in New Hampshire now!
North Carolina
Check out our open jobs in North Carolina!
Oregon
Check out our open jobs in Oregon now!
Utah
Check out our open jobs in Utah and don't forget your ski equipment!
Virginia
Virginia Beach is one of the most famous beaches in the country. Why not see it for yourself? Check out our open jobs in Virginia now!
Want to learn more about locum tenens with Barton Associates? Fill out the form and one of our representatives will reach out to you!