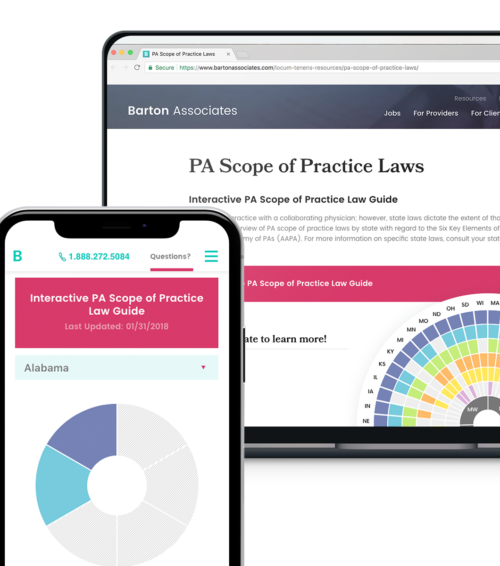 The following post applies to our old Physician Assistant scope of practice wheel. Information regarding state-specific laws may be out of date.
Physician assistant jobs are expected to grow 20 percent in 2014, making it is one of the fastest growing medical professions. Physician assistants are expanding into new specialties, and physician assistant studies was recently named the best master's degree for jobs is 2014.
With so much growth and interest in PA programs, it is important to remember the duties and responsibilities PAs are able to perform are often determined by the state in which they practice. Some states, such as Vermont and Rhode Island, have laws that are favorable to PAs, while states like West Virginia are more restrictive. View this Interactive Physician Assistant (PA) Scope of Practice Law Guide for closer look at state PA laws.
Unlike nurse practitioners, physician assistants are unable to practice independently in any state. The very nature of their position requires they be supervised by a physician and maintain a relationship with their supervising physician. However, state laws dictate the extent of that relationship, including how often the physician must review and cosign PA orders and whether physicians need to be physically present in order to supervise PAs.
Laws that attempt to specify the tasks PAs can perform cannot include every possible scenario PAs may encounter and cannot predict future advances in medicine, which is why the American Academy of Physician Assistants (AAPA) endorses state PA practice acts that allow supervising physicians to determine how best to use PAs in a practice.
The AAPA has identified six key elements that should be part of every state PA practice act:
"Licensure" as the regulatory term.
Full prescriptive authority.
Scope of practice determined at the practice level.
Adaptable supervision requirements.
Chart cosignature requirements determined at the practice.
Number of PAs a physician may supervise determined at the practice level.
Currently, only four states (Massachusetts, North Dakota, Rhode Island, and Vermont) have all six elements in their state PA practice acts.
"Licensure" As a Regulatory Term
Ohio is the only state that does not use "licensure" to describe the process by which the state board authorizes a PA to practice. The state issues a "certificate" to individuals who have successfully completed a physician assistant program and met the necessary requirements.
The AAPA prefers the term "licensure" because many state laws will broadly refer to "licensed health professionals". The AAPA wants to ensure PAs are included in those laws, which may include opportunities to participate in loan repayment programs.
Full Prescriptive Authority
PAs are trained in pharmacology, but they are not allowed to prescribe medications independent of physician supervision. Currently, 39 states, including the District of Columbia, allow supervising physicians to determine which medications PAs under their supervision are allowed to prescribe. The other 12 states have specific restrictions on which drugs PAs can prescribe, such as scheduled drugs and controlled substances.
Scope of Practice Determined at Practice Level
The AAPA believes that supervising physicians should decide which tasks and procedures PAs are able to perform. After all, they have first-hand knowledge of expertise and abilities their PAs possess. Of course, the responsibilities delegated to PAs should be within the scope of their training and abilities.
Laws that specifically list the duties PAs are allowed to perform or prohibited from performing restrict the amount of assistance PAs can provide to the physicians they work with, and restrict patients' access to care.
Currently, 35 states allow supervising physicians to determine PA scope of practice.
Adaptable Supervision Requirements
Only 25 states allow physicians the ability to determine what is considered acceptable supervision at the practice level. Other state laws spell out exactly what is considered acceptable supervision. For example, New Jersey requires PAs be under the direct supervision of a physician at all times when working in an official capacity.
States that require a certain level of supervision risk placing an unnecessary burden on the supervising physician. For example, direct supervision is certainly reasonable in the emergency room or inpatient setting, but it is likely not necessary for PAs that are performing skin cancer screenings or administering vaccinations. Allowing physicians the ability to establish supervision requirements based on the level of care being provided gives them the flexibility to make the best use of PAs' abilities while allowing them to spend less time supervising and more time practicing.
Chart Cosignature Requirements
Much like supervision requirements, cosignature requirements can be burdensome to physicians and take time away from their practice. Currently, 24 states allow supervising physicians to determine cosignature requirements at the practice level. The other states set specific time frames in which supervising physicians must review and cosign a percentage of PA charts.
Limit on Number of PAs a Physician Can Supervise
The majority of states have a limit on the number of PAs a physician can supervise, but 11 leave it up to the physician to decide. The number of PAs a physician can safely supervise depends on a number of factors, including the type of services being rendered and the experience of the PA. The supervising physician is in the best position to make that decision because he or she understands the nuances of the practice. State laws that apply a blanket limit to all practice types do not account for these variations.
How do these laws affect PA practice in your state? To learn more, check out Barton Associates'
scope of practice wheel
and
PA state laws map
!